Category Archives:
Governance
From 1st of May to the 3rd the study group implemented the proposal for the selection of the members that volunteered for the Auroville Council and Working Committee. The study group centered its three day session on the 12 qualities of the Mother. Members of the study group share their impressions.
Last night, the third General Meeting on the new selection process for the AV Council and the Working Committee was held, in the new SAIIER building. Although most Aurovilians will agree that changes are needed, not many attended this Questions and Answers session. Therefore, the study group now faces a choice, to: a) Go for a Resident Assembly decision making event, or b) Go through the selection process and to present the newly elected people together with the new process, for the approval of the community.
The worst case scenario would be to be stuck with the old, ineffective process. The study group needs at least 200 voters and a 51% majority to proceed. '
Rod candidly shares his views on the trials of Auroville's impersonal objectives and the difficulties of the rationalistic goals it has adopted, which concern urban planning, finance and entry. He further touches on paranoia, the importance of image, and the varying interpretations of the Mothers words, leadership with a higher resonance and the occult importance of the world's collaboration in Auroville as a means to hasten the new consciousness. Rod has been working and contributing in the field of education for many years.
Rod is also one of the members of the University of Human Unity www.universityofhumanunity.org. Music by Aurovilian youth Vania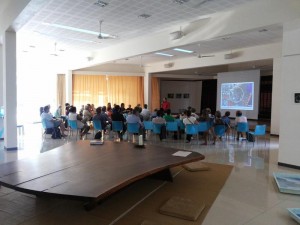 Yesterday afternoon was held in Unity Pavilion International Zone, a very well attended first general meeting to present to the community the various options identified by the Study Group and its recommendations for the protection of Auroville's land. So please listen to what they had to say on the legal and non legal options the community is facing. It is a crucial matter as everyone can see the frenetic development Auroville is being exposed to. It looks like we cannot afford to postponed the decision one more time.
June 4th 2014 Follow up on the Study Group on Selection Process proposal on Working Committee and Auroville Council members - signatures, resource persons, silent listeners...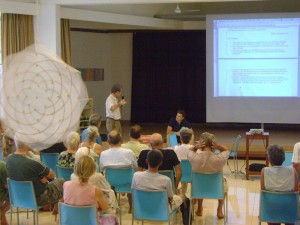 Yesterday's General Meeting at Unity Pavilion in International Zone has draw the attention of many, inspired after creative work of Study Group on Organization. Yet the GM tried to provide information for a decision making process. Entry Task Force presented proposal on changes of entry process, we heard revised FAMC mandate proposal, and compilation of feedback on proposed Matrimandir mandate. The question was if each of particular proposal is ready to be presented to the community for residents decision making process.
Last Tuesday afternoon a well attended GM was held on the Water Maintenance Service, at the Unity Pavilion. Krishan presented a report on the WMS finances and budgeting and Wazo a proposal on the location for the new building, in the service area, as well as a structure of the global vision of the service. They also gave us a short report on the actual Auroville water distribution and maintenance situation. At the end of the meeting, they formulated the following questions for a Residents' Assembly Decision-Making Event, to be held soon:
Question one: "Transforming Auroville Water Service into a City Service": Do you agree to transform the Auroville Water Maintenance Service (WMS) to a City Service under the City Services Budget called' "Pour Tous Water Service" supplying a basic set of essential maintenance services?" Question Two: "Physical Development of Service Area": Do you want the concerned working groups to give priority to the physical development of the Service Area?" '