Category Archives:
Economy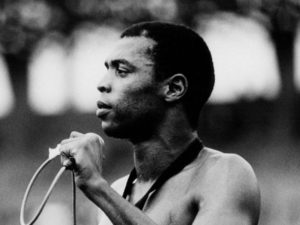 Fela Anikulapo Kuti would be 79 years old 15th of October, if had he not died from complications of AIDS in 1997. As the inventor of the enduring and influential Afrobeat music style, the composer of an enormous body of music, and one of the bravest political voices in 20th century African music. A powerful new generation of Nigerian musicians has emerged in that time, and the music they now champion has been dubbed "Afrobeats," an appropriation of the name Fela gave his original sound during its heyday. The youngest artists on the scene today have no direct memory of Fela, though his legacy is impossible to escape. In this program, we hear from current day Nigerians from multiple generations and genres—fuji, juju, hip-hop (Afrobeats) and highlife—on how they remember this musical giant, and how they reckon with his complex and challenging legacy.

tracklist
Skales - Temper ft Burna Boy
WizKid - Sweet Love
Falz - 1, 2, 3 (feat. Oyinkansola)
WizKid Feat. Femi Kuti - Jaiye Jaiye
P-Square-Zombie Ft Jermaine Jackson
Burna Boy - Boom Boom Boom ProdBy LeriQ
Dremo - Fela
Sarkodie - Dumsor
Wierd MC - Palava
Seyi Sodimu - Fela
Tiwa Savage - Fela Interlude
Oritsefemi - Double Wahala
Tekno - Rara
Fela Kuti - Sorrow Tears & Blood
Fela Kuti - Black Man's cry


5th Sept 2017 - CAT - ' Exploring Prosperity ' Auroville is approaching a landmark date, 50 years of existence. This is a wonderful opportunity to come together and celebrate our unity and resilience but is an even bigger chance for us to go into an introspection of where we are and what should be our route map for the future. A group of Aurovillians have taken up the challenge to address core issues in Auroville, in areas regarding Human resource, services, commercial units, farms & forest, education, fixed assets and self governance. The core team comprising of Pashi, Umberto, Luigi, Joseba and Giacomo with a support group of Anandi, Mita, Srimoyi, Rita, Paulette, Jaya, Romel and Mimansha. Listen to the meeting as Pashi and group explore deeply into the Mother's actual original plan with facts and figures for developing Auroville - A city the earth needs. The group identifies itself as 'exploring prosperity' and can be contacted at exploringprosperity@auroville.org.in . this is an open group and is open to all ideas related to steering Auroville onto a sturdy path progress and collective prosperity.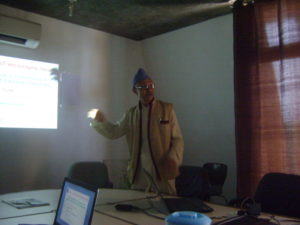 After three successful years, Acres for Auroville stepped into the 4th phase of its journey today on the 15th August, the auspicious day of the Independence Day of India and the birthday of Sri Aurobindo. We had a presentation for the Auroville's 50th birthday shown along with a healthy discussion amongst the Aurovillians and Aryadeep, Mandakini(who was available on Skype), Sigrid, Marco and Priya, on the land of Auroville.

Check out more on
https://www.aurovilleradio.org/uniting-for-aurovilles-land/
Much more than paper, Auroville Papers is a unit that works as a team where there is no hierarchy, but only friendship and sharing of creativity and responsibility. They work in true Auroville spirit.
This is one of the units that started in the early times when conditions were difficult, but nevertheless in time they have expanded and improved their work.
With the recent change of economy, Auroville Papers had to adapt, and this pushed the team to be more innovative. Now not only do they produce aesthetic stationery, but they have also extended their repertoire to include all sorts of handicrafts, such as: earrings, door screens, a large variety of decorative items, and also some art work. One item that particularly caught my eye was a beautiful sculpture of a white unicorn (see our video on https://www.youtube.com/watch?v=qqW332od3KA). I felt like I had just walked into an art gallery rather than a paper factory.
Because of the economic change Luisa remarked that we cannot be passive. We always need to be challenged in life if we want to keep ourselves well and active, and stay awaken. It is a work of challenges and creativity says Jean Jaques.
These words reminded me that "all life is Yoga".

At the interview we have Jean Jaques, Herve',and Luisa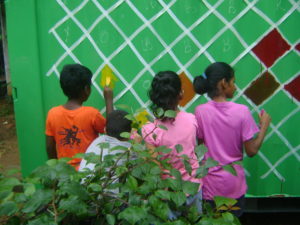 Listen to interviews from this year's Art Break coordinated by Auroville's own Art Therapist Krupa. She has created a wonderful space and opportunity for visitors and Aurovillians, family and strangers, children and parents to leave their mark on Auroville.
Mr. Rajendra Kumar P, an expert on GST from Chennai shared his insights at Unity Pavillion.