Category Archives:
Economy
Much more than paper, Auroville Papers is a unit that works as a team where there is no hierarchy, but only friendship and sharing of creativity and responsibility. They work in true Auroville spirit.
This is one of the units that started in the early times when conditions were difficult, but nevertheless in time they have expanded and improved their work.
With the recent change of economy, Auroville Papers had to adapt, and this pushed the team to be more innovative. Now not only do they produce aesthetic stationery, but they have also extended their repertoire to include all sorts of handicrafts, such as: earrings, door screens, a large variety of decorative items, and also some art work. One item that particularly caught my eye was a beautiful sculpture of a white unicorn (see our video on https://www.youtube.com/watch?v=qqW332od3KA). I felt like I had just walked into an art gallery rather than a paper factory.
Because of the economic change Luisa remarked that we cannot be passive. We always need to be challenged in life if we want to keep ourselves well and active, and stay awaken. It is a work of challenges and creativity says Jean Jaques.
These words reminded me that "all life is Yoga".

At the interview we have Jean Jaques, Herve',and Luisa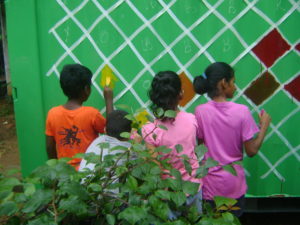 Listen to interviews from this year's Art Break coordinated by Auroville's own Art Therapist Krupa. She has created a wonderful space and opportunity for visitors and Aurovillians, family and strangers, children and parents to leave their mark on Auroville.
Mr. Rajendra Kumar P, an expert on GST from Chennai shared his insights at Unity Pavillion.
As per the new mandate, the FAMC must take initiative to meet with the community every 3 months and make a presentation of situations. This is was the very first such a kind of presentation. The presentation was conducted by Angelo, Chandresh, Lyle, Shaoli, Ayesha, Yuval, Amy, Ulli, Prabhu and Bindu (was out of station). The new FAMC team declared to the community what has been its objective for the past few months since it has taken charge. 1. Increase transparency and accountability, 2. Increase accessibility to DATA related to assets and finances, 3. To improve the efficiency in use of Collective wealth 4. To review and improve the maintenance system The new mandate given to the FAMC seems like a challenging one to which the new team is working diligently towards, but has made a suggestion to create a transition period for new teams to come into work given them time to understand each other as a group and also the the work set upon them this will save the team and the community huge amount of time and energy.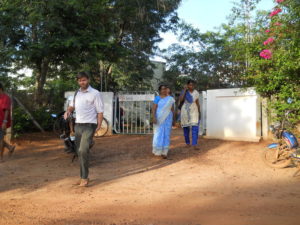 After the presentation at Unity Pavilion on GST held by CA. Rajendra Kumar P, (a practicing chartered accountant and senior partner of Sanjiv Shah & Associates, Chartered Accountants, Chennai, who is the Head-Indirect Taxation Practice of the firm) we stop some residents and ask their opinion about the new Goods and Service Tax for Auroville.
Through talks with Supriya, a ceramic artist, we get to know about herself, her studio and her arrival to the city of dawn.
Pottery is the craft of making ceramic materials into pots or Potterywares, one of the oldest occupations of humankind that involves physical, mental and spiritual activity which can give one great pleasure to give shape to clay and birth of a new life with the help of a wheel and a kiln.