Category Archives:
Crafts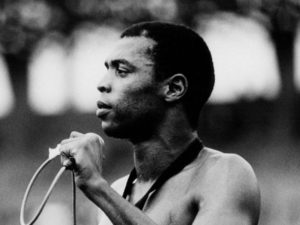 Fela Anikulapo Kuti would be 79 years old 15th of October, if had he not died from complications of AIDS in 1997. As the inventor of the enduring and influential Afrobeat music style, the composer of an enormous body of music, and one of the bravest political voices in 20th century African music. A powerful new generation of Nigerian musicians has emerged in that time, and the music they now champion has been dubbed "Afrobeats," an appropriation of the name Fela gave his original sound during its heyday. The youngest artists on the scene today have no direct memory of Fela, though his legacy is impossible to escape. In this program, we hear from current day Nigerians from multiple generations and genres—fuji, juju, hip-hop (Afrobeats) and highlife—on how they remember this musical giant, and how they reckon with his complex and challenging legacy.

tracklist
Skales - Temper ft Burna Boy
WizKid - Sweet Love
Falz - 1, 2, 3 (feat. Oyinkansola)
WizKid Feat. Femi Kuti - Jaiye Jaiye
P-Square-Zombie Ft Jermaine Jackson
Burna Boy - Boom Boom Boom ProdBy LeriQ
Dremo - Fela
Sarkodie - Dumsor
Wierd MC - Palava
Seyi Sodimu - Fela
Tiwa Savage - Fela Interlude
Oritsefemi - Double Wahala
Tekno - Rara
Fela Kuti - Sorrow Tears & Blood
Fela Kuti - Black Man's cry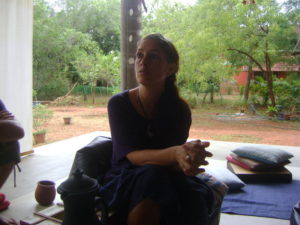 The Mana Fashion Design Studio is a project created and run by a team of 3 Aurovillians, Claire, Rv, and Julie. Each one of them carries an artistic background (painting, graphic designing, music) and they take their inspiration from traditional arts and crafts from around the world. All their products are entirely hand made and every piece is unique with its' own delicate embroidery and special fabrics. At the moment, they open their studio (Located at Sukhavati) every Wednesday and Saturday between 9;30 and 12 for women to come and find the perfect piece of clothing or one of their gorgeous bags as well as interact with the artisans themselves. Mana has a website on which you may look through their designs and learn more about the whole project:
manaauroville.wordpress.com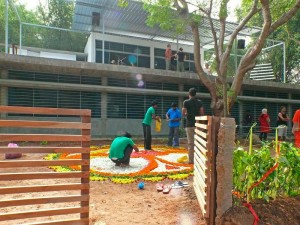 Aurelio sounded the Ring for the official opening of the new Svaram building. Puja interviewed him about this special day and its significance. He said that this particular building will serve as an exhibition place, storeroom and research space. Besides this Svaram has its first building on the outer ring road,. The new space replaces an old building that burnt down 3 years ago. It represents 1 degree of 360 degrees of the ring, and tries to invoke the original plan of Aruoville to manifest the symbol of the Galaxy plan.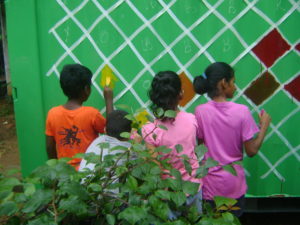 Listen to interviews from this year's Art Break coordinated by Auroville's own Art Therapist Krupa. She has created a wonderful space and opportunity for visitors and Aurovillians, family and strangers, children and parents to leave their mark on Auroville.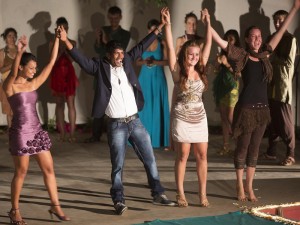 The students from Lilith apprenticeship program have presented their collections in Kalabhumi in Auroville, on 19 January 2013. The event was a great success! A supportive and enthusiastic crowd cheered and applauded to the models and designers. The designers Leela, Dasha, Ilango and Suhasini presented their creations to an attentive audience of residents of Auroville and guests. In the following links you can see some images shot by Coriolan: www.flickr.com/photos/coriolan/sets/72157632562549538 --> VIDEO by Manohar'
Through talks with Supriya, a ceramic artist, we get to know about herself, her studio and her arrival to the city of dawn.
Pottery is the craft of making ceramic materials into pots or Potterywares, one of the oldest occupations of humankind that involves physical, mental and spiritual activity which can give one great pleasure to give shape to clay and birth of a new life with the help of a wheel and a kiln.
Priya Sundaravalli from Tamil Nadu is currently having an exhibition in Pitanga. Over 300 ceramic objects, which are all very unique, can be visited until the 24th of March. Her art is quite unusual and the thin shapes of her creations make the items look fragile. Instead of thinking and planning her work, she is trying to let her inspiration flow freely and allows herself to do whatever is coming up. If items crack she repairs them with a Japanese technique: 'Nothing is a defect, accidents are seen as part of what is supposed to happen.'
Exhibition at Pitanga from the 9th of March until the 24th. 8am - 12.30pm and 2pm-6pm. Priya Sundaravalli has lived in Auroville for 10 years now.