Category Archives:
Economy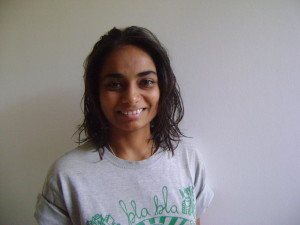 Interseting interview with Natsha who works as secretary at Integral Entrepreneurship Lab and is a link between them and Youth Link.
At the end of the last month they have organized workshop on economy for Youth. How is Youth involved in economy? When the Youth Link was trying to organize the management apprenticeship for youth, they have discovered that our youth does not know much about our economy landscape.
....
Natasha shares with us how was the workshop organized, and amongst other tells also that youth was very interested in the topic. For that reason they will prepare the next sessions on it.
In the week before at the 15th of January the biggest Indian Festival of Pongal takes place, Auroville Farm Group organized their Pongal Farm Festival. They offered two days with presentations of the organic farm work in Auroville, gratis food (including, what else, Pongal rice), live music, information desks and food associated plays for children. A Documentation of the second day.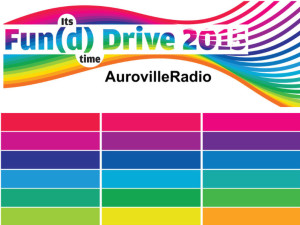 Today Auroville Radio turns 11! Lets hear from our listener Armando in the US what this service means to him as we launch our 2015 Fun(d) Drive. We look forward to your collaboration and we thank you for your support! Mother's Agenda - June 1958 ""We are preparing upon earth the connecting-point, that point of communication and junction between the mental and terrestrial human consciousness and the supramental and superhuman Consciousness. It is a whole intermediate world that is being worked out, a new creation manifesting and materializing. In order to be realized here upon earth, this creation must utilize the already existing material means and powers, but in a new way, adapted to the new needs. One of the most essential powers is the financial power.""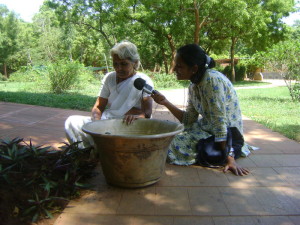 While Susheela was on her usual morning ritual of grooming the plants outside Town hall, I had an opportunity to hear her story of how she came to Auroville and she opens up on how happy and contented she is here.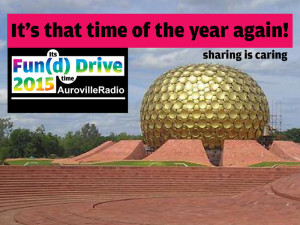 Progress report of the Radio Fund Drive; a big thanks to the many donors that have contributed so far. You have helped us reach close to 20% of our targeted goal.
Our aim for the upcoming year is to raise 850,000 Rs or 13,000 US $ and every amount small or large helps us to get closer. Thank you for your support and for lending another kind of "voice" to the radio!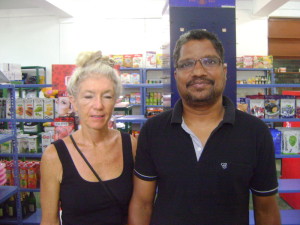 H.E.R.S. - Helath, Education, Research, Service has started couple decades ago with a humble man Vinodh, who passed last year, and left behind him a gap, and unfinished dream. Team of H.E.R.S. started a "paradigm" shift this summer with first finishing the exposed beam , followed by redoing couple of wall , painting the whole space white ( what ultimately brought LIGHT in) .... and added new spacious black granite counter.
In a short interview with Gillian, Tulsi and Roy (team members along with Kumar and three girls) we hear what is going on and what plans they still have ahead of them in order to serve the community as they would like to.
Akash and Monica have been experimenting with hydroponics and aquaponics for several years and they now share their latest research on urban rooftop farming using hydroponics. They have been growing mainly greens such as lettuce and arugula and hope to continue growing throughout the year.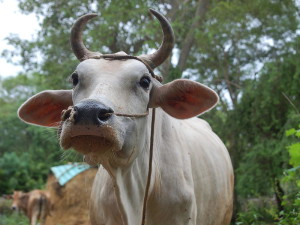 On Tuesday, 15 of December, the Joy of Learning Team invite for presentations from Auroville farmers. After a general paper on Auroville farming, Jeff mentioned that what our farms seasonally can grow and what consumers like to eat doesn't fit together. For example, they ask for tomatoes all over the year, so except during the season (January to March) Auroville has to import them. So, the town is quite far from self-sufficiency and many farms have still a lot capacity to grow. In January 2016, there will be set up a web portal with local and seasonal recipes: http://eatingwiththeseasons.org How expensive are Auroville products? Vivek spoke in his presentation about the use of toxins like herbicides, chemical fertilizer, drugs and hormones in agriculture. He showed that the use of many toxins exceeded the extreme values in india, and their prophylactic use in huge quantities is very common. As they cause highly health damages, for example to the nervous system, it would be reasonable to avoid such products. He also mentioned the prices for Auroville farm products and presented examples of popular Auroville grown vegetables. They were less expensive than even conventional products and much cheaper than organics in Pondy, because they are sold without much traders. All papers will be set on Auroville Intranet (Auronet) the upcoming week.