Category Archives:
Integral Education
Featuring short interview with Kaeridwyn, a newcomer to be, about the theater classes at TLC (the learning community) which is based opposite Dana. Since January, she has been giving theater classes to children interested in theater and acting, working towards a performance of Shakespeare's A Midsummer Night's Dream. Kaeridwyn has kept the lines as much is possible in original Iambic pentameter. A Midsummer Night's Dream comedy play by William Shakespeare,  which is believed to have been written between 1590 and 1597. It portrays the events surrounding the marriage of the Duke of Athens, Theseus, and Hippolyta. It follows the adventures of four young Athenian lovers and a group of six amateur actors (the mechanicals), who are controlled and manipulated by the fairies who inhabit the forest in which most of the play is set. The play is one of Shakespeare's most popular works for the stage and is widely performed across the world.
Unofficial inauguration two weeks back of Teachers Center at SAIIER building in Town Hall was for the teachers, parents and children a joyfully occasion and a fruit of long years of integral education in Auroville.
Although the idea for it in the beginning was to provide pool of people who can train all those who are already teaching but are not really qualified as teachers and to all those who would like to be teachers, in time grown into more - center should be not only for training but also resource and networking center; it should connect schools, teachers, people, ideas in Auroville as well from outside. They are planning to have workshops, conversations on integral education on regular bases, and at the same time educational materials are in preparation.
Ground breaking work for Teachers Center is a dedicated work of Maya, Francoise, Lisbeth and Heidi, who says amongst other " Integral Education has to be understood as it is practiced"...



In an interesting conversation with two girls - Ahilya and Namoi, first graders of Futures School, we find out how they see different aspect of life in Auroville. Since they have decided to perform community service within Future School curriculum for first week on Auroville Radio, we talk about the radio, its importance in the community, its recognition, and importance of communication in general. Further we hear how they, as Auroville students, see education here, and they also talk on life in the community, real values...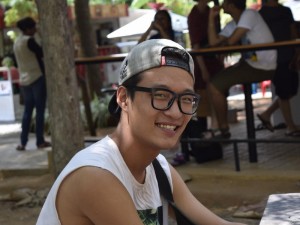 A recent graduate from Kalikasan High School in Philippines, Kim Sun Myung visits Auroville for a spot survey for South Korean students. He attended an alternative system of education and aims to set up something similar in an otherwise stringent structure back in South Korea. He provides a micro view of the different options that students and recent graduates can choose outside of a particular system and the inspiration that can be derived from an experimental space like Auroville. We met at a dinner with a friend, and what he said about students needing ''happiness'' and feeling more connected to vocational options resounded with other such conversations with students in Auroville from across the globe. He talks about the importance of traveling as a learning experience and why he does not want to go to college. While a lot of socio-cultural factors come into the picture when considering these options, it is nevertheless refreshing to find voices expressing an interest in community life as well as aiming to get involved in the education systems in their countries.
The Future School children collaborated in creating advertising for their School and the Solar Kitchen in a hands on approach to be introduced to AurovilleRadio's work, the seminar involved writing content, recording and editing sound.
Successful annual open day in New Era Secondary School where everybody was welcomed to witness past year accomplishments of the 9th - 12th grade students. The New Era School is unique in its attempt to combine Integral Education with the CBSE curriculum program.We would like to take this opportunity to invite everyone from the community to listen to their presentations and live performances which included a variety of short skirts, dance, poetry and much more! But let's first start by our interviews.
The Learning Community's base camp is located on the road to Dana opposite Transition School, it is a hands-on do-it-yourself adventure school. A recent announcement invites "All those enjoying getting muddy hands are most welcome to join us. Just drop in for an hour, a day, or for all three days!" TLC has been busy building the campus and the mud walling event is for the new composting toilet walls made of mud, bamboo, glass bottles and other materials. Auroville Radio tries to share the atmosphere and friendly enthusiasm that physical collective work often brings.
For more information about the The Learning Community (TLC) visit http://archive.auroville.org/education/the_learning_community/tlc_base_camp.html or email tlc@auroville.org.in
Music: The Hit Parade, Song: In my Soul

This is a weekly series of readings by Gangalakshmi (in French) from selected works by the Mother, Sri Aurobindo or Satprem that are personally significant or reflective of our collective passage. August 2014. Une srie hebdomadaire de lectures par Gangalakshmi (en franais) de slection duvres de la Mre, Sri Aurobindo ou Satprem qui sont personnellement significative ou sont une reflections de notre passage collective. Aot 2014
After years, since 1984, residing at Bharat Nivas SAIIER(The Sri Aurobindo International Institute for Educational Research), the covering umbrella for all education activities and projects, and transport in Auroville, has finally got new spaces next to Auroville Foundation building at Town Hall complex area. Official inauguration was this morning starting with invocation song by Joy, ceremonial opening with Dr. Karan Singh, presenting gifts to the architect, builders, masons... and then the gathered were invited to visit the new spaces.
Units under SAIIER umbrella: Schools for Auroville: Kindergarten, Transition School, Deepanam School, Last School. Schools in Auroville for Village children: Arulvazhi School, Ilaignarkal School, Isaiambalam School, New Creation School, Tamil Ulagam, Evening Schools, Udavi School. Youth Activities: Dehashakti Sports, Kailash, Art Youth Atelier (AYA). Other project supported by SAIIER: LEC (Life Education Centre), CIRHU (Centre for International Research in Human Unity), Savitri Bhavan, Lilaloka, LOE (Laboratory of Evolution), CRCP(Centre for Research in Communication and Publication), CIC (Centre for Indian Culture), French Language Lab, Auroville Library, Aurofilm, Auroville Transport, Ritam (bi-annual journal) and the Scholarship and Educational Fund