Category Archives:
International Programs
International Youth Day gathered a lot of youngsters as well as the mentors from Auroville at Mahalakshmi Park to explore Peace and Prosperity. A lot of fun activities organised by YouthLink along with the live music, food stalls and fire dance were to be seen and heard. For those of you who could not make it to the event, here is a short recording of the event as well as the talk with the vibrant youth of Auroville. See you next year!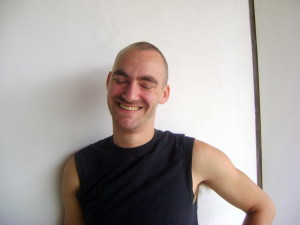 For Sam - Samuka da India, capoeira is life, dedication, passion, love .... axe. About a year ago Sam became a Profesor, and the group of his students got an official name - Ginga Saroba. Since than quite some things has happened, and the biggest news for the group is that Mestre Branco is coming to visit them, and everybody else in Auroville and around, the group is in the preparation for the first Capoeira festival in South India. What is Capoeira, how the daily life does reflect in it, how we are united in our differences. ... and more we finds with Sam, who warmly invites us to a Capoeira Festival in second week of Febraury 2016. http://ginga-saroba.com/ https://www.facebook.com/GingaSaroba?_rdr=p Here is how you can support us: Donate – even small donations go a long way! - Group FS account number is: 251616 - give the following description to your donation: Donation Festival 2016. Highest bidder will get rewards! Join us - the more people will participate the more fun the event will be :) Aurovilians who need it get a discounted entrance fee. Spread the word – The more people know about the event the more likely it will be a success! The festival will be open to everyone. For registration and further details check our Facebook page (https://www.facebook.com/GingaSaroba/). Thank you for your support, Ginga Saroba (Prof. Samuka da Índia e alunos)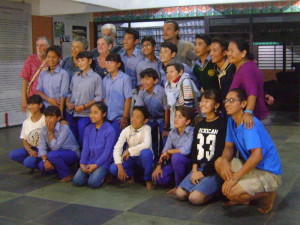 It is moving to see child's sincere and deep gratitude....it does touch one's heart...
And last night at Pavilion of Tibetan Culture in Internatinal Zone we have witnessed that by 15 children from Tibetan Children's Village who have stayed in Auroville for 6 weeks as exchange students. They have learned many new thing, they have been involved in daily life, even volunteered at the 10th AV Marathon, and more. Colorful exhibition with their products, pottery works, and with written letters from each of them clearly express it.
Part of what they have been doing, they presented: from humble invocation song to dance performances (where their playfulness on the transition to adulthood, showed that they are children, youth, as any other)
This year exchanges were fully supported by ex TCV students, Kalsang explained after the presentation.
On 11th, 12th, 13th and 14th of February Capoeira Festival will be going for the first time in Auroville, and on the South of India, with many visiting participants - from mestre to teachers, performers. With Sam (Professor Samuka da India) and Kiran we overview the schedule of events, and highlight the two evenings in Kalabhumi amphitheater which would be very interesting for the community, visitors ... Kalabhumi at 7pm Friday 12th will be a night of Expression! with concert of Jeremy Roske, performance with acrobatics of Familia de Ouro in a B-Boy, Svaram Music Crew with vibrant music... for the end - fire Capoeria roda Saturday 13th as a night of Concetration, Respect, Thankfulness! With Auroville Fire Spinning Crew with fire dance, Power Pandian Aasan (who recently won the 3rd Asian Silambam Championship) Silambam Team from Chennai will present their art. At the Capoeira Festival will participate guest teachers - Mestre Branco, Professor Esponja, Instutor Camaleao, Monitor Sucuri, Monitor Chico, Pierre Angola and others. http//:ginga-saroba.com/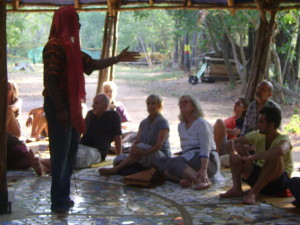 Yesterday early afternoon we had a chance to listen to Dr. Aunkh Chablala talking about the Core of African Spirituality - Consiciounsess and Energy and 13 Whispers. Presetnation took place at International Zone at the space of Africa House, Pavilion of African Culture. After the presentation was a time for questions and answers session. Dr Aunkh Chabalala, Amen-Ra Institute and Infinite Earth, Pretoria, South Africa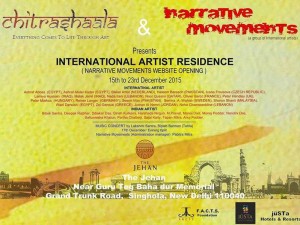 Ivana joined several International artists in New Delhi in Dec last year for an artists residency, she describes the event and shares her experience and what she gained from it; connecting with artists, being immersed with artists and how the experience enhanced her work and she encourages artists in Auroville to participate in such events.
For more information visit http://www.narrativemovements.com/
Baul song - Mon Amaar Deho Ghori by Dibakar Das Baul