Category Archives:
International Programs
General Meeting of the International Zone Group brought forward reports on the current development of the zone, and Mission Statement with Guidelines for work was read. Since there were not real objections except the one of the naming the document itself, it was accepted by the wider group of International Zone along with pavilion groups. With clear guidelines of work, and defining the position and role of coordinators, International Zone finally has a body which can link working groups of Auroville with the concrete line of action and work. Development of International Zone, although is one of the key elements of Auroville, is lagging behind despite quite many individuals who are contributing towards the future of it.
We had the great pleasure to interview humanitarian Dr Unni Karunakara internationnal president of doctors without borders/medecins sans frontieres (2010-2013) directly from Aurovelo. After his medical studies Dr Unni wanted to practise medecine in a different way so he chose to learn public health which focuses more on preventing disease rather than just treating it. To him prevention is doctors responsability and that's another reason why he joined doctors without borders/MSF in 1995, when he set up a tuberculosis control program in Ethiopia.
Dr Unni believes that it is important for medical professionnals as the people in general to be more aware of humanitarian action like MSF movement this is why he decided to cycle around india for more than 100 days, 10 states, 65 stops speaking to 10 medical colleges and created "Unnicycles". With the students the idea is to share his experience so that they might want to join MSF to enrich their knowledge and heart as futur doctors through traveling, understanding different cultures, ways to cure and that there is no need to go so far as India needs a lot of help. He will come back to Auroville as he supposes aurovillians believe that people diserve to live a life of dignity and are aware of living a healthy life so sharing his exprerience would be enriching for doctors as everyone else here. Every citizen has a role to play and can join MSF so spread the message around you as one small action multiplied creates a big action for the world.
Yesterday's meeting of pavilion groups organized by International Zone Coordiation Team at Pavilion of Tibetan Culture in International Zone gave some reports on the progress of the work in International Zone - each subgroup of the team presented current status, and some of future plans; from infrastructure, development and planning, security, administration to financial report. Second part of the meeting was focused on continuation of the presentation of pavilion groups followed by workshop on unity or soul of the continent, nation.
On his personal journey of life, and through India Luis Paulo Almeida stopped in Auroville for a little bit than a day. On that day - yesterday, he unconditionally shared with the community his vast knowledge and skills on traditional African dance in the dance workshop in the afternoon at SAWCHU, Bharat Nivas. Evening was dedicated to Mozambique, home land to Luis Paulo. With lots of patience he answered on many questions from gathered . Event was organized by Africa House, Pavilion of African Culture in International Zone.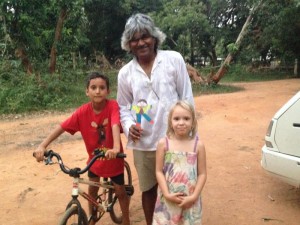 "Unnicycles" a cycle tour across India to support Doctors Without Borders (Medecins Sans Frontieres), with its (2010-2013) International President Dr. Unni Karunakara, was in Auroville last Wednesday. Starting from the Solar Kitchen and ending at Aurovelo, he took Aurovilian children for a ride. At Aurovelo, over delicious chocolate ice cream,' Dr. Unni told the kids the story of his great humanitarian project. They were also asking him questions about his job as a humanitarian doctor around the world.
It gave a great awareness to the children who could understand how lucky they are to be able to see a doctor when needed. They understood that MSF is an association which helps people who cannot otherwise afford to be cured, those who suffer from wars, who do not have enough food or who do not have access to healthy water, as is actually the cause of many diseases. We wish that Doctor Unni Karunakara comes back to spread his message in Aurovilian schools, to Aurovillian doctors, Pondicherry University, high schools and all of us, to remind us how important this action is and maybe to inspire some to join the MSF team...? '
Anandi is making the most of the need for a visa renewal by attending in the book fairs and networking to speak about Auroville during her travels where she would like to travel all the Americas from North to South and back again.
The Guadalajara (Mexico) book fair is her first destination where she will show the books ("Monoso", a book illustrated by Auroville children and "The Eternity Game" by Medhananda.
She is ready to go North (anywhere people are interested or willing to do some Auroville activities and working with kids, teachers and parents, as she visits Colombia, Venezuela, Chile, Uruguay and finally Argentina.
In and to coming back to Guadalajara (Mexico) in May, where she is invited to an Universal Encounter.
"I have a little pension that in most of the Countries is not going to be sufficient, any help is most welcome- My Pour Tous ccount number is 251314 Anandi Fernandez Elba. You can contact me by email; anandi7@auroville.org.in.  Thanks a lot for the company... Get ready. Gracias.  In Her Love "
Musical fragments artist Luciano Carrasco Valverde & Carlos Colavolpe, Album: Samba Nunca Demais
Auroville radio was here last sunday to capture the peaceful moment around the Inuksuk (stone figures created by the first inhabitants of the Canadian north, the Inuit) built by AVI Canada along with aurovilians born in Canada in the international zone. A presentation of the monument and a meditation followed by a round table of sharing experiences of Aurovilians, volunteers, newcomers, and guests created a link between these people of good will who would have never met all together otherwise so thanks Canada for such a great action for unity.
A very moving performance last saturday night at the tibetan pavilion in Auroville for the 8th Tibet festival. The TSAM (tibetan students association of Madras) expressed through traditional dance and singing their hope to free Tibet. The show ended with the Tibet national anthem song and it brought tears to my eyes as the generosity and warmth of these yet hobbyist dancers and singers but with such goodwill, honesty,sense of humor & commitment to the cause of their country that i could only see the humanitarian work they are doing. Free Tibet!
TSAM is a great support for Tibetans education in India, here are the targets: Aims and Objectives: 1. To retain our national identity by exhibiting our rich and unique culture. 2. To create awareness about the total Human Rights violation in Tibet. 3. To sensitize the people of Chennai about various harmful policies of China upon Tibet. 4. To create good relation with local Indian friends. 5. To helpstudents get admissions for various colleges in Chennai. 6. To help Tibetan students in Chennai and so on. . FINANCIAL RESOURCE Being a purely non-profit students' organization, our chief source of financial support is voluntary contribution we receive from all our patrons, institutions and individuals alike. Apart from this, whatever is within the bound of our potential we try to add to our general fund, such as holding Tibetan stalls during the colleges' festivals and fund raising through various cultural shows.. You can visit their website on
http://www.tsamfamily.blogspot.in