Category Archives:
Environment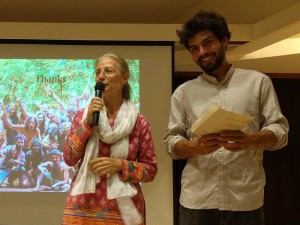 Tony Radet presented a an interesting talk about his alternative energy projects and his experiences while volunteering in Sacred Groves.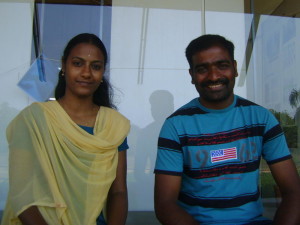 Thursday 24th March at 4.30pm,The Sustainable Livelihood Institute (SLI) will complete its first year of activity! It has been a year of efforts, adventure and significant achievements in bringing sustainable approaches to living to many quarters in Tamil Nadu (as well as an ongoing collaboration with Odisha). And it is great to see this important bridge between Auroville and Tamil Nadu coming to life! We are featuring short interview with Balu and Pavithrai who are working with SLI, and have witnessed in past year quite some changes in their life, community, neighborhood. Parvathi and Balu are warmly inviting all of us to tomorrow's 1st year birthday celebration at SLI in Kotakkarai starting at 4.30pm.
We went to ask a few people about the mobility in Auroville, and this is what has come out of it.
In this program Kali and Palani from Auroville Eco Service remind us the dos and donts of waste segregation to help them reduce our environmental impact.
You will also learn more about their commitment goals and ideas to make Auroville an example of waste treatment in India.
To organize a pick up call Palani at 9443535172
More info at https://www.facebook.com/Ecoservice
David (Town Planning) and Achva (Landscape design) Stein came to Auroville invited by L'Avenir D'Auroville in 2010 to work on a Greenbelt Master Plan. The plan centers around water sustainability. In this interview you can hear about what has to be done and what is needed. David looks towards the youth of Auroville to take up the challenges of the tasks ahead.
CIRHU  held a conversation on 'water consciousness' which was chaired by Luigi  and Mr. Bhagwandas (Aqua Dyn Water). Centre for International Research on Human Unity (CIRHU) has initiated several research projects on both environmental and human development and as a part of their weekly programs, a conversation on importance and consciousness on water has been organized at Town Hall. Researchers, students, visitors of Auroville have participated in the conversation and have involved in the discussion on how to improve the mindset of people towards the usage of water. Luigi told the press that debates and talks like these shall improve research on the growth and development of natural and renewable resources like water and thus promote peace and love for human unity. Research debates and conversations shall be held every Thursday at CIRHU, Town Hall, Auroville and students and research scholars are invited to participate in the program and share opinions and thoughts on various approaches for human unity.
Water Festival 2016 was initiated by few NGOs, Government agencies and Educational institutions in Pondicherry and Tamil Nadu which was supported by many forums mainly Auroville, UNESCO, Alliance Francaise and Pondicherry University. A three week program included awareness programs, water camps, signature campaign, dramas and other cultural shows which promote the importance of water. Many school students have participated in the event and the valedictory program was held on 22nd March 2016 at Bharat Nivas, Auroville. Speaking to the participants and the distinguished guests, Dr. Bhanu R. Neupane, Program Specialist at UNESCO said that "Together, we can resolve the water issues and there should be a strategic plan and also a systematic action to counter water challenges". He also later added that, UNESCO would be ready and always be a supporting agency to any water management initiatives. Many dance programs, talks and presentations were organized during the closing program and the Puppet Show was a major highlight to light the minds of many participants in addressing water issues. Interestingly, water from nearby villages and towns of Pondicherry have been collected as a symbol of 'water unity' and 'sustainable usage' Mr. Raghunath, Member of the Pondicherry Science Forum has taken lead in many programs of this festival and it was a grand success.
The upcycling studio located in the Udavi campus recently inaugurated an exhibition of its recycled work. Auroville Radio speaks with Marc, Ok and Orly who are passionate about reducing and reusing waste open our eyes and minds to help us tackle this pressing issue. Visitors and students enjoyed the products and ideas exhibited and were impressed by its overall message. For more information you can visit the upcycling studio Auroville Facebook page https://www.facebook.com/upcyclingstudioauroville/.