Category Archives:
Evolution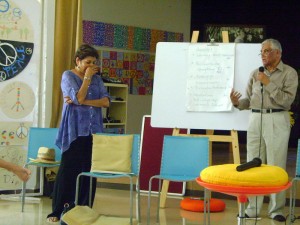 The Residents Assembly Team in collaboration with the Action Groups, the Vision Task Force and Wcom presented the reports and proposals to the community of Auroville to discuss the way forward from the Auroville Retreat 2015. There was active participation from the Action Groups as well as the community and the priorities were highlighted. These included 'growth' as the over-arching goal, the involvement of the youth and the need for expanding human resources. Other important aspects discussed included the barriers to people joining the Auroville Community as well as housing. A key aspect that came out during the discussion was regarding research, documentation and communication along with the importance of telling the story of Auroville.
There has been a momentum created by the Auroville Retreat and Monica Sharma workshops which we want to continue and amplify.
We have the wonderful opportunity now to further this work and increase our skill-level in manifesting the changes which so many of us want to see.
In this light, longtime Auroville friends and supporters Katharine Roske and Carolyn Anderson have offered to engage with us in an online course on principles and practices of co-creation.
The essence of co-creation is working from the inside out, combining the spiritual practices of deep listening, building resonance, love and inner wisdom with outer actions in the world.
Katherine and Carolyn have authored "the Co-Creators handbook" which will be the support material for this course. The tools they have evolved in this book have been applied in various contexts around the world: youth leadership, community building, mediation, decision making and more.



En écoute la conférence du Pavillon de France avec Fanchon Pradalier-Roy, chercheuse en astrologie, autour du thème : "L'astrologie science de la conscience : Le rôle de la France dans l'avènement de l'ère du Verseau".
Fanchon Pradalier-Roy est chercheuse en astrologie, sciences de la Vie, de l'éducation et de la communication. Après un parcours comme spécialiste des médias et des technologies de communication appliquées à l'éducation et la formation, elle a créé une université ouverte en astrologie sur Internet, Univers-site. Puis aux éditions Alphée, elle a œuvré à la publication d'ouvrages sur l'émergence d'une nouvelle conscience. Elle se consacre maintenant à ses recherches astrologiques et à l'écriture, donne des conférences, anime des séminaires et entretiens, réalise des films avec son époux, Hubert Roy. Elle s'inscrit dans la lignée des deux grands astrologues, Charles Vouga et Germaine Holley, qui lui ont légué le droit moral sur leur œuvre.
Ses champs d'intérêts et de compétence : l'actualité politique et mondiale, les grands projets éducatifs, les cycles de civilisation et d'évolution, le lien entre les cycles collectifs et les rythmes individuels, l'astrologie mondiale et planétaire, l'évolution de la conscience individuelle en relation avec la conscience collective.
Elle est l'auteur de plusieurs ouvrages, dont le dernier, La Destinée de la France, dessine, à travers un parcours complet dans l'histoire de France, le destin singulier de la France, met en évidence la cyclicité historique, en relation avec les grands cycles astrologiques et constitue une véritable introduction à une astrologie des civilisations.
Recording of World Peace Day meditation with the Peace Bell at Pavilion of Tibetan Culture in International Zone. Maybe as symbolically as the united Nations rung the peace bell in the morning of 21st of September, Vera has offered meditation with recently acquired Peace Bell. In the settings of ever peaceful and tranquil Pavilion of Tibetan Culture gathered had a chance to contemplate on the theme of peace, and rung the Peace Bell by themselves to spread the wishes and frequencies. Nowhere will you be able to find peace unless you have peace in your heart. The Mother In peace and silence you will more and more become conscious of the constant Presence. The Mother If you ask from within for peace, it will come. The Mother
Qui rêve en nous et de quoi  ?
Quand et comment rêvons-nous  ?
Les rêves peuvent-ils changer notre vie  ?

C'est la question que nous nous sommes posés samedi 28 mars, à l'Atelier Fil Rouge à Paris (12e) http://filrouge-conseil.com/, lors du dernier Café Auroville proposé par l'association Auroville International France.
Nous avons accueilli Pierre Etevenon, c pour nous parler de son dernier livre publié en 2013: "Des rêves pour changer notre vie" aux Éditions ErickBonnier.
Depuis 1965 Pierre Etevenon a étudié en tant que chercheur électro-physiologiste, les états d'éveil, de sommeil et de rêves, les états pathologiques et les états modifiés de conscience. Passionné par l'Inde et disciple de Sri Aurobindo depuis 1963, il a résidé chaque été avec sa femme Micheline, à l'Ashram de Sri Aurobindo et à Auroville, de 1970 à 1973, où Mère leur a donné la responsabilité d'Auroville France puis d'Auroville International France à Paris.

Nous étions environ une cinquantaine de personnes venues en cette occasion pour rêver ensemble. Interviewé par Nadia Loury, Présidente d'AVIF, Pierre a longuement évoqué le travail de Michel Jouvet sur la fonction du sommeil paradoxal.
Les récits de rêves peuvent être considérés selon trois catégories de type de «conscience» et selon des plans de conscience étagés. «L'Ascenseur des rêves», comme Pierre appelé ces niveaux, traduisent les plans, strates et niveaux de conscience et d'Existence selon la tradition indienne de Sri Aurobindo (inconscient, physique, vital, psychique, mental, spirituel, supra-conscient). Pourquoi prendre l'Ascenseur des rêves et noter ses rêves, sans les analyser  ?
«  pour découvrir notre être intérieur, notre psychique  », précise Pierre. En réponse à une question du public qui s'interrogeait sur sa méthode et sa finalité, il répond  : «  nous pourrons devenir plus conscients de nos journées, et découvrir notre être intérieur…et cela peut conduire à un changement de conscience et de notre vision du monde  »

Plus d'informations sur Pierre Etevenon  : www.sgdl-auteurs.org/pierre-etevenon
Prochains rendez-vous Café Auroville sur  : www.auroville-france.org



Most of humanity's problems are self-generated. On the basis of this notion, Dialogues on Humanity aims to gain better understanding of what human beings are, how we can grow wiser together, gain self-confidence, believe in others and in the future, and achieve greater understanding and justice. This event wants to encompass maximum cultural and geographical diversity and welcome a variety of opinions and possible answers to the many questions we have. The event will be held on February 3rd at banyan Tree in Visitors Centre. From 10am to 4pm. Organized by Cafe Auroville.