Posts Tagged 'City Life'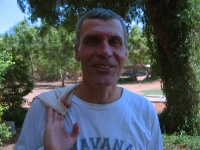 Le logement est l'un des principal problme d'Auroville. On recense actuellement environ 160 personnes n'ayant pas de domicile "permanent" soit 8% de la population aurovilienne. Depuis peu, plusieurs projets mergent pour rsoudre partiellement la situation. Yann, a pris part l'un d'eux, celui de Satprem (AuroSatprem). Nous vous tiendrons au courant de l'volution de ce projet dans nos prochains magazines.
Il y a quelques mois, l'quipe franaise avait decide de suivre Chloe qui l'epoque, souhaitait devenir NewComer. Aujourd'hui nous la retrouvons et la rencontrons de nouveau pour savoir o elle en est de ses demarches. Elle nous dvoile aussi un nouveau projet de logement que nous techerons de suivre durant les prochain mois.
Ce programme que vous pouvez tlcharger, sera diffus partir du lundi 7 octobre, accompagn de l'Agenda de Mre et de Savitri lus par Gangalakshmi.
Chloe is NewComer. We follow her since the beginning of her choice to become part of Auroville. In these echos from the French Team, you can listen to her interview in which she also speaks about a new housing project.
Martanda is the co-ordinator of the Auroville Road Service work. A young man born in Auroville, he has taken upon himself a work that is both very much needed, appreciated by many and critically questioned by some.
Aware of the problems of excessive dust during the dry season countered with mud and puddles during monsoon seasons, Martanda has chosen paver stones as a solution. In an interview, he points out that roads define a city; as all the lands of our city are not yet acquired, the building of its roads remains a challenge on which Martanda continues to work.
Aurevan, Smiti, Shrishti and Vinay, students of' various schools in Auroville, created this short program.
'
The seven new Entry Service members introduce themselves with individual presentations, giving a bit of their backgrounds and sharing their hopeful and sincere feelings regarding being part of the new group. The new Entry Service will supercede the former Entry Group on a gradual basis. Learning from the past and getting ready to implement the future of Auroville through welcoming the aspiring applicants for Newcomer status, they begin the work next week.
The group photo shows from left to right, back row Rolf, Swadha, Anandi, Thillai and in the front row, Andre, Don and Charu.