Posts Tagged 'collective'
5th Sept 2017 – CAT – ' Exploring Prosperity '
Auroville is approaching a landmark date, 50 years of existence. This is a wonderful opportunity to come together and celebrate our unity and resilience but is an even bigger chance for us to go into an introspection of where we are and what should be our route map for the future.
A group of Aurovillians have taken up the challenge to address core issues in Auroville, in areas regarding Human resource, services, commercial units, farms & forest, education, fixed assets and self governance.
The core team comprising of Pashi, Umberto, Luigi, Joseba and Giacomo with a support group of Anandi, Mita, Srimoyi, Rita, Paulette, Jaya, Romel and Mimansha.
Listen to the meeting as Pashi and group explore deeply into the Mother's actual original plan with facts and figures for developing Auroville – A city the earth needs.
The group identifies itself as 'exploring prosperity' and can be contacted at exploringprosperity@auroville.org.in . this is an open group and is open to all ideas related to steering Auroville onto a sturdy path progress and collective prosperity.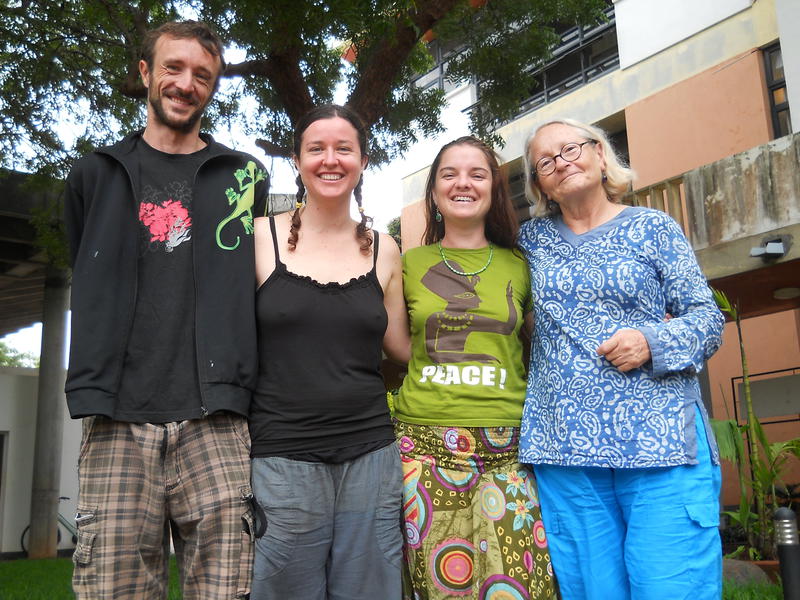 Christiane and Valerie from the collective ArTranslation talk to us about the project they are undertaking, in Auroville, this month. Aurellll and Cedric complete this collective of artists from the island Reunion, a small French island near Mauritius in the Indian Ocean. Exhibiting in Gallery Square Circle in Kala Kendra, Bharat Nivas, on December 4th to 14th, the opening is on the 4th at 4.30 pm. Personal works will be exhibited whilst the collective is also working outside on a structure made of gathered wood and stones.
The structure is meant to shelter useful seeds of plants like pumpkins and beans, as well as aromatic herbs and spices, and is adapted to the environment around it. As they build the structure, the collective also builds relationships with others who are participating. They focus on the quality of these relationships and enforce what they call `relationship ecology'. Having come from Reunion Island to meet artists from different cultures, especially the Tamil culture. In Reunion Island, a good third of the population is of Tamil descent. Also, they chose to come to Auroville because the charter is very close to the guidelines they follow in their collective working. They have been working together for three years and are interested to see how the collective work will evolve when the participants are from different cultures and do not know each other beforehand. Everyone in Auroville, artist or not, is invited to come and participate either in the work on the structure, by adding a branch or painting on scraps of cloth dipped in plaster, or by adding to the collective fresco. You can meet them at the opening on December 4th or on Saturday 7th or Thursday 12 (at 3 pm), at Kala Kendra (Bharat Nivas) for talks, projections of slideshows and short movies. You are welcome to bring your own as they are very interested in discovering the work of other artists and sharing views about making art. More info: www.facebook.com/Artranslation
'
Project Collective Priorities Needs You! The outcome of the first meeting on community values and priorities that took place mid June yielded fruit aplenty; the second in the series takes place tomorrow Wednesday, Unity Pavilion. The Collective Priorities Project aims to build an evolving set of collective priorities and values that can assist the growth of the community. All participants in this community are wanted and welcome.
For those who want to live according to the Truth, the only way is to become conscious of the Divine Presence and to live exclusively accordingly to Its Will…this is the only way to escape from evil and suffering, the only way to be in peace, light and joy…. the Mother
'
'
Yesterday we had a chance to meet new members of the Working Committee and Auroville Council, where they shared information with the community on their current work. In a few weeks we can expect a General Meeting on the topic of conflict resolution platform. In order to overcome the burden of numerous conflicts, the idea is to have a platform, instead of a body or a team, where parties in conflict could find their own solutions. New WC and AC members try to be more transparent with weekly reports published on AVRadio.