Posts Tagged 'concert'
Prahlad Tipanya, one of the most compelling folk singers of Kabir, and his group will be back in Auroville during the 9th and 10th July. Satsangas will happen at SAWCHU, Pavilion of Indian Culture in International Zone at 8pm on both days. On 11th of July at 4.30 at Unity Pavilion in International Zone the Residents' Assembly Service invites us to a meeting to discuss collective priorities. AV Health Centre informs us that there will be Bone Mineral density test repeated at the Auroville Health Centre on 21st of July from 10am onwards.
Whatever work you do, do it as perfectly as you can. That is the best service to the Divine in man. The Mother
'
'
Yes, end of the busiest season in Auroville is here, holidays started ,and at Well Caffe in Sve-Dame last Friday was organized live concert with Suryan, Joel and Will and with Yemadas. Hot summer night, candle lights and mellow music of songs mostly known to us, was a perfect occasion to meet with the friends, to maybe dance, to jam after the concert. After intimate songs of Suryan with Joel on bass, and Will on drums, Yemadas with visiting Anand and Prakash raised the fever with African and Brasilian beats, hard to resist not to dance.
In today's news we feature phone interview with Jesse, made by Andrea about today's General Meeting in Unity Pavilion in International Zone at 5.30pm where we will hear the results of Selection Process Study Group and to discuss their proposal for the process by which the community will select the next L'Avenir d'Auroville – Town Development Council team. Weekend will be still mostly in music mode by live concert at SveDame Well Caffe, Yemadas and Suryan, Laurent , Joel, and on Saturday sitar recital at Bharat Nivas in International Zone.
…But the true essence of sacrifice is not self-immolation, it is self-giving; its object not self-effacement, but self-fulfilment; its method not self-mortification, but a greater life; not self-mutilation, but a transformation of our natural human parts into divine members, not self-torture, but a passage from a lesser satisfaction to a greater Ananda. Sri Aurobindo The Synthesis of Yoga
'
Amphitheatre Group reminds us for the Collective Concentration under the Banyan Tree, tomorrow on the darshan day and the The Mother's Final Arrival Day. In today's news we feature interview with Kalki who will presents 'The Lives of Others' on Saturday in Town Hall. TLC invites us to their open house on Thursday 4.30pm at new last school builiding. Tomorrow at 7.30 pm at the Red Door of Arka Girogio and friends will share with the community a selection on a projection of Chronotypes. Thursday at 5.30pm at Unity Pavilion General Meeting.
Even the most beautiful thoughts will not make us progress unless we have a constant will for them to be expressed in us trough nobler feelings, more exact sensations and better actions.The Words of The Mother, Vol. 14
Conference Room in Town Hall was almost too small last Saturday for all those who wanted to listen to a classical European piano recital. Rina brought to the children at Udavi School for the first time in their life some knowledge about European classical music, and they were all enthusiastic about it. Soon they have started to practice this music on piano, and their love, determination for the music leaded to the concert, where we were impressed by their performance.
Udavi School students ; Kumarian, Partipan, Sivaganesh, Ajith, Ubamanju, Vinesh, Ganesh, Jeeva, Ubi, Siddharthan and Sunil.
teacher Rina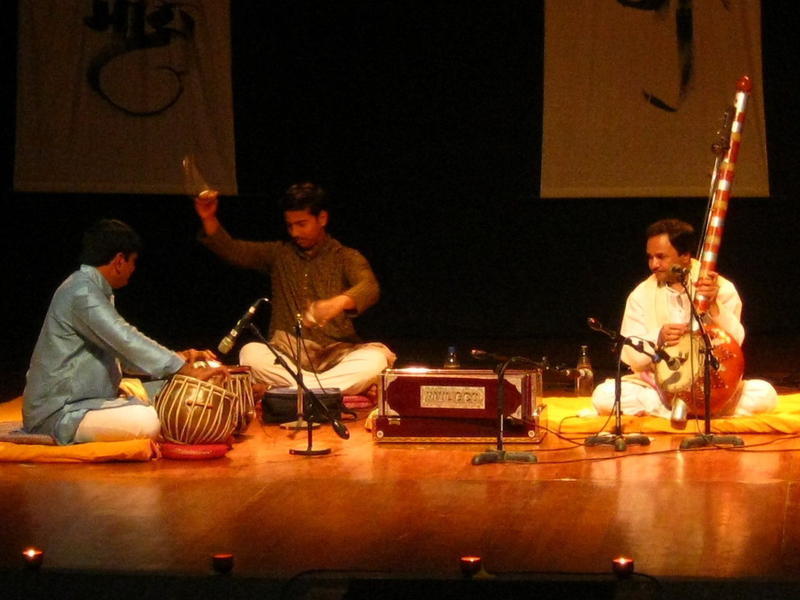 Hemant Chauhan is considered one of Gujarat's best and most widely celebrated singer of bhajans and folk music. He is frequently referred to as the bhajan king of Gujarati music, and is also considered to be one of the best singers of Sugam Sangeet. He has a huge fan base in Gujarat and abroad for his divine music and singing. It is believed that his performances of bhajans and devotional music have the ability to carry the listener into a tranquil, relaxed and serene world.
He has a charismatic personality that enthrals his listeners with his effortless voice and charm. With an extensive catalogue of hit songs and bhajans, his Kathiya Wadi Lok Dayra and Bhajan Sandhya concert tour in North America in early 2007 was a huge hit. Hemant Chauhan is thus revered as a legend in India and has released many albums of devotional music. – www.youtube .com/watch?v =ovblLJhU7n4&feature=related -kabirproject.org /- www.aurovilleperformingarts.com –
'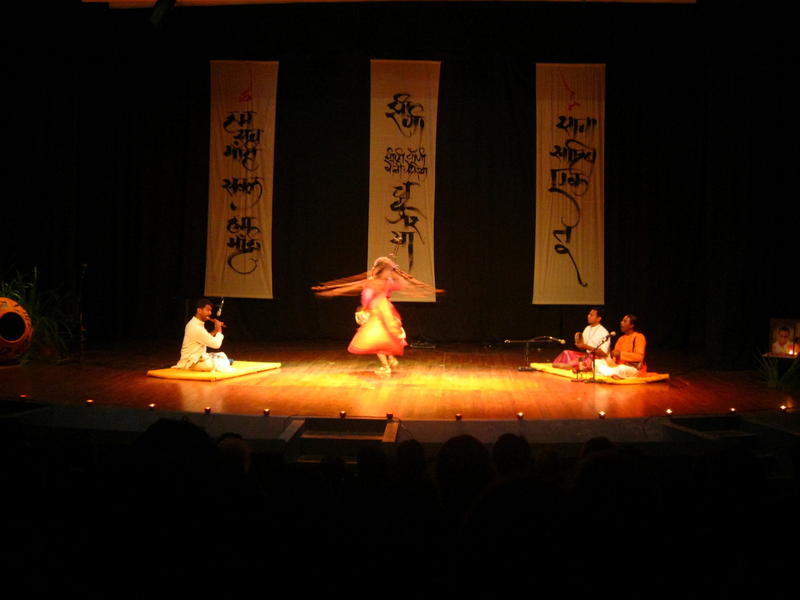 Parvathy Baul is a singer, painter and storyteller from West Bengal. After receiving her initial music and dance training during her childhood, she studied visual arts at the Kala Bhavan at Shantiniketan, the university founded by Rabindranath Tagore. Meeting with the living tradition of Baul prompted her to choose the path of self-training in the Baul order rather than an institutional degree.
Impressive beauty, personality and intensity of her devotional chanting and rotating dance, make her unique.
–
http://www.parvathybaul.mimemo.net/
–
http://parvathybaul.srijan.asia/
– www.youtube.com/watch?v=pqz_5HUlGGs&feature=related – www.kabirproject.org – www.aurovilleperformingarts.com – Baul: are a group of mystic minstrels fromBengal. Bauls constitute both a syncretic religious sect and a musical tradition. Bauls are a very heterogeneous group, with many different subsects, but their membership mainly consists of Vaishnava Hindus andSufi Muslims. In 2005, the Baul tradition was included in the list of Masterpieces of the Oral and Intangible Heritage of Humanity by UNESCO.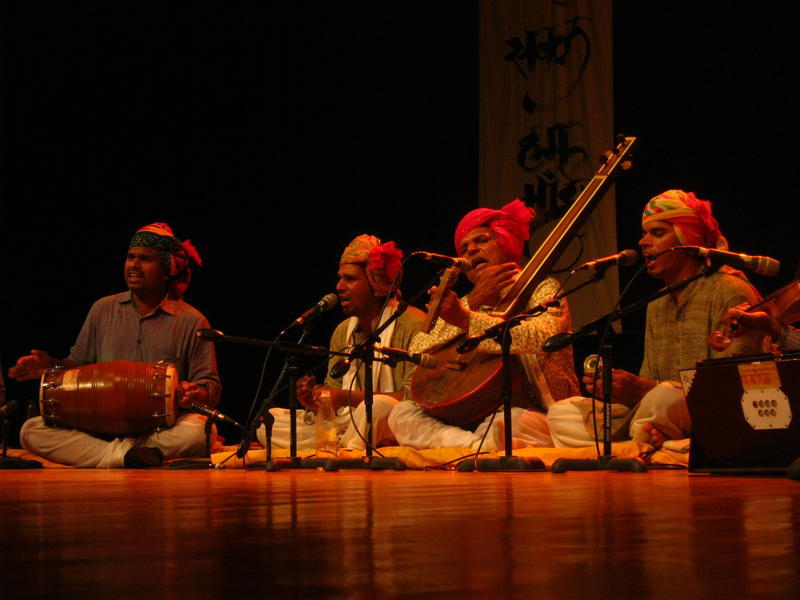 Prahlad Singh Tipaniya is an Indian folk singer who performs Kabir bhajans and one of the most well known folk singers from Malwa, Madhya Pradesh. He performs together with a group of tambura, khartal, manjira, dholak, harmonium, timki and violin players. Prahlad Tipaniya toured in the UK and the United States, as well as in India, and his music has been played on All India Radio stations. He has received several awards including the Padma Shri in 2011.
He also performed at the annual Sufi music festival, Ruhaniyat.
–
http://vimeo.com/10767440
– www.youtube.com/watch?v=mFCsH0R1aV4&feature=related –
– www.kabirproject.org – www.aurovilleperformingarts.com –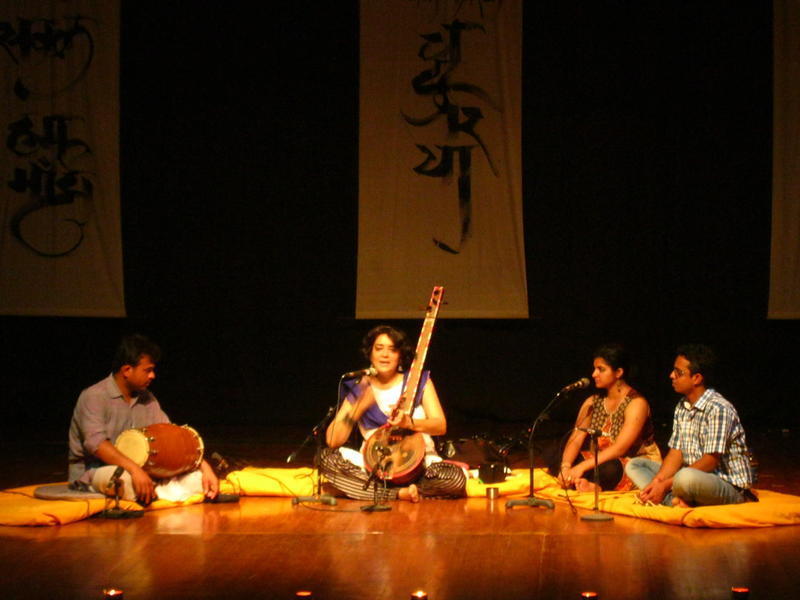 Shabnam Virmani, is a documentary film maker and artist in residence at the Srishti School of Art, Design and Technology in Bangalore since 2002. She is director of the Kabir Project. 7 years ago she started traveling with folk singers in Malwa, Rajasthan and Pakistan in a quest for the spiritual and socio-political resonances of the 15th century mystic poet Kabir in our contemporary. – www.kabirproject.org/films – www.aurovilleperformingarts.com –