Posts Tagged 'Culture'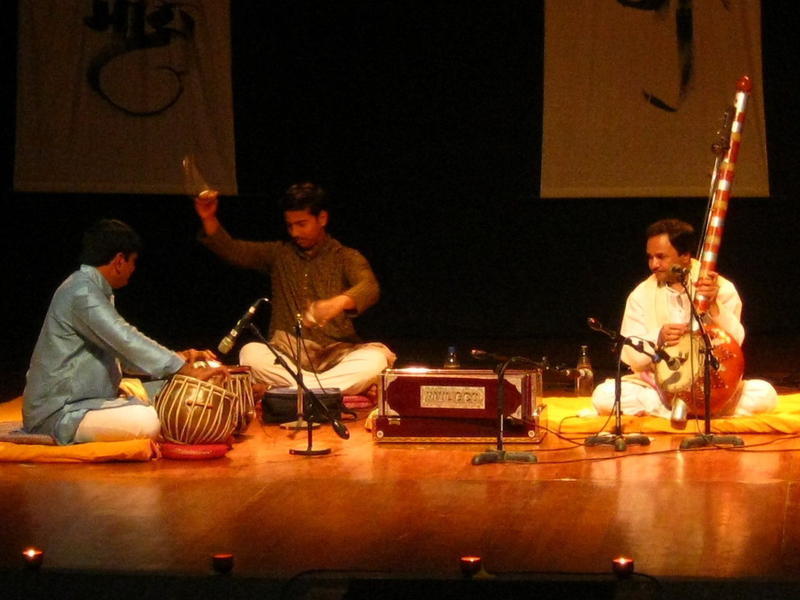 Hemant Chauhan is considered one of Gujarat's best and most widely celebrated singer of bhajans and folk music. He is frequently referred to as the bhajan king of Gujarati music, and is also considered to be one of the best singers of Sugam Sangeet. He has a huge fan base in Gujarat and abroad for his divine music and singing. It is believed that his performances of bhajans and devotional music have the ability to carry the listener into a tranquil, relaxed and serene world.
He has a charismatic personality that enthrals his listeners with his effortless voice and charm. With an extensive catalogue of hit songs and bhajans, his Kathiya Wadi Lok Dayra and Bhajan Sandhya concert tour in North America in early 2007 was a huge hit. Hemant Chauhan is thus revered as a legend in India and has released many albums of devotional music. – www.youtube .com/watch?v =ovblLJhU7n4&feature=related -kabirproject.org /- www.aurovilleperformingarts.com –
'
Just few hours before the first Kabir musical event in Kalabhumi. Listen to Parvathy Baul, Shabnam Virmani and Prahlad Tipanya sharing (in Hindi & English) their spiritual experiences. From Wikipedia, the free encyclopedia: Satsanga, Satsangam, Satsang (Sanskrit ??????? sat = true, sanga = company) in Indian philosophy means the company of the "highest truth," the company of a guru, or company with an assembly of persons who listen to, talk about, and assimilate the truth.
This typically involves listening to or reading scriptures, reflecting on, discussing and assimilating their meaning, meditating on the source of these words, and bringing their meaning into ones daily life. Contemporary spiritual teachers in the West frequently come from the East but can come from any part of the world. The idea of satsangam was first spread by ancient Rishis such as Vedavyasa and Valmiki who explained its value in many different ways. For info about the Auroville Sacred Music Festival please visit the web site:
http://aurovilleperformingarts.com/kabir.html
In the sports ground of Edayanchavadi village Bindhu Malini and Vedanth Bharadwaj were performing live, with Folk-Blues acoustic set, the Kabir's poetry. They sang all the songs in Tamil language: Mira's song, To remember God , Mira's Bajan's song, Maya a Fraud, Sattle Sound of Universe. Bindhu's husband Vasu Vikshi also jumped on stage to play and sing with humor about Kabir in the contemporary contest and the Kaveri River's song. – www.vedanth.in – www.kabirproject.org – www.aurovilleperformingarts.com –
Starting Fri. 6th, Auroville hosts a 3-day festival celebrating Kabir… along with the live performances, Cinema Paradiso will show 4 films about Kabir, exploring his philosopy, poetry and songs, all with English sub-titles. Auroville Architects Monograph Series first release on architect Poppo Pingel, by Mona Doctor-Pingel 7 April, 9:15 at Town Hall Conference Room. Dehashakti (physical education, sports of various kinds for Auroville students) is minus funds for award t-shirts; support them by contributing to Dehashakti Sports acc. 102264.
This from the Mother: Whatever the way we follow, the subject we study, we always arrive at the same result: the most important thing for an individual is to unify himself around his divine centre. Otherwise, he is a plaything of forces that toss him about like a bit of cork on a river, going everywhere he does not want to go, made to do things he does not want to do and finally, he loses himself in a hole without strength to recover… but consciously organized and unified around his divine centre, and directed by it, he is master of his destiny.
International Teahour of the Edible Book and MailArt exhibition Bake a Book a Day was presented by Peter Netmail in Aurelec Art Gallery. The International Edible Book Festival is a creation of Judith A. Hoffberg and Batrice Coron. Judith got the idea over a Thanksgiving turkey with book artists in 1999. Batrice created www.books2eat.com where despite the distances everybody can enjoy worldwide's creations. They contacted friends and colleagues; their first event happened in year 2000. Since then the festival continues as an annual sensation.
The International Edible Book Festival is held annually around April 1st. In this particular day the artist Peter Netmail (Peter Kustermann) made a magic recipe with different kinds of tree and others ingredients into his box. Then with the help of the audience's energy and concentration it developed in a beautiful and good book for Auroville. To our knowledge, the following countries have held this festival: Australia, Belgium, Brazil, Canada, China, England, France, Germany, Hong Kong, India, Ireland, Italy, Japan, Luxemburg, Mexico, Morocco, Netherlands, New Zealand, United States of America, Romania, Russia, Singapore, Sweden. This event unites bibliophiles, book artists and food lovers to celebrate the ingestion of culture and its fulfilling nourishment. Participants create edible books that are exhibited, documented and then consumed. April 1st is also the perfect day to eat your words and play with them. – www.netmailart.de – www.colophon.com/ediblebooks/photos.html –
Vendredi, le Visitor's Center etait le theatre d'un magnifique spectacle de danse. Des danseurs de Pondichery et d'Auroville avaient decide de celebrer la femme a travers la danse. On retrouvait notamment Ana et Tiago, professeurs de danse africaine a Windarra, et Tejas, professeur d Odissi a Felicity. La performance a attire un large public. Tango, Salsa, Bollywood : il y en avait pour tous les gouts ! Fleur, danseuse contemporaine et organisatrice, nous expliquait avant son show l'objectif de ce rassemblement de talents.
The dance form of Mohiniyattam comes from Kerala. The name Mohiniyattam literally means 'Dance of the Enchantress, Gopika Varma's training in Mohiniyattam since the age of ten has been under eminent gurus senior students of Kalyani Kuttyamma whose student she continued to be for 10 years. And here she is, accompanied by three dancers and a group of musicians, performing in Bharat Nivas. Unfortunately, this recording contains only sound, but the live music is definitely worth listening to, and the pictures give a good impression of the evening.
Body Consciousness in Movement, the two days Contact Improvisation Workshop by Irene Sposetti & Johan Nilsson will start on Saturday 31 of March in the morning 9.00-12.00 and it will continue at the same time on 1 of April at the Dance Studio in New Creation. They will awake openness, receptivity, softness and fluidity in the body movement. They will concentrate on presence and spontaneity, on the capacity to find new ways of moving as they explain in the interview. Open at all level, with live music. https://www.youtube.com/watch?v=ED8hNoulZv4
The Italian Irene at present is focused on improvisation, she integrates live music in her teachings; she plays for dance performances and dance festivals all over Europe and India. Irene comes from a multidisciplinary background of classical music, theater and dance. Her artistic path is deeply intertwined with a personal research inspired by spiritual practices, eastern philosophies, bodywork and healing techniques.
She loves to use movement and music as tools to explore and inquiry, to transform herself and offer to others the possibility to reveal and access their qualities and presence. In the last eight years She have been exploring Dance Improvisation and Contact teaching and organizing dance events in Spain, India, Germany, Italy and Sweden. She participates as dance teacher and musician in dance festivals all over Europe and India. Her musical studies started at a Conservatory in Italy where she have been learning Flute and she sang in a classical choir for about 10 years. She also have been studying singing from classical western music and Indian carnatic tradition and now she will present this workshop with Johan from Sweden. The last years he have been participating as teacher and performer in several projects, festivals and dance events in Europe. Since five years he teaches classes and organizes CI events in Jrna, his home town, and Stockholm. His interest in movement deep end when he discovered Contact Improvisation in 2004.
Before his movement history includes sports, capoeira, African dance, world dance and fire-spinning. Since he started with Contact Improvisation his main inspiration comes from Mns Erlandsson and Malin Anclair, Stockholm. He plays percussion and piano and he loves to include live-music in his dance work. With percussive instruments, singing bowls and natural sounds he create sound landscapes for classes and jams. –
https://www.youtube.com/watch?v=lufoSXzZsB4&feature=related
–
https://www.youtube.com/watch?v=m0G–VEiSuI