Posts Tagged 'Culture'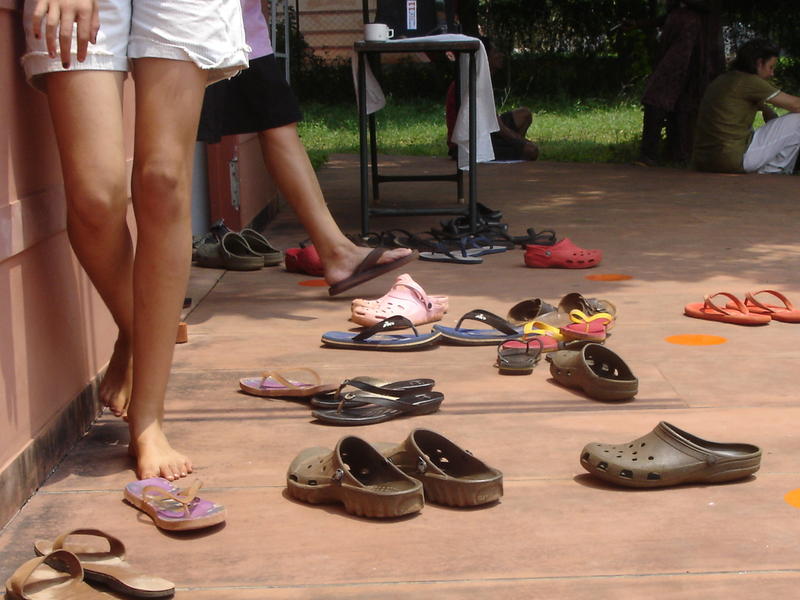 On the second day of the Auroville Film Festival many people came already in the morning. A film that seems to have grabbed special interest was "A New We" and was documenting the lifestyle of 10 intentional Communities and Ecovillages in Europe. Listen to the inspirations and insights that Aurovillians got from the lifestyle of those communities and their feeling about the Festival.
Auroville's second Film Festival, the brainchild of Marco of Cinema Paradiso, had its grand opening yesterday to a a packed audience of Aurovilians adult and children plus guests from abroad. There was a contagious spirit in the very air, spreading through one and all; smiles and laughter midst music created the sense of a real festival. Hear Marco as he shares his feelings; Paul and Wazo entertainingly explained what was to take place, and Kathy and Amy also had comments to share on this lively event.
To the Divine Vision all sincere human aspirations are acceptable, whatever diversity or even apparent contradictions there may be in their forms. When man becomes a little wiser, he will not complain about anything and will take the things the Divine sends him as a manifestation of His all-compassionate Grace.
the Mother
Yesterday Auroville Film Festival 2011 opened to an enthusiastic crowd, midst music and bubble blowing, excited people obviously happy to meet and greet as last minute preparations took place on stage and behind stage. This is the recording of the full event… Paul, Wazo and Marco entertained the audience, introducing the theme of this festival, showing a few clips on-screen. This years festival is panning out to be bigger and better with 121 films scheduled to be shown. Click here to download the program (pdf).
The themes explored in the films are wide and varied; everything from Spirituality, life in Auroville, Human Unity and some times just plain entertainment.
The opening night was presented with an interesting mix of banter, interviews and comedy. The team of Wazo and Paul kept the audience engaged with sprightly chit chat and the necessary bits of profundity thrown in.
Some of the film festival judges were interviewed as well as Graham Rutt; the representative from One People Productions, who travelled from England to be present at the festival.
What was new at this years festival is the big tent, the festival 'action station' situated on the platform between town hall and Cinema Paradiso is where all of last night's action took place.
The action station is also set to host live debates on the evenings of the 30th Sept and 1st & 2nd October on topics such as: 'Filming Human Unity', 'I am, you are, we are film makers' & 'Film making-an incredible playground for kids'.
The events will be broadcast live on the AurovilleRadio streaming channel.
Cafe Le Morgan played their part by serving the gathered throng an eclectic menu of drinks and savouries. They also served dinner from a fixed menu of Veg or Non-Veg for movie goers from 7.00 pm onwards. And this dinner ritual is set to continue for the entire duration of the festival.
With screenings in three venues, 50 hours of films, three hours of live radio debates and good food this Auroville Film Festival opened with a bang and has something on offer for everyone.
Due to overlapping of events, the General Meeting called by the Residents' Assembly Service is preponed one day, and will take place on tomorrow Wednesday 28th at SAWCHU at 4.30pm . In today's news we feature interview with Chloe on Auroville Film Festival and our – Auroville Radio participation in it by round tables moderated and broadcasted live. The new shelves for the new library have come and library have decided to close the library from October, Monday 3 to begin the transfer, and they hope it wont take them over a month to do all.
Open your heart and you will find me already there. Don't be restless, remain quietly concetrated in your heart and you will find me there.The Words of The Mother Vol/13
Auroville's favourite photographer Giorgio released a beautiful little book 'About Photography' this week. Auroville Radio spoke to him on Monday to get an insight in the mind of a photographer. What drives him? What does photography mean to him? How does he combine photography with the progressive spirit of Auroville? Printed on hand made recycled paper, this book is a beautiful collector's item as well as the honest story about a man and his passion for photography. Now available for everyone at Arka Library.
We are invited today at 5pm at the Red Door in Arka by Giorgio to see the Book they named it the Little book on Photography made in recycled paper. For the occasion, later, the people will have the possibility to experiment with the Chronotype System on the spot. On Saturday 24th at the Unity Pavilion between 5 to 7 pm we can join the World Poetry Movement at poetry tea around peace table. Event is organized by Tamil Heritage Centre and Unity Pavilion. NATURELLEMENT is opening the GARDEN CAFE beside the canyon, next to Verite.
"I am only one, but I AM ONE. I cannot do it all, but I will not refuse to do what I can.
and what I can do, by the grace of the Creator, I will do."
Edward Everett Hale
Sukhino is one of our musicians here in Auroville and his music an interesting mix of Blues, Ambiance, Mediterranean Style and Spanish guitar. He is composing and producing all the songs himself in his little sound studio. Here you will hear some of his songs and get some insights into his life and work. His CDs are available in the Auroville boutiques, can be ordered through internet at http://www.la-boutique-bio.com or from himself email: sukhinosergio@gmail.com. You can also listen to more songs at www.myspace.com/sukhino.
On Thursday September 8 in the Picture Gallery at Savitri Bhavan Ladislav Brozman, a well-known musician and violinist from Sri Aurobindo Ashram performed a Solo Violin Recital. The repertoir was consisted of Sonatas by Johann Sebastian Bach (C-Major Sonata), Eugene Ysaye (First sonata for violin solo) and Arthur Honegger. The attending public was enraptured in enveloping sound-waves of eternal music. It was as if the higher world of harmony descended in this moment from higher spiritual plane.
After the final accord had died down the long applauses sounded as a token of appreciation to the artist for the given opportunity to be uplifted into higher spheres.
Neither the raging storm nor the rain stopped the music lovers from coming to Pitanga on Wednesday evening 24th of August for one of the best concerts this year. Matt, out of his love for music , put together Confluence – a concert of contemporary Indian jazz featuring Amit Heri on guitar . Beauty of songs was expressed with excellence in techinque. Love and passion for music can bring the transcendental into music. In this moment the listener is melted into energy of it, drifted away, and beside music nothing else matters any more.
Confluence A contemporary Indian Jazz concert featuring Amit Heri from Bangalore on guitar. Accompanied by: Matt Littlewood – Saxophones, Mishko M'Ba – Bass, Manosh Bardhan – Tabla