Posts Tagged 'Elders'
WE are continuing, due to the film festival in the city, with musical edition of movies scores. Today – famous score from the movies in 70ies…..
tracklist
The Godfather Theme Song
The Sting Theme
Blazing Saddles Opening Title
Jaws
Young Frankenstein
Pink Panther Theme
Rocky Full Theme Tune
One Flew Over The Cuckoos Nest
Papillon
A Man Called Horse
French Connection
Close Encounters of the Third Kind
Star Wars
ET
Alien
The Deer Hunter
Ride of the Valkyries (Apocalypse Now)
Superman
Grease
Love Story
Jesus Christ Superstar
Dueling Banjos
The Band – The Last Waltz

Since the film festival starts tomorrow, we are featuring some scores of old, classical movies.
tracklist
Somewhere Over the Rainbow – The Wizard of Oz
Singing In The Rain – Singing In The Rain (Gene Kelly
Miracle On 34th StreetSoundtrack Suite (Cyril J. Mockridge)
Rebel Without a Cause
Breakfast At Tiffany
Casablanca
Gone With the Wind
Silverado
The Big Country
The Hallelujah Trail
The Third Man – Anton Karas
Theme from To Kill a Mockingbird
Zorba the Greek -The original Sirtaki Zorbas – Mikis Theodorakis
Star Wars – The Imperial March

Old Skool Afrikan mix is a a compilation of old skool African music, from different countries in Africa including
Congo, South Africa, Cameroon, Nigeria, Kenya, Tanzania, Angola, and many more..
tracklist
Fadhili Williams – Malaika
Petit pays – Mulema
Ebanda Manfred & Nelle Eyoum – Amio
Franklin Boukaka – Yeke Yeke
Tabuley Rochereau – Esswi Yo Wapi
Alpha Blondy – Sweet Fanta Diallo
Grace Evora – Mede d'Ama
Dj Malvado & Chico Viegas.- Cada dia te quero mais
Paulo Flores-Boda
Neuza & Nichols – Tarraxa Ku Mi
Rei Helder – Mariquinha
Homem Casado
Tokichaw – Chambalala
Tshala Muana- Karibu Yangu
Kassav' – Wep
Mbilia Bel – Nakei Nairobi
Papa Wemba – Yolele
Fela Kuti – Shakara

Old Skool Afrikan mix is a a compilation of old skool African music, from different countries in Africa including
Congo, South Africa, Cameroon, Nigeria, Kenya, Tanzania, Angola, and many more..

tracklist
Oliver N'Goma – Mule
Kanda Bongo Man – Muchana
Monique Seka – Missounwa
Monique Seka – Adeba
Papa Wemba – Show me the Way
Dr Victor – Kalimba
Dr. Victor – Tsoang Tsoang
Chicco – I Need Some Money
Brenda Fassie-Vulundlela (kwaito mix)
Yvonne Chaka Chaka – Umqombothi
TP OK Jazz – Franco Luambo Makiadi. – Mario
Wally Badarou – Hi Life
Oliver N'Goma – Icole
Oliver N'Goma – Fely.
Monique Seka – Okaman
Les Wanyika — Marina
Koffi Olomide – Papa Bonheur
TP OK Jazz – Franco Luambo Makiadi – Mouzi
Gadji Celi – King Solo
Today's General Meeting on International Zone at Unity Pavilion was set up boldly with two parts – presentation of small, and emerging groups of the
IZ,
– report from the IZ' recent presentation in Auroville's exhibition in association with UNESCO in New Dehli.
Unfurtunatley there was time only for first part, and the report from New Dehli should come up in next two weeks.
In past few years the International Zone witnesses fast growth, and enthusiasm from all parts of the world i.e. their representatives here in Auroville. In this light new paradigms also coming forward, and with it tendency to express real human unity in diversity in merging, collaborating; following the spiritual path that Sri Aurobnido and The Mother outlined.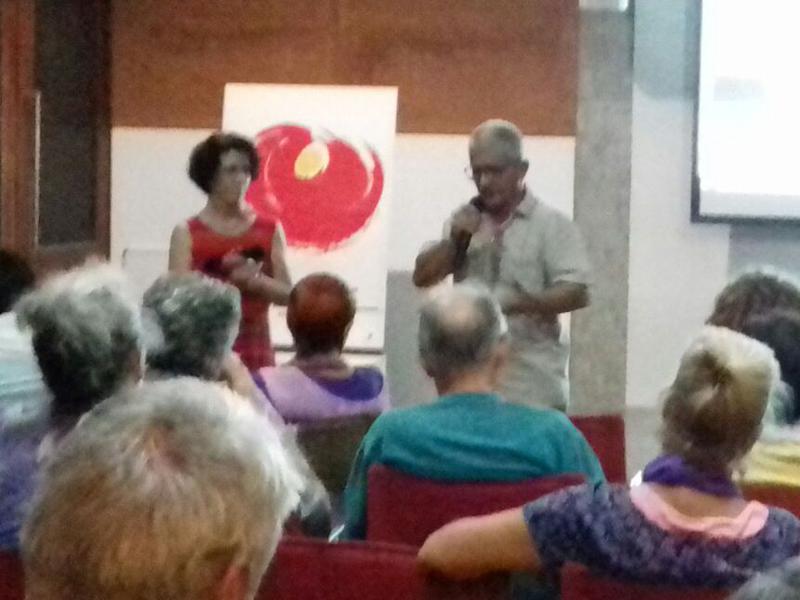 Last night at Bhumika Hall, Bharat Nivas was a special screening of short films: : "A Sacred Message from Colbian Indigenous Tribe"", presented by German Zuluaga from Colombia in Spanish with translation by Stella Rodriguez . Mr.German Zuluaga, visiting guest, has started a Multicultural Community in Sierra Nevada 5 years ago in an abandoned settlement. He started exchanging products and services with the Koggies from a village 5 km away. He wanted to help them to keep their Sacred way of living ,and unexpectedly he has found his own spiritual path.
After the presentation, and screening was a session of questions and answers.
Numerous audience was united in the thought, that that special tribe, which live exclusively spritual life, should be preserved, and kept in peace for the benefit of the future of whole planet.

Another edition of healing frequencies, and we are going back to ancient solfeggio scale by featuring tracks from Gregorian chants, along with orgianl ut, re mi…and other sacred music.
The origin of the ancient Solfeggio scale can be traced back to a Medieval hymn to John the Baptist, and the original frequencies were capable of spiritually inspiring mankind to be more "god-kind".
The original Solfeggio scale was developed by a Benedictine monk, Guido d'Arezzo (c. 991 AD – c. 1050 AD). It was used by singers to learn chants and songs more easily. Today we know the Solfeggio scale as seven ascending notes assigned to the syllables Do-Re-Mi-Fa-So-La-Ti. The original scale was six ascending notes assigned to Ut-Re-Mi-Fa-Sol-La. The syllables for the scale were taken from a hymn to St. John the Baptist, Ut Queant Laxis, written by Paulus Diaconus.
Guido d'Arezzo
The secret meanings of the ancient syllables
Each tone has its own unique potential
As you already know, the syllables used to denote the tones are: Ut, Re, Mi Fa, Sol, La. They were taken from the first stanza of the hymn to St. John the Baptist:
Ut queant laxis Resonare fibris
Mira gestorum Famuli tuorum
Solve polluti Labii reatum
Sancte Iohannes
Literal translation from Latin: "In order that the slaves might resonate (resound) the miracles (wonders) of your creations with loosened (expanded) vocal chords. Wash the guilt from (our) polluted lip. Saint John."
In other words, so people could live together in peace and communicate in harmony about the miracle in their lives, and how God blessed them to produce this "magic", people's true unpolluted spiritual natures required revelation. The above text seems to suggest that Solfeggio notes open up a channel of communication with the Divine.