Posts Tagged 'Energy'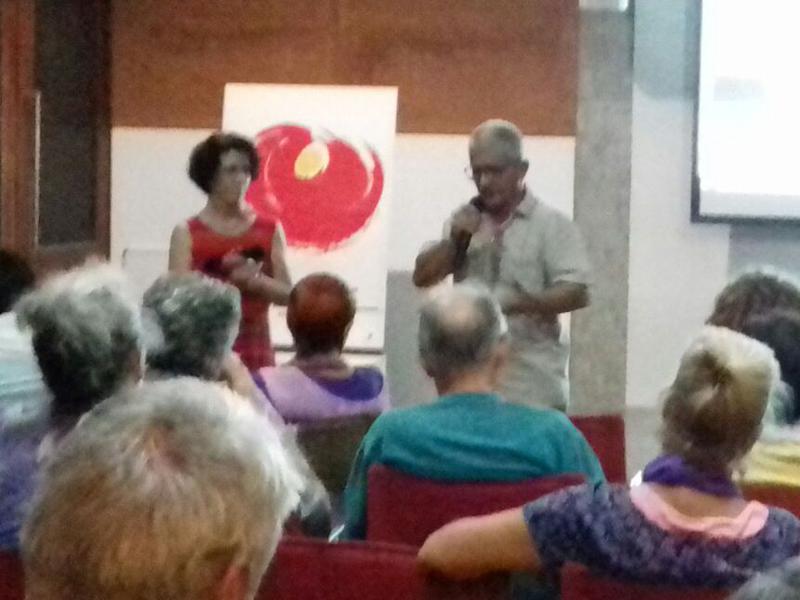 Last night at Bhumika Hall, Bharat Nivas was a special screening of short films: : "A Sacred Message from Colbian Indigenous Tribe"", presented by German Zuluaga from Colombia in Spanish with translation by Stella Rodriguez . Mr.German Zuluaga, visiting guest, has started a Multicultural Community in Sierra Nevada 5 years ago in an abandoned settlement. He started exchanging products and services with the Koggies from a village 5 km away. He wanted to help them to keep their Sacred way of living ,and unexpectedly he has found his own spiritual path.
After the presentation, and screening was a session of questions and answers.
Numerous audience was united in the thought, that that special tribe, which live exclusively spritual life, should be preserved, and kept in peace for the benefit of the future of whole planet.

Another edition of healing frequencies, and we are going back to ancient solfeggio scale by featuring tracks from Gregorian chants, along with orgianl ut, re mi…and other sacred music.
The origin of the ancient Solfeggio scale can be traced back to a Medieval hymn to John the Baptist, and the original frequencies were capable of spiritually inspiring mankind to be more "god-kind".
The original Solfeggio scale was developed by a Benedictine monk, Guido d'Arezzo (c. 991 AD – c. 1050 AD). It was used by singers to learn chants and songs more easily. Today we know the Solfeggio scale as seven ascending notes assigned to the syllables Do-Re-Mi-Fa-So-La-Ti. The original scale was six ascending notes assigned to Ut-Re-Mi-Fa-Sol-La. The syllables for the scale were taken from a hymn to St. John the Baptist, Ut Queant Laxis, written by Paulus Diaconus.
Guido d'Arezzo
The secret meanings of the ancient syllables
Each tone has its own unique potential
As you already know, the syllables used to denote the tones are: Ut, Re, Mi Fa, Sol, La. They were taken from the first stanza of the hymn to St. John the Baptist:
Ut queant laxis Resonare fibris
Mira gestorum Famuli tuorum
Solve polluti Labii reatum
Sancte Iohannes
Literal translation from Latin: "In order that the slaves might resonate (resound) the miracles (wonders) of your creations with loosened (expanded) vocal chords. Wash the guilt from (our) polluted lip. Saint John."
In other words, so people could live together in peace and communicate in harmony about the miracle in their lives, and how God blessed them to produce this "magic", people's true unpolluted spiritual natures required revelation. The above text seems to suggest that Solfeggio notes open up a channel of communication with the Divine.

285 Hz
This frequency helps return tissue into its original form. 285 Hz influences energy fields, sending them a message to restructure damaged organs. It also leaves your body rejuvenated and energized.
Solfeggio scale and the additional tones
As you already know, the original Solfeggio scale has 6 tones. The tones are: 396, 417, 528, 639, 741 & 852. Following the pattern established by these original tones, additional frequencies can be calculated. There are three frequencies which can be calculated below the 396 before breaking the pattern (63, 174, 285) and there are infinite frequencies that can be calculated above the 852. See below:
63
174 – reduce pain
285 – influence energy fields
396 – turn grief into joy
417 – facilitate change
528 – transformation & miracles
639 – reconnecting, relationships
741 – expressions/solutions
852 – return to spiritual order
963 – awaken perfect state
1074
1185
1296
1317
etc.
All these additional frequencies reduce to a 3, 6, or 9, but does it mean that we should use them just like the main tones from the Solfeggio scale? To be honest, I would recommend focusing on the 9 Solfeggio tones. The 6 main and the 3 additional tones (174, 285, 936) hold an infinite array of healing properties. They have been well researched and many people experience their benefits every day.

The lowest of the tones appears to be a natural anaesthetic. It tends to reduce pain physically and energetically. 174 Hz frequency gives your organs a sense of security, safety and love, encouraging them to do their best.

A group of four very interesting and enthusiastic youth  all studying at The Department of Symbiosis International University (SIU) under the Faculty of Media, Communication & Design (FoMCD) visited our studio to talk about their experiences, and impressions.
Kritika has chosen Well Paper for her internship, Ayushi chose French Pavilion, Ira picked AurovilleRadio, and Raj selected Africa House. They each share their particular experiences, as well the reason they chose the places they chose.
In the interview, we can also find out how the Indian youth see and experience the realities of every day life, projects, etc. in the city of Dwan, which the Earth needs.
This tone awakens any system to its original, perfect state. It is connected with the Light and all-embracing Spirit, and enables direct experience, the return to Oneness. This frequency re-connects you with the Spirit, or the non-vibrational energies of the spiritual world. It will enable you to experience Oneness – our true nature.

"You are a digital, bioholographic, precipitation, crystallization, miraculous manifestation, of Divine frequency vibrations, forming harmonically in hydro-space."
Dr. Leonard Horowitz, author, investigator and speaker

Intent: awakening intuition, returning to spiritual order
Tone 'La' is linked to your ability to see through the illusions of your life, such as hidden agendas of people, places and things. This frequency can be used as means for opening a person up for communication with the all-embracing Spirit. It raises awareness and lets you return to spiritual order. Regarding cellular processes, 852 Hz enables the cell to transform itself into a system of higher level.

FA – 639 Hz
Intent: re-connecting and balancing, relationships
Another frequency from the sacred Solfeggio scale. It enables creation of harmonious community and harmonious interpersonal relationships. Tone 'Fa' can be used for dealing with relationships problems – those in family, between partners, friends or social problems. When talking about cellular processes, 639 Hz frequency can be used to encourage the cell to communicate with its environment. This ancient Solfeggio frequency enhances communication, understanding, tolerance and love.

Within Frequencies and healing frequencies with continue with the Ancient Solfeggio Scale, with the first one UT 396Hz.
This frequency is focused on Intene: turning grief into joy. Liberating guilt and fear. This frequency liberates the energy and has beneficial effect on feeling of guilt. It cleanses the feeling of guilt, which often represents one of the basic obstacles to realization, enabling achievement of goals in the most direct way. The "Ut" tone releases you from the feeling guilt and fear by bringing down the defense mechanisms. 396Hz frequency searches out hidden blockages, subconscious negative beliefs, and ideas that have led to your present situation. 396Hz turn grief into Joy.