Posts Tagged 'harmony'
Within 50th Anniversary between Jan 11th – 13th , Mohanam village campus (opposite Imagination community) Kolam Sacred Mandala Workshop and Festival As part of the Pongal festival, learn to make Mandalas with the neighboring villages.
Friday 12th January at 3pm in Progress community. The YouthLink Team invite us to a presentation on our Comm4unity course.
On Friday 12th of Janaury at 8pm at CRIPA in Kalbhumi Nuria and the Jazz Quartet.
On Friday 12th at 5pm at Pavilion of Tibetan Culture – "Hidden Harmony Stronger than Obvious" Aurelio & Colleagues will share an interactive exploration in Harmonic Science, including basics of Overtone Singing.
On Saturday, 13th of January at 7.30pm at Unity Pavilion we are invited to Songs Through Time – Singing for the Land with Carla and PaulaThis is a fund-raising event in connection with the Art for Land exhibition All your donations go towards purchase of land for completing the Masterplan of Auroville.
The meeting of man and God must always mean a penetration and entry of the Divine into the human and a self immergence of man in the Divinity.
But that immergence is not in the nature of an annihilation. Extinction is not the fulfilment of all this search and passion, suffering and rapture. The game would never have been begun if that were to be its ending.
In essence, everything in the world is made up of energy. We are all constantly vibrating masses of microscopic particles that are always in motion. Every object, person and organ has a healthy vibration rate called resonance. If that vibration is out of resonance, disease results. These imbalances can be treated with frequencies….
The human body is a symphony of sounds. Every chakra, every organ, every bone, every tissue, every cell has its own resonant frequency, its own sound. Together, they create a unified or composite frequency, with its own sound, like the instruments of an orchestra coming together.
the soundtrack offers Gregorian chants .from different corners, as an example of traditional frequency healers…

17 young participants from different parts of India participated in Swadharma #3, and following program is heartful presentation of each of them. What they have discovered in 5 weeks of intensive research, journey which connected their inner selves to outer reality, and their true potentials. Among all interesting presentations poems were recited, and song sung.
The Swadharma program is a response to the call for an education for our times. It offers young seekers – age 18 to 28 – the opportunity to embark on a transformative learning adventure with the goal of self-discovery. The program is based on the idea that helping young people discover who they are and what brings them alive is not only meaningful at an individual level, but also essential for building a socially just, environmentally sustainable and consciously awakened future.
read more on http://www.swadharma.auroville.org/programme
The Swadharma programme has been developed by the Auroville Campus Initiative (ACI), the department of further learning of the Sri Aurobindo International Institute of Educational Research (SAIIER) Auroville.
web: Swadharma is Values based on individual beliefs. Hindu faith is often known as "Sanaatana Dharma" (that which is ancient and eternal). Hindu Dharma requires Hindus to respect and sustain their surrounding and environment! Dharma is a pledge to lead a harmonious life without disturbance to peace in the nature!


On 21st April, in unity Pavillion last session of CAT14 was held and it was all about creating harmony. Russian Bells were used to demonstrate how harmony can be developed among various individuals and that too with minimal efforts, all you need is balancing between receiving and giving. Vera with her Russian bells showed us how with just a bit of practice the sound vibrations can be harmonised.
The 2 hour of ringing bells session was so soothing and relaxing, people meditated with the sounds. They shared the joy of sound and silence and to tune with others' vibrations.
With the music, CAT 14 ended leaving everyone present there totally spaced out, still feeling the vibrations passing through them.
An Offering for Auroville on it's 48th Birthday
Taken from a recording of the dawn-fire at the amphitheatre on Auroville's Birthday 2016, 'Psychic Fire' mines deeply the sound vibrations of the flame to release an inner complexity of harmony, dissonance, voices, shadows. The fire – which in its base perception is experienced as Fear – is transcribed into the meditative reality of divine anarchy, the primordial life-energy which is both the characteristic of Homo Sapiens (inquisitiveness/knowingness, burned on the Promethean fire of creative wisdom,) and of the evolution of consciousness, driving ever onwards towards states of greater cognitive complexity – towards the superhuman; the first rung on the ladder of conscious evolution.
This is not music, but I feel it is not abstraction either. Hovering between the half-light of conscious and unconscious reality, just as we so often hover between superhuman and ape mentalities, the audio field I have tried to produce is a psychic fire for the mind.
Featuring Dr. Geeta Auropremi who will lead us through ayurveda.
introduction about human being. According to ayurveda human body is a divine being, and ayurved is user guide.
How we are to live happy, healthy, long life, peaceful and spiritual life it is written in ayurveda..
If we take correct ayurveda knowledge and follow this knowledge, our life is happy, healthy, long.
To share this knowledge Dr. Geeta shares with us the series of Ayurveda.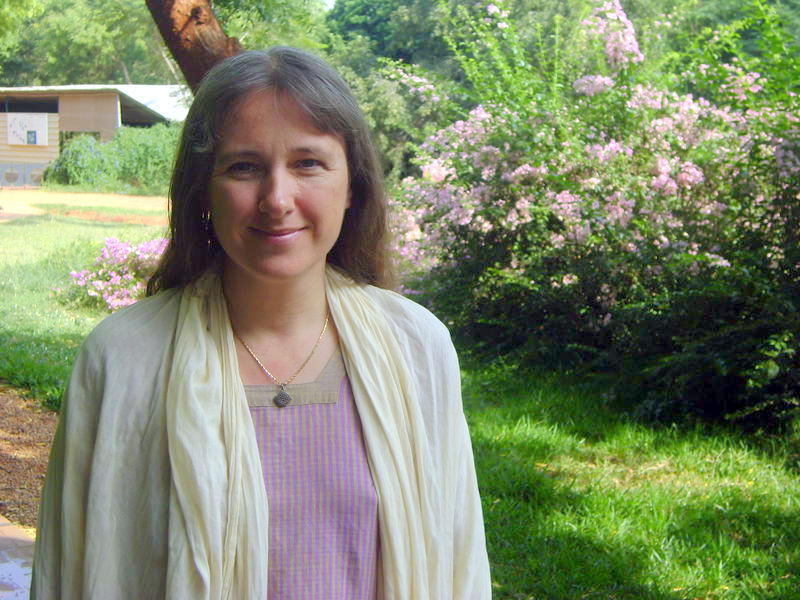 Peace Bell has arrived just on time, and on 15th of August we had a chance to hear it for the first time. Amongst others Vera invites us to welcome the Peace Bell on Friday 4th of Septemeber at 5.15pm at Pavilion of Tibetan Culture in International Zone. Through playing on bells many have found the experience of collective harmony, sense of contributing in something beautiful. With inner silence, to which bells could bring you to, the perception of the world changes. Many people of good will have participated towards Peace Bell manifestation in Auroville.
From the web:
Alexander Zhikharev was born in 1951 in the village Khoroshevo, which is now the Moscow region Khoroshevo-Mnevniki. after he got out of the army, he started working at the factory VILS [All-Union Institute of Light Alloys] & there poured his first bell. down the road, Alexander served as a bell ringer in the Kremlin & the Cathedral of Christ the Savior, researching many years to realize a way to replicate the bells dreamy resonances. In 1988, he found a form that is comparable in sound to the traditional bells and decided to call it 'Hammer Icon' or bila. They were flat, bronze & brass plaques, varying in size & weight, which emitted a surprisingly beautiful tone, quite unlike anything that sounds.