Posts Tagged 'Indian Culture'
Chamanlal visits Auroville from the Ashram once a week for the past thirty eight years.A scientist , an expert on solar energy and a teacher in the Ashram school Chamanlal continues to be the link between Auroville and the Ashram. The Mother sent him' to take samples of the soil onsite where the Matrimandir was to be built.Science and sadhana, matter and spirituality, Auroville and the Ashram, divine anarchy…Chamanlal embodies these.You can download the interview clicking .
This week's Tamil program features Prakash from Aurofuture. This upcoming architectural model-maker is from the neighboring village of Kottakarai near Auroville. With no architectural qualifications he 'began working with "Brand New Day" and after working and studying in the architectural field 'for a few years in Bangalore, he returned to Auroville. Right now his mission is to join Auroville 'and master his career in order to teach others. .
This week's Tamil program we have a very special guest Ranganayaki who is from Kottakari village is giving us the essence of the village Music in Tamil Nadu. In villages where farming was the primary work, the ladies who work in the fields used to sing kulavai songs. Tamil music is sometimes categorised into Devotional, Classical and Popular Folk music. Rythms of popular folk music express a vitality which stems from the closeness of its contact with the life of the people.
Ulli, who works at Thamarai, is featured in an interview. Thamarai is a cultural center, founded one and a half years ago by Aurovilians Kathy and Bridget. Its purpose is to create a bridge between the culture of the West and the culture of the village. This center is situated in Edayanchavadi; it proposes numerous activities including womens workshops, evening homework support for students and creative activities for children. Tamarai also organizes events to promote Tamil culture.
Mirra Women's Group organized a circle dance and singing programme on March 8th 2008 on account of International Women's Day at the SAWCHU building (Bharat Niwas). Women from the villages were invited to sing their traditional Kummi songs and taught the dance in which several ladies from the group and from Auroville participated. Mirra Women's Group is a group of women from in and around Auroville who meet twice a month and conduct and participate in workshops in activities like tailoring, jewellery making, painting etc, to enrich themselves.
To downlod this program (in Tamil) click .'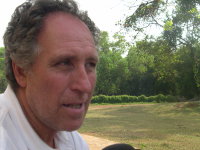 Esta semana se acerca hasta nuestro microfono Alfonso. Este afable catalan es en la actualidad el representante de Auroville Internacional (AVI) Espaa. Quien viajo hasta Auroville donde se celebro la asamblea anual de AVI Internacional, coincidiendo con la celebracion de la fundacion de la ciudad 40 aos atrs. Este es un encuentro que se realiza anualmente en diferentes partes del mundo.
Nos habla acerca de la creacion de AVI Espaay su funcionamiento.
Para descargar la entrevista presiona sobre la foto o .
In today's Tamil program the first interview of a new series is presented: 'People's Songs of the Past.'
Anjalai, an elderly lady of the neighbouring village of Kottarai, tells about her past, her losses and how she has survived through it all. Through song' the story of her life is told.
Click in the logo play to listen to the program.
In January 1908 Sri Aurobindo had his first major spiritual experience, which he sometimes referred to as his Nirvana' experience. To mark the Centenary of this event, Shraddhavan gave a talk at Savitri Bhavan, sharing some of Sri Aurobindo's statements about his experience, and connecting them with some remarks of the Mother about Thought Control and some passages in Savitri. Since Sri Aurobindo stated "One cannot be a fully developed mental being if one has not a control of the thoughts … these words have a practical application for all of us.
Marco ama l'oriente ed e suoi simboli. Nel 1969 arriva via terra in India e per una serie eventi si trova a lavorare come antiquario con collezionisti europei.
Per Marco i gioielli identificano popoli, culture ed energie e si integrano nella sua ricerca estetica e' filosofica.
Amante del cinema gestisce l'auditorium della Town Hall proponedo una vasta offerta di film che spaziano da film d'essai a documentari di attualita'.
Ascolta la sua intervista cliccando sotto o cerca l'ora di trasmissione nel nostro palinsesto.