Posts Tagged 'Poetry'
For the conclusion of the fund raising event at Kalabhumi Anna Taj with Edo and Pierre shake the stage, and audience of course, by some solid classical rock. Sting, Rollins Stones, Patti Smith, Tina Turner….sung by Anna kept the remaining public despite late hour, excited. But before going home we were cooled down by excellent blues duo of Swaha and Anna. The event was successful not only by sweet social gathering with great music and some nice food but also on the financial side, where they managed to raised close to the needed sum.
Unselfed is a new devised perfomance piece which explores subjective ideas and propositions of parallel/ multiple selves. What if you met another you – a living, breathing other you? Would you have a conversation with her, or run in the opposite direction? Drawing from these ideas, the director and the group of performers worked together over a prolonged period to create a perfomance based on a experiences of being un-selfed.
www.youtube.com/watch?v=Usq9L9YN088
On Saturday, 28th between 5-6pm At CIS(Center for Indian Studies) Bharat Nivas, pavilion of Indian Culture in International Zone Auroville Theater Group presents the Monica Mody poetry reading. The Madras String Quartet performs a concert of South Indian Classical Music in Pitanga On Saturday at Pitanga in Samasti at 7.30pm. Sigrid will teach the Basic Course in Hypnotherapy from 2th-4th August . in Aurodam, at Sonja and Umbertos Harmony Center. Therapists, as well as those with an inclination for this work are welcome to participate.
Every moment and every movement of our being is to be resolved into a continuous and a devoted self-giving to the Eternal.
Sri Aurobindo
The Synthesis of Yoga
Last night at SAWCHU in Bharat Nivas, the Pavilion of Indian Culture in the International Zone gave Kabir lovers a chance of a satsang by Prahladji Tipanya, one of the most compelling folk singers of the poetry of Kabir. Since it is the tradition that the holder of satsang addresses the audience on the topic they would like to talk/sing about, Prahladji's question to the audience met with an almost unanimous voice from the audience – LOVE, which was accompanied by simultaneous translations from Anita, of Prahladji explanations of Kabir verses.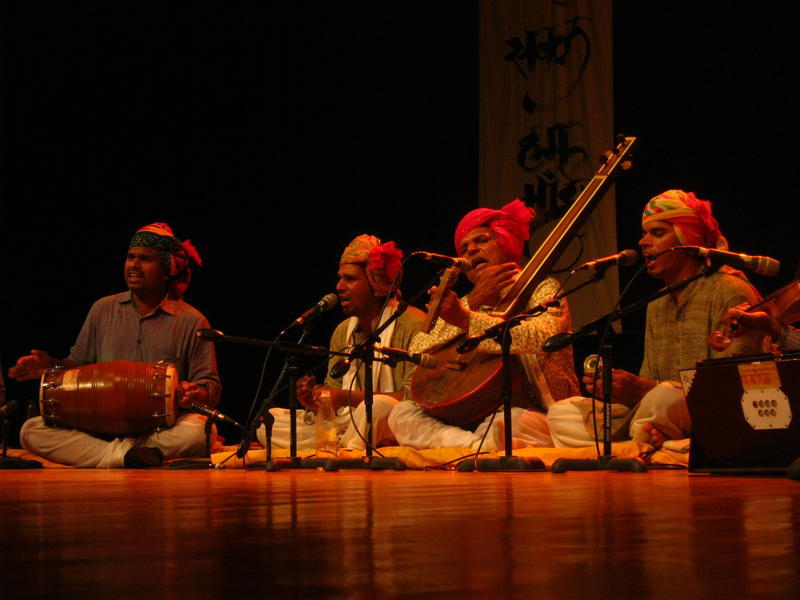 Prahlad Singh Tipaniya is an Indian folk singer who performs Kabir bhajans and one of the most well known folk singers from Malwa, Madhya Pradesh. He performs together with a group of tambura, khartal, manjira, dholak, harmonium, timki and violin players. Prahlad Tipaniya toured in the UK and the United States, as well as in India, and his music has been played on All India Radio stations. He has received several awards including the Padma Shri in 2011.
He also performed at the annual Sufi music festival, Ruhaniyat.
–
http://vimeo.com/10767440
– www.youtube.com/watch?v=mFCsH0R1aV4&feature=related –
– www.kabirproject.org – www.aurovilleperformingarts.com –
Each group of singers brought something special something unique on the stage at the Kabir Sacred Music Festival in Kalabhumi last Saturday. Mahesha Ram group came as the most colorful with their bright orange, pink …turbans on their heads as they belong to the Meghval community of Rajasthan in Western India. They represent a hypnotic folk style typical of the Meghvals, who are musicians not by profession but more traditional carriers of Kabir's poetry trough the oral traditions of all night jagrans and satsangs.
At early morning hours as last Mooralala Marwada with his group came on the stage of Kalabhumi at Kabir Music Sacred Festival last Saturday. Although number of audience substantially decreased, those who stayed cheered them with laughter and laud halo, which supposed to be Mooralala wake up call, so that no one is left asleep at the time when they sing. He is a folk singer from Kutch district of Gujarat in Western India, and sings the poetry of Kabir along with other poets such as Mira, Ravidas or Sufi Sindhi poet Shah Abdul Lateef Bhitai
Marwada
is a folk singer from Kutch district of Gujarat in western India, and sings the poetry of Kabir along with other poets such as Mira, Ravidas and also the Sufi Sindhi poet Shah Abdul Lateef Bhitai.
In the sports ground of Edayanchavadi village Bindhu Malini and Vedanth Bharadwaj were performing live, with Folk-Blues acoustic set, the Kabir's poetry. They sang all the songs in Tamil language: Mira's song, To remember God , Mira's Bajan's song, Maya a Fraud, Sattle Sound of Universe. Bindhu's husband Vasu Vikshi also jumped on stage to play and sing with humor about Kabir in the contemporary contest and the Kaveri River's song. – www.vedanth.in – www.kabirproject.org – www.aurovilleperformingarts.com –