Category Archives:
Spirituality
Celestine is one of Auroville's early artist pioneers in the field of re cycled art. Now she is focusing on what she calls "Road Art". She is deeply passionate about this and has composed some beautiful poems on the subject. I went to visit her in her home to listen and record, so as to share these pearls, which are even more so relevant during our "Litter Free Auroville Campaign".
Una breve relajacion de 30 minutos, guiada por Rosa, explorando la percepcion del cuerpo desde un nivel de conciencia mas profundo.
Mother's Questions And Answers, June 20, 1956

Mother speaks on many different subjects, including love, joy, pleasure, inner delight,and the mixture of the vital impulse and pure emotion in the heart. She answers many questions asked directly in the class and also written on pieces of paper and read out to her.
Une série hébdomadaire de lectures par Gangalakshmi (en Français) de sélection d'oeuvres sur ou de la Mère et Sri Aurobindo, qui lui semble La Manifestation Supramentale.
A weekly series of readings by Gangalakshmi (in French) from selected works by or on the Mother and Sri Aurobindo.

This week selection Savitri avec Sri Aurobindo Livre XI, Chant I ? Le Jour Eternel

On the special request from listeners this edition is un cut!!!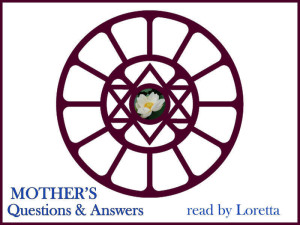 Mother's Questions And Answers - June 13, 1956

Mother says that now that the supermind has descended into the earth plane, one can expect all possibilities. Since the supermind contains everything, the transformation, and everything that is done to achieve it can be whatever the supermind wants, and is no longer limited by the processes which existed before its manifestation. Since each one is different, the supramental consciousness adapts to all of the innumerable differences that exist in humanity. Each one will be automatically changed, depending on the totality of consecration and sincerity of aspiration. Mother speaks in detail about the need for children to develop their brains during their school years, and she explains the true work of the teachers.
Savitri, Book II, The Book Of The Traveler Of The Worlds, Canto XI, The Kingdoms And Godheads Of The Greater Mind, Part 1, P. 260 - 264

We travel with the King through a place of greater levels of universal thought than our little mind can receive from. Some additional writings of Sri Aurobindo and Mother tell us what our mind is and exactly what "our" thoughts are. This part of Canto XI is a general description that introduces the planes of consciousness where the universal thoughts are. The great Thinker has regained his privilege of shadowless sight and has entered the Immortal's air, and he drinks again his pure and mighty source.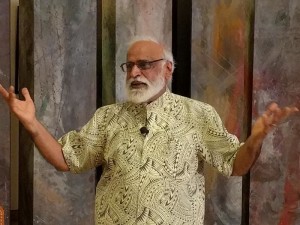 Professor Sehdev Kumar presented the second lecture titled "How Do We Human's Communicate" in a series of four called "The Human Journey Across the Ages, Ecology, Culture and The Self". The presentation gave some very interesting observations regarding social structure, language, and the huge leap of humanities evolution in the last two hundred years.