Category Archives:
Spirituality
Pashi Kapur came to live in Auroville with his family in early 1974. Since then, he has contributed a great deal but his Auroville journey has not always been smooth.

Here's a video interview with Pashi Kapoor made by Narad: https://www.youtube.com/watch?v=Jpb_CPY5YtE
Savitri, Book II, The Book Of The Traveller Of The Worlds, Canto X, The Kingdoms And Godheads Of The Little Life, Part 2

The Traveller experiences the mental planes which are open to man. He follows the work of the Divine Shakti, the great Puissance, as she creates mind's evolution in life in matter. He experiences two different ways that our surface mind functions. The first one shows the ways of thought which want to keep everything the same. This type of thought moves around and around in the same time-worn grooves. The second mode of thought is unstable, passionate and irrational. The burning vision of desire moves these thoughts to flame to the heights and sink to the depths and to waste life energy in pursuit of unreal dreams.

This recording is the second part of Chapter 4 The Sacrifice, the Triune Path and the Lord of the Sacrifice, picking up on page 112. In this part, Sri Aurobindo continues to reveal the practice of this Yoga, which demands a constant inward remembrance of the one central liberating knowledge: in all is the one Self, the one Divine is all; all are in the Divine, all are the Divine and there is nothing else in the universe, - this is the whole background ..... becoming the whole substance of the consciousness. Realization of this enables self-surrender; self-giving progresses and sacrifice becomes easier, more powerful ..... opposing forces lose much of its strength .....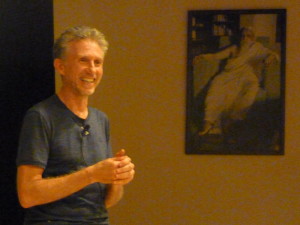 On Thursday the 12th Janurary 2017 Jean-Francois Noubel shared his insights, knowledge and experiences about the implementation of "The Gift Economy" and about the power and necessity of "Collective Evolution" with many helpful pointers and tools.
His approach was so inspiring and perfect for the need of the moment, prioritizing the utmost importance on bringing silence and presence into all of our daily interactions.