Category Archives:
Infrastructure
Susmita, working at Accessible Auroville, and Sauro, working at l''Avenir d''Auroville, received a donation from Italy to purchase a bus for public transport in Auroville. They are telling us how they have changed it into an Accessible Public Bus' first one in Tamil Nadu: everyone will be able to use it. This bus will be a model for the future ones. Accessibility creates an inclusive society where would pave the way for equal rights and participation of people with temporary or permanently reduced mobility in all community activities. Access and Accessible refer to the freedom of choice to enter approach, communicate or make use of a situation or environment without assistance and undue difficulties. Accessibility means to create an inclusive community: to embrace the ideals of all people living together harmoniously in a barrier – free world without fear of exclusion and discrimination. Nowadays in all countries the accessibility has become compulsory. http://www.auroville.org/contents/131
Tuesday July 21st from 4:30 to 6:30 pm in SAIIER Conference Hall the Auroville Campus Initiative organized the 3rd session of the Joy of Learning on; Exploring the Auroville Master Plan.
Amy, Deoyani, Lalit, Mike, Min, and Sophie have also created a quiz for you to test your knowledge on the topic https://auroville.formstack.com/forms/jol_masterplan

Presenters and topics;

Lalit - 'The History of the Master Plan'
Sauro - 'Key Features of the Master Plan and Evolution of Planning in Recent Times - Perspectives and Critical Aspects'
Toine - 'Legal and statutory Framework of Planning and Development; Infrastructure Planning and Development'




Christian F is here in Auroville completing some of the tasks with regard to the International Zone- These Including fencing and connecting water to the site around the Inuksuk  for plants and protection.
Seemingly simple steps are not always so easy to achieve since visions have to align themselves and the need for both planning and flexibility have to be found. AVI Canada's has also taken the initiative to help the Youth with small grants for housing.



The educational research network of Auroville is being set up with 15km of Optical Fibre Cable (OFC) to 17 building clusters. This will be completed by December 2015 but covers about 15% of Auroville.
The next part of the project is to connect other buildings, units and residences and provide community services such as:

· Community wide (intercom) telephony
· Broadcast of AV Radio & TV, meetings, seminars and events
· Tele-services in education, health care and outreach
· Audio/ Video/ Web conferencing / Community browsing centres to make the services available to one and all
· E-surveillance of sensitive mobility areas
· Digital archives

The goal of this project is to create a platform to:

1. Enable borderless participation and collaboration in manifesting the Dream
2. Provide eco-friendly alternatives to travel within Auroville and outside
3. Expand the presence of Auroville beyond the geographical area of the City
Implementing this project by 2018 creates a new window to make Auroville belong to the whole of Humanity during the 50th Anniversary of Auroville.

Network Team: Anand, Chandresh, Dyuman, JV (Remote Participation) and Manu

To download the Power Point presentation Click Here.

The presentation was recorded in SAIIER Conference Hall.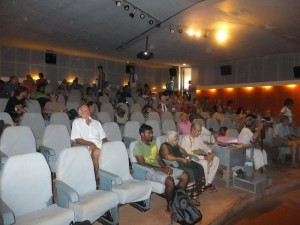 Mira and Mark presented their plans for the  gardens to the public at Cinema Paradiso on August 31.
Special guests were Richard and Kailas who spoke frequently with The Mother regarding her conceptions for the garden.
Kailas had strong comments on the Garden of Life. Audience comments related to water use, creating gardens which bloomed in late afternoon, possible recreational use for the gardens and music.
The entire presentation will be on AVNet with a period for comments opening soon. 



Auroville Integral Sustainability Institute shares the experience of hosting 2 different groups of visiting planning students from Queens University, Canada & CEPT, Ahmedabad - It was very enriching for all, says Lalit, Programme coordinator. Auroville being an inspiring & interdisciplinary learning field provided very conducive environment to experience a different way of life which gave them a very real life glimpse of integral life & sense of purpose.
Apart from having a wide range of presentations, interactions & site visits, documentation activity, 2 workshops (on Beach Erosion & Planning for Dream City) were also conducted. Download the Final Report - Queens University Canada Auroville Planning Studio December 2012 ' Web album & photos containing information about 'Holistic Sustainability Programme' for CEPT Planning (UG) Students, December 2012, Auroville. Learning objectives & photos of various activities & visits. ' ' '