Posts Tagged 'Music'
On the 12th January 2018, Svaram Campus gave a presentation at the Tibetan Pavillion on the mathematics of harmonic science and the connections with nature. Then they gave a demonstration of overtone singing with some accompaniment, which is what we are sharing here. It was a beautiful vibration and they said that there will be a possibility of a workshop this coming week where we can learn this healing technique, overtone singing.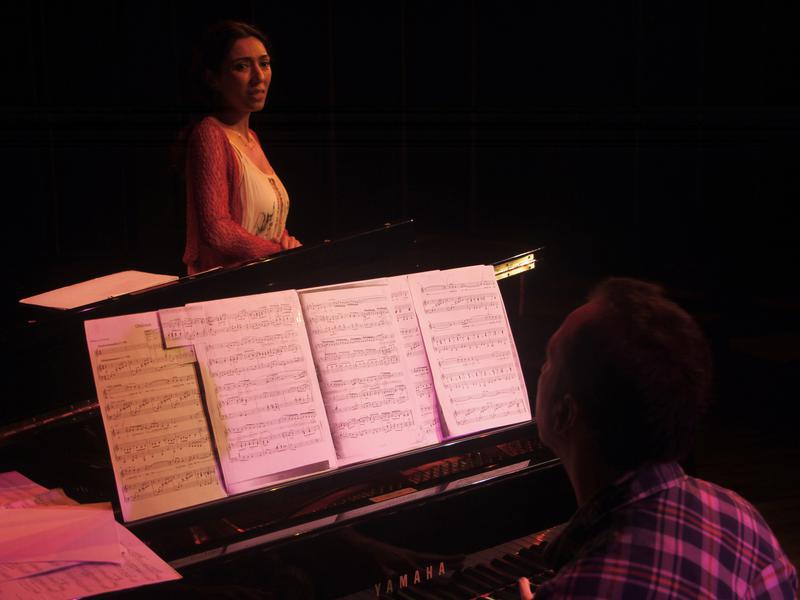 This music evening took place in Cripa on 18th of December.
Salmi Elahi a lyric mezzo soprano with Puskar on piano played pieces from Massenet, Ponchielli, Bach, Piazzola and Haendel

Omri is a young singer-songwriter who likes to experiment mixing classic motifs with new electronic sounds. We interviewed him and told us his story, his tastes and his interest in music. In video you can see the highlight of our meeting, in audio you can listen to the whole interview.

"A long time ago in the Valley of the Great Mountains, there was a small town where lived all the greatest musicians in the land..
From anywhere in the valley, music could be heard day and night as all the musicians played their instruments so that they might be known as the best.
In this town there lived a young boy named Avvaiyar whose only wish was to play beautiful music for everyone. But Avvaiyar did not have an instrument to play …."
Noel Parent's book The Legend of the Flute Player, dramatized for the radio by Marion .

A few days ago we attended a wonderful concert of Indian Choral Music, sung by the Madras Youth Choir. We listened to songs in Tamil, Hindi, Bengali, Telugu and Sanskrit on the theme of Human Unity. You can listen to the entire concert on our website. Good listening!

Live performance by Omri Swafield feat. Burn'n'Rize Mariza, EDO, Suresh @ Cripa on January 8th 2018

Hello, I am Nicolas (DJ Boochie) and I come from a state not much bigger than Auroville: The Republic of San Marino 🙂 I currently live in Brussels (Belgium) working in music as an art director and promoter, as well as a DJ. I have recently started a new web radio called Kiosk Radio, streaming music live, every day, from a small wooden kiosk in Brussels' central park. In the past few days in Auroville I have realized that the number 12 is important and recurrent in this project. I have therefore selected 12 tracks that have been particularly important for me over the last year. Expect a mix of tribal and tropical grooves, traveling from South Africa to Guadalupe, passing through Belgium and, of course, Italy.
The band was meant to play as a quartet, but after a recent terrible motorbike accident, in which the keyboard player Yurri badly injured his right hand, the band had to decide whether to cancel the concert or go ahead and play as a trio.
Luckily they decided to play because it was an excellent performance.
Tonight they had to play without an essential harmony instrument (the keyboard), and normally one would expect a trio – made up of a trumpet, a bass and a drum – to give a technically good but also heavy performance. Astonishingly the trio colored the music hall with creative, imaginative and unrestrained execution.
Soon after the concert I went to congratulate with the musicians and asked them a few simple questions.

VOCAL & NADA YOGA WORKSHOP
Today and tomorrow
9.00 am – 4:50 pm at Creativity Hall of Light.
Gitanjali
Tomorrow At 7:30 pm (1 hour approximately) at Bhoomika, behind KalaKendra, Bharat Nivas.
Brahmanaspati Kshetram will welcome visitors
Monday to Saturday from 3 – 6 pm With a permanent exhibition:
Sunday, 7th of January, 2018, 6:00 pm at the Sri Aurobindo Auditorium: Indian Choir songs in different Indian languages offered by the 'Madras Youth Choir' group on the occasion of Auroville's 50th Anniversary Celebration
Auroville Language Lab and the Mirra Women's Group Invite you to PONGAL CELEBRATION 2018
Sunday, January 14th, 2018 at the Language Lab.