Posts Tagged 'r&b'
"Motown" is both a style of music and a label; in fact, no other label (with the possible exception of its grittier '60s brother, Stax) is more identified with the sound it produced. Although Motown started as a straight R&B label and later moved into genres from Psychedelic Soul to New Jack Swing, "The Motown Sound" as it's usually understood by fans and historians.Most Motown songs were written on piano and based on a piano riff, although there were occasional ballads that broke the mold (the Temptations' "My Girl").

tracklist
The Way You Do the Things You Do – The Temptations
Tears of A Clown – Smokey Robinson & The Miracles
I Can't Help Myself ( – The Four Tops
It's All Right – The Impressions
Knock On Wood – Eddie Floyd
Baby Don't You Go – Smokey Robinson & The Miracles
Ain't No Mountain High Enough – Diana Ross & The Supremes
Soul Man – Sam & Dave
Stop In the Name of Love – Diana Ross & The Supremes
Hold On I'm Comin' – Sam & Dave
I Got You (I Feel Good) – James Brown
Ain't No Woman Like the One I've Got – The Four Tops
Lonely Teardrops – Jackie Wilson
Reach Out – The Four Tops
I Got the Feelin' – James Brown
My Girl – The Temptations
What Becomes of The Broken Hearted – Jimmy Ruffin
Nowhere to Run – Martha Reeves & The Vandellas
Where Did Our Love Go – Diana Ross & The Supremes
Neither One of Us – Gladys Knight & The Pips
I Second That Emotion – Smokey Robinson & The Miracless
I Heard It Through The Grapevine – Marvin Gaye
Stand by Me – Ben E. King
I want You Back – Jackson 5
Wonderful World – Sam Cooke
I'll be There – Jackson 5

Montell Jordan -this is how we do it
Bruno Mars – thats what I like
Bruno Mars -perm
Bruno Mars – Versace on the floor
TLC -Creep
Jackson 5 – ABC
New edition – Candy girl
New edition – Cool it now
New edition -Mr telephone man
New edition – stand the rain
Jagged Edege – Lets get married
Jagged Edege – Where the party at
In this musical edition we are featuring multiple award-winning DJ Spinall(Sodamola Oluseye Desmond ), one of the main forces pushing afrobeats forward from behind the decks .
Earlier this year, Spinall released the excellent album Ten, which has birthed many dance floor hits and which features top-tier collaborations with Mr Eazi, Ice Prince, Sarkodie, Patoranking and more. He's also recently dropped the massive "Olowo," alongside Davido and Wande Coal.
And as he says in the interview" I really, really want to take the music around the world, not just in Africa. I want to take the music to Asia; I want to take the music to places that we have Africans at. We have Africans almost in every part of the world.Also, beyond selling my music to Africa, or introducing Africans to the music, I want to introduce the world itself to the music. I'm looking forward to EDM sessions, and sessions in other genres.Basically, I want to push African music but not leave behind the culture. Because I feel like the culture is what lead to the music."
Dj Spinall is someone who really, really loves music, and he listens to everything. Is a big fan of hip-hop and he really loves R&B. he loves afrobeats, he loves afropop. He loves fuji music, he loves reggae, he loves dancehall. So basically, he is that DJ that spins all. That's how we came about the name DJ Spinall.

This musical edition goes back in time, merging musical styles from funk, r&b, soul to hip hop… featuring some rare, and less known originals
tracklist
Slave – Just A Touch Of Love
GAZ – sing sing
Oliver Cheatham, Get Down Saturday Night
A Taste Of Honey – Boogie Oogie Oogie
C J & Co – Devil_s gun
Adriana Evans – Say You Won't
John Legen & The Roots – Our Generation (The Hope of the World)
D'Angelo – Left & Right
Ray J – Let It Go
Immature – we got it (featuring Smooth)
3LW ft P. Diddy & Loon – I Do
Dru Hill ft. Method Man – This is What We Do
Sylvia Striplin – You Can't Turn Me Away
Betty Wright – Clean Up Woman
Thief – Crazy
Curtis Mayfield – Diamond in the Back.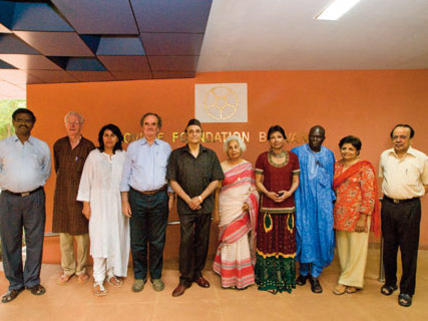 All the residents of Auroville are invited to two gatherings with the members of the Governing Board and the International Advisory Council to thank them for their continuous support to Auroville during the last two terms: Interaction with the GB/IAC on Saturday, 8 September, at 7.30 pm at La Terrace on the roof of the Solar Kitchen and silent gathering at the Matrimandir Banyan Tree on at 10am. On Saturday at 5.30 at Savitri Bhavan Ladislav Brozman on violin, Ahsaman at 7pm at Pitanga on classical guitar, Quiz Show at 8pm at Visitor Centre
Sweet Master of Love, grant that all my consciousness may be concentrated in Thee so that i may live only by love and light.The Mother
To conclude summer holidays Lisa wanted to share some of her favorites songs with friends and community, expressing what she pursues in her studies in Holland. Lisa, with exquisite voice, heading in a soul direction, was accompanied by Matt on keyboards and saxophone, Martin and Holger on classical guitar; Jonas and Tina joined in a couple of songs. As music is about emotions, feelings, the songs lulled us into those zones, where the only right thing is to be with friends, family and loved ones.
It was a special treat for music lovers: Friday's concert by Suryan who is blessed by an amazing, rich and charming voice, capable of different styles. Whether soul, R&B, funk, poetic rock…his songs deal with emotions honest and open yet sometimes with a healthy humorous distance. His honesty and heart-probing songs touched us, brought us nearly to tears. And maybe for the first time in public the richness of his songs came out. The intimacy of the room in Pitanga as well as the duet with Taranti combined to make the event one of the kind.