Daily Archives:
2016/03/30
Water Festival 2016 was initiated by few NGOs, Government agencies and Educational institutions in Pondicherry and Tamil Nadu which was supported by many forums mainly Auroville, UNESCO, Alliance Francaise and Pondicherry University.
A three week program included awareness programs, water camps, signature campaign, dramas and other cultural shows which promote the importance of water. Many school students have participated in the event and the valedictory program was held on 22nd March 2016 at Bharat Nivas, Auroville.
Speaking to the participants and the distinguished guests, Dr. Bhanu R. Neupane, Program Specialist at UNESCO said that "Together, we can resolve the water issues and there should be a strategic plan and also a systematic action to counter water challenges". He also later added that, UNESCO would be ready and always be a supporting agency to any water management initiatives.
Many dance programs, talks and presentations were organized during the closing program and the Puppet Show was a major highlight to light the minds of many participants in addressing water issues.
Interestingly, water from nearby villages and towns of Pondicherry have been collected as a symbol of 'water unity' and 'sustainable usage'
Mr. Raghunath, Member of the Pondicherry Science Forum has taken lead in many programs of this festival and it was a grand success.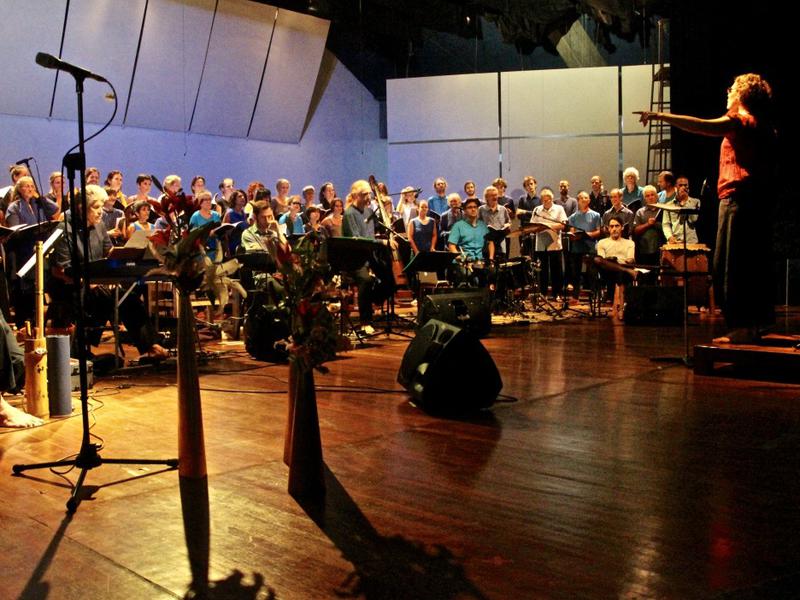 In Bharat Nivas the Auroville Choir and the Youth Choir accompanied by the various talented professional musicians of the Instrumental Ensemble, presented selections of song extolling peace, by Karl Jenkins.
An astonishing, graceful concert once again, not only in agreement with the world wide wishes for world peace but also putting forward the spirit of Auroville, whereby people of different origins, race, age, sex strive harmoniously toward one common goal.
Once again the beauty of the concert brought forward a collaborative work of many starting with Nuria, Auroville choirs, musicians, sound engineering by Joel, and Jean and Mahi on lights, as well as others.
This interview of Nuria has been done on Tuesday 29th.
Une série hébdomadaire de lectures par Gangalakshmi (en Français) de sélection d'oeuvres sur ou de la Mère et Sri Aurobindo, qui lui semble d'actualité.
Cette semaine; Les Entretiens de Mère 1957-58; 24 Avril 1957
A weekly series of readings by Gangalakshmi (in French) from selected works by or on the Mother and Sri Aurobindo.
This week extract from; Evening Talks by the Mother; 24 April
Auroville Musical Fragment by; Nadaka
Images and Mother's Flowers significance selected from www.blossomlikeaflower.com
To support the Auroville Radio please visit the page: https://www.aurovilleradio.org/donate