Daily Archives:
2017/01/19
Heidi Watts and Chris Sperry explored the concept of democratic classrooms over decades in different types of schools in the United States. Democratic schools encourage students to make their own decisions as a student community. This practice cultivates student ownership and student responsibility. In Auroville's Teacher Center both, teachers and parents discussed the chances and challenges as well as opportunities and limits to student decisions. The final conclusion: Let's meet again on that topic!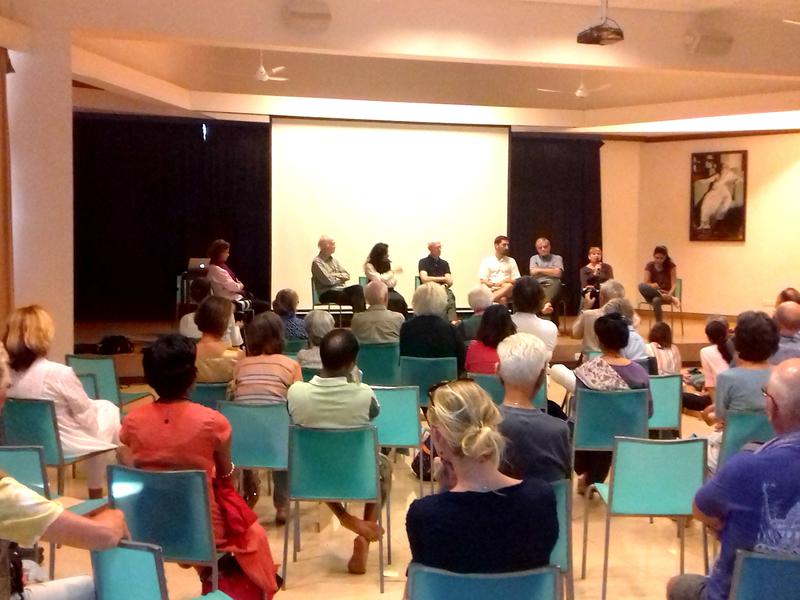 Tuesday 17th January at Unity Pavilion CAT 07 – it was about Auroville city plan with Anupama, Piero, Helmut, Toine, Judith Mandakini, Giacomo. The event was moderated by Anu and followed Q & A session.
Anupama was showing his city plan to the community as it was done by Roger Anger. After it was the time for questions about new plan and what Auroville need for many peoples who will come to visit the city.
In today's news we are featuring short interview with Chris Sperry made by our volunteer Silke with invitation to Saturday 22nd workshop on Integrating Media Literacy and Critical Thinking.
The Auroville Council invites us all for a special gathering with Jean-François Noubel on Tuesday, Jan. 24th from 4 – 6.30 pm at Unity Pavilion.
From Scarce Money To Integral Wealth or Can Auroville build a global gift economy?
Sunday 22nd 9am-12.30 Wisdom to Act at Unity Pavilion with Jean-Francosi Noubel.
Friday 20th January 4.30 – 6pm at Unity PavilionPresentation on African Astronomy and Cosmologyby Aunkh H Chabalala, Indigenous Knowledge Systems, Department of Technology (DST), South Africa.
Auroville Farm Festival 20 -22 January at Food Link site – opposite of Certitude, entrance from tar road at Puncture Service.
The surest way towards this integral fulfilment is to find the
Master of the secret who dwells within us, open ourselves constantly
to the divine Power which is also the divine Wisdom and
Love and trust to it to effect the conversion.
– Sri Aurobindo