Category Archives:
City Life
Jyoti and Ratnam of the Auroville Basketball Family discuss the results of the semi finals of the Puducherry State Level basketball tournament. Held at the New Creation sports ground, the event was jointly organized by LOTUS and FRATERNITY basketball clubs along with the Auroville Basketball Family on 23rd, 24th, 25th, 26th and 30th June as well as on 1st and 2nd July, 2017. They discuss key players, challenges posed by more experienced players to the juniors and their expectations from the matches.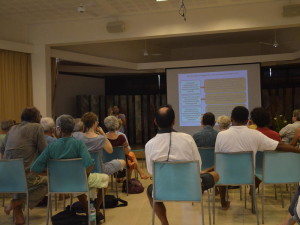 Therre was a general meeting held on Monday April 24 in Unity Pavilion which was a continuation of last months general meeting where the core group came up with fulfilling the task of restructuring Town Planning & Development Council (TDC)/L'Avenir d'Auroville. Last year, the Auroville council was asked to facilitate a process to restructure the TDC, the core group working on this comprised of Martin, Jesse, Sauro, Pashi, Shama, Suhasini, Mamta, Elvira, Lionel and Christiane. This meeting was a preparation for a Resident Assembly Decision-making Event (RAD) May 13 - June 10. The team proposed a revised structure of TDC and asked for the opinions of people present in the meeting on the same. A lot of healthy debate and constructive insights were offered by the members of the community attending the presentation. The feedbacks and comments for last month's meeting were also shared. Involvement of youths was an important point in the discussion. Meeting ended up on a positive note. Follow the links for earlier meetings: https://www.aurovilleradio.org/restructuring-tdc/ https://www.aurovilleradio.org/how-can-we-restructure-the-tdc/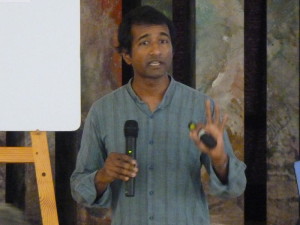 On the 29th May 2017 a general meeting was held at Unity Pavillion to discuss the guidelines for learning activities in Auroville. The main points were the implementation of tax and visa types and restrictions to those with a tourist status.
An Interview you must listen to. I met Rachel some weeks ago when she had just arrived in Auroville and immediately, I could not help but notice what a kind person she was. A few days ago, I decided to interview her knowing that she had traveled quite a bit and it may make for an interesting story. This story was however something I was not prepared for. In this interview, Rachel talks about her life and what kept her going in spite of what hardships came her way.