Category Archives:
City Life
Gentle, yet energetic Shipra Raman has joined us as a volunteer, not as a content producer or journalist but as an architect. Hailing from Lucknow, and currently residing in New Delhi, in close proximity of Sri Aurobindo ashram, Shipra was looking for opportunity to come to Auroville, and experience it on her own skin, and contribute with her skills. For us - AurovilleRadio she designed a new, fresh, and more people (and sound), friendly environment of our recording studio in Town Hall.
The Skate Park, is a youth hub, a forest island, and a safe environment to bring families, friends and children together.

Have you heard what is happening at the new Skate Park in Dehashakti?
First of all let me give you directions on how to get there:
If you are driving from the Youth Center towards Fertile, pass Minati and a few hundred meters on your right you will see the Dehashakti sign. Enter and take the very first sharp right. You will be in a skate park in the middle of the forest.

I spoke to Edgar, one of the founders of the Skate Park, and he described a bit of the history and the movement behind it.
Let's give kudos to the Auroville youth that managed to procure funding to initiate this park; transport the metal ramp originally in Aurovelo to the Skate Park to centralize the activities and improve the layout , so now they have two ramps in the court. With surplus money they even added a staircase to the ramp and built a tree house.
Another cool aspect of this project is that the Skate Park is part of a plan of conservation of the green corridor, which includes the wild life in the area and the forest. The green corridor links to the city center by cycle and foot paths.
The Skate Park as it is now functions already as a youth hub, but also it attracts families – sometimes with very small children. With the addition of a playground and toilets, the park would be ideal.
So far there are quite a few new skaters attending classes twice weekly, and about 20 regular skaters; and there is a yearly event that includes a light- hearted competition, so look out for the announcement of their next event.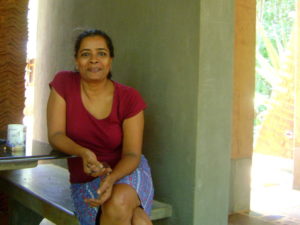 In conversation with Suhasini Ayer, we get to know about how she chose Architecture as a subject to study, what brought her to Auroville, her upcoming project Humanscapes, young architects and the future of India and Auroville in terms of architecture.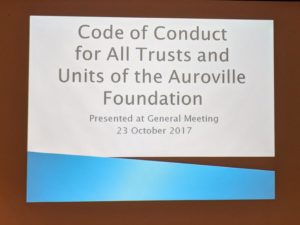 On the 23rd of October a general meeting was held to discuss the topic of "code of conduct for all trusts and units of the Auroville Foundation". There was a good presentation along with many questions and doubts being raised.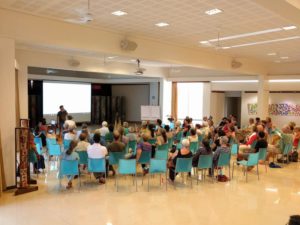 On the 26th August 2017 a general meeting was held at the Unity Pavillion to try to finalize the new draft for the Entry Policy. The main concerns seemed to be about the wording changes, which were Entry to Admission and Exit to Termination, which got resolved, and also what to do if the majority decide not to go ahead with the new policy, which also was resolved.
Since a few months a movement has started in Auroville, a movement of reasoning and result.
A few community members have come together and are backing an initiative by the name of 'Exploring Prosperity'. The group made an introduction in one of the 'CAT' meeting. They shared an open letter which spoke of their agenda of work. They invited other community members to join this initiative. There was a signature campaign. On 17th Oct they organized a 1st gathering of all the people wishing to join this collective work. More than 40 people attended the meeting and selected an area of work to participate. The process was inclusive and involving, here the participants in groups shared what is their definition for Auroville Prosperity and then worked on pointing out what are the real obstacles in achieving this kind of prosperity.
the meeting ended with, group members self organizing their next steps and the path they wish to take as a collective to explore solution to all the obstacles realized during this exercise.
The Team is committed to re-allign Auroville to its original ideal and vision, and not focus too much on finding faults but investing energy in finding solutions which can bring prosperity to Auroville.
To contact the Exploring Prosperity Team, email on - exploringprosperity@auroville.org.in
On Saturday, September 30th we were invited for an open house in Sunship. Sunship started as a next step of the Citadines experiment which pioneered an urban collective housing project with a difference.
Originally the aspiration was to do the entire building with contributions from well-wishers . Due to practical reasons, out of the 39 apartments, 20 are to give on a pro bono basis and balance the rest with financial contribution. Sunship is an experiment in a new living, offering compact personal spaces and yet be part of a harmonious collective life. There are also common areas, such as double height terraces, the dining room, laundry and maintenance are taking care for. .. and of course Sunship integrates waste management, waste water treatment, rain water harvesting, solar energy and so on...
In the morning there was a short meditation while we listened to a talk from the mother while playing her organ, followed by a talk of Anu and Louis Cohen. Afterwards we could visit some of the apartments and have a cup of tea. In the afternoon there was an exctract from the show BHU/EARTH directed by Philippe and Thierry.
Environment plays an important role in the society we live in. In this presentation by Omar, get to know about environment dating from prehistoric times to the 21st century.