Category Archives:
Economy
Aromatic smell of coffee brought us from the far to see how the roasting of coffee looks like. Marc, who's passionate about this magical and aromatical beans for almost two decades, kindly showed us around and told us what it takes for coffee to be properly roasted. For this you need lots of experiences, and personal insight into it, and surely no computer can match the human instinct. For Marc coffee is much more than just a cup of hot beverage, is the time for dialog, it's a way of llfe in the true spirit, enjoying important simple moments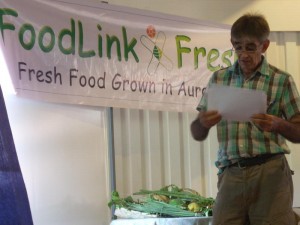 The Auroville Sustainable Agriculture Plan Steering Group prepared on Thursday 11th of August an interesting, and vital to us all presentation on the Five Years Plan. It should secure sustainable grown produce by increase of our own production, which can be done only by the help of the community, by using land more efficiently, by a higher involvement of people in agriculture and by the change of the food habits. Not just the Farm Group but each key sector of the community needs to think of how to be sustainable, to increase awareness.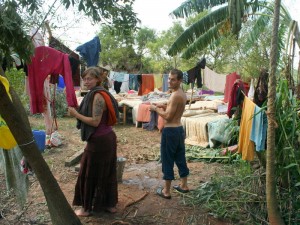 You can hear interviews and soundscapes from sadhana forest, recorded 2nd of january 2012, a couple of days after cyclone Thane hit the community. Aviram, founder of Sadhana forest, speaks about his experience and the consequences for his home. Also some of the volunteers active at Sadhana share their feelings about the storm passing by and what needs to be done now. Although the conditions are harsh, all the volunteers keep their spirits high. Sadhana forest, a forest in the making, will recover and keep on growing...
On August 18 2011 the Budget Coordination Commitee (BCC) had a meeting at Cinema Paradiso. Lyle, a member of the BCC, presented the City Services Budget for 2011/2012. He informed the participants of the budgeting process and demonstrated the total budget and its allocation for the upcoming year. Moreover he gave a comparative resume of the past budget allocations. The presentation opened an interesting debate on these topics. At the meeting were present also members of Fund Asset Management Commitee. Click here to download the presentation.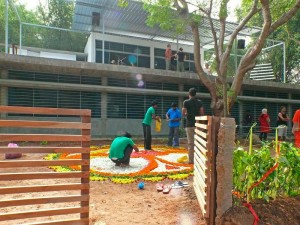 Aurelio sounded the Ring for the official opening of the new Svaram building. Puja interviewed him about this special day and its significance. He said that this particular building will serve as an exhibition place, storeroom and research space. Besides this Svaram has its first building on the outer ring road,. The new space replaces an old building that burnt down 3 years ago. It represents 1 degree of 360 degrees of the ring, and tries to invoke the original plan of Aruoville to manifest the symbol of the Galaxy plan.