Category Archives:
Commercial Units
Much more than paper, Auroville Papers is a unit that works as a team where there is no hierarchy, but only friendship and sharing of creativity and responsibility. They work in true Auroville spirit.
This is one of the units that started in the early times when conditions were difficult, but nevertheless in time they have expanded and improved their work.
With the recent change of economy, Auroville Papers had to adapt, and this pushed the team to be more innovative. Now not only do they produce aesthetic stationery, but they have also extended their repertoire to include all sorts of handicrafts, such as: earrings, door screens, a large variety of decorative items, and also some art work. One item that particularly caught my eye was a beautiful sculpture of a white unicorn (see our video on https://www.youtube.com/watch?v=qqW332od3KA). I felt like I had just walked into an art gallery rather than a paper factory.
Because of the economic change Luisa remarked that we cannot be passive. We always need to be challenged in life if we want to keep ourselves well and active, and stay awaken. It is a work of challenges and creativity says Jean Jaques.
These words reminded me that "all life is Yoga".

At the interview we have Jean Jaques, Herve',and Luisa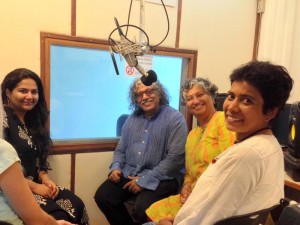 This morning Pushpanath Krishnamurthy, Anjali Schiavina, Devina Singh and Uma Prajapati visited us in our studio to share some exciting news on Fair Trade and the first Twin Towns in this part of the world - Pondicherry Auroville. To support the cause of Fair Trade itself Pushpanath will undergo for a 450 kilometers long walk from Pondicherry to Ooty, passing farms, villages, producers, craftsmen, and other Fair Trade organizations... as he has been inspired by Gandhi peaceful movement, but Push will walk for eradication of poverty through this movement. Walk will start on 20th of November from Gandhi statue in Pondicherry, passing through Auroville on its way. On Facebook: Fair Trade Twin Towns Puducherry & Auroville From the web: "What is Fair Trade? Currently the most widely recognized definition of fair trade was created by an informal association of the four main Fair Trade networks (Fairtrade International, World Fair Trade Organization, Network of European World Shops and European Fair Trade Association). Fair Trade is a trading partnership, based on dialogue, transparency and respect, that seeks greater equity in international trade. It contributes to sustainable development by offering better trading conditions to, and securing the rights of, marginalized producers and workers - especially in the South. Fair Trade organizations (backed by consumers) are engaged actively in supporting producers, awareness raising and in campaigning for changes in the rules and practice of conventional international trade. Fair Trade's strategic intent is: Deliberately to work with marginalized producers and workers in order to help them move from a position of vulnerability to security and economic self-sufficiency To empower producers and workers as stakeholders in their own organizations To actively to play a wider role in the global arena to achieve greater equity in international trade."
Aromatic smell of coffee brought us from the far to see how the roasting of coffee looks like. Marc, who's passionate about this magical and aromatical beans for almost two decades, kindly showed us around and told us what it takes for coffee to be properly roasted. For this you need lots of experiences, and personal insight into it, and surely no computer can match the human instinct. For Marc coffee is much more than just a cup of hot beverage, is the time for dialog, it's a way of llfe in the true spirit, enjoying important simple moments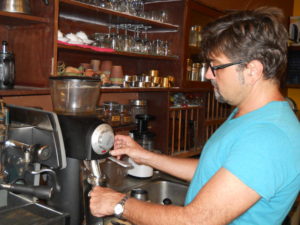 The Growing Culture Of Coffee In India

India is the sixth largest coffee producer in the world, and although the vast majority of Indians still prefer to start their day with tea, the trend of coffee consumption is changing in India. More and more European style cafés and eateries, where friends can gather and socialize over a cup of coffee, are now popping up all over urban India.
This café trend has introduced in India a variety of espresso, cappuccino, latte and more to people who had far fewer options before. Coffee drinkers now start to develop a palate for quality coffee and crave for more variety.

In the past, because coffee was seen as an export crop only, high-quality Indian beans were sold to European companies who would process them and blend them with other beans. Retailers would then import such products to sell to their own customers. Today entrepreneurs like Marc's Coffees are starting to change all of that.
A number of cafés today are popping up in cities all over India, buying and roasting Indian coffees especially for the domestic market.

India still exports almost 80 percent of the beans it produces, but in the past ten years, the consumption of coffee in India has increased by 40%.
For farmers, this recent domestic demand for coffee is giving hope of expansion and increased profit.
Tree Care is a unit which take care of the greenery in Auroville, is a work option for the young people that likes to be in the nature. Their team works in a friendship collaboration and they want to transmit the importance of the relation between the green and us. Anadi, Arseny and Julian are some of the team components.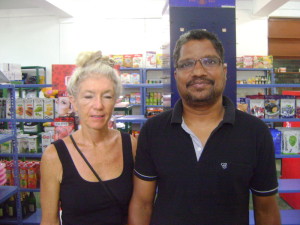 H.E.R.S. - Helath, Education, Research, Service has started couple decades ago with a humble man Vinodh, who passed last year, and left behind him a gap, and unfinished dream. Team of H.E.R.S. started a "paradigm" shift this summer with first finishing the exposed beam , followed by redoing couple of wall , painting the whole space white ( what ultimately brought LIGHT in) .... and added new spacious black granite counter.
In a short interview with Gillian, Tulsi and Roy (team members along with Kumar and three girls) we hear what is going on and what plans they still have ahead of them in order to serve the community as they would like to.