Category Archives:
Ecology Awareness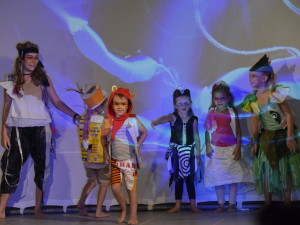 This year campaign of Litter Free Auroville was to bring the community together , to look at our trash. And we might not have done it in big scale past few weeks, but surely Trashion Show brought most of us into Visitor's Centre. We were dazzled, amazed by creation , a transformation of material  which in other circumstances might be considered as a  trash, yet we saw wonderful "high cotoure" design of individuals and units. Auroville has witnessed this kind of transformation 7 years back, and after intensive work of Wastelss, Upcycling Studio and Eco Service....was about time to be reminded again that the attitude we have to our trash matters. On the stage we saw many models of all ages, some even designers of the dress that was worn. Before the beginning of Trahsion Show Unicorn Collective shared a dance of a giant couple(puppets), and recycling rap group tuned us into the show. For uplifted spirit of the event we can also thank unstoppable Jesse as MC , and Matthia in charge of sound.
We went to ask a few people about the mobility in Auroville, and this is what has come out of it.

The Unstitute has interviewed Melanie a volunteer at Eco Femme, a local start-up of eco friendly hygiene products for women, at Auroville Youth Centre's Chrismas Fair.
We have spoken about the ideas behind Eco Femme, their educational and outreach projects as well as worldwide awareness and the conscious application of the knowledge about the human effect on the environment, how we can control pollution more effectively through education and the necessity for a collective change which starts with the daily choices each of us can make personally.
In this program Kali and Palani from Auroville Eco Service remind us the dos and donts of waste segregation to help them reduce our environmental impact.
You will also learn more about their commitment goals and ideas to make Auroville an example of waste treatment in India.
To organize a pick up call Palani at 9443535172
More info at https://www.facebook.com/Ecoservice
An interesting attempt of creating sustainable housing( completely off the grid) in the harmony with nature and the environment by using waste products - tires, glass bottles, metal sheets, cans....along with natural materials.
Shanti, a frequent visitor, shares with us a story on Earthship which has started decades ago by Michael Reynolds in USA. Shanti explains basic design principles of Earthship Biotecture -
1. Thermal/Solar heating & cooling.
2. Solar/Winds electricity,
3. Water harvesting,
4. contained sewage treatment,
5. food production,
6. building with Natural & Recycled materials
The upcycling studio located in the Udavi campus recently inaugurated an exhibition of its recycled work. Auroville Radio speaks with Marc, Ok and Orly who are passionate about reducing and reusing waste open our eyes and minds to help us tackle this pressing issue. Visitors and students enjoyed the products and ideas exhibited and were impressed by its overall message. For more information you can visit the upcycling studio Auroville Facebook page https://www.facebook.com/upcyclingstudioauroville/.
Auroville is the biggest member in the GEN Global Ecovillage Network, but most Aurovillans not even know about the existence of the Network. Representants of the GEN are these days in Auroville and speak about their network. Daniel Greenberg spoke about the work of GEN, Serena Aurora showed a film about it, and the audience discussed about why Auroville is not more involved in the GEN network. A highlighting of the speak and the discussion. The next speak will be on Tuesday, January 26th, at 4 pm at Pitchandikulam. The film about GEN can be seen here: https://auroraseye.wordpress.com/documentaries/gen-global-ecovillage-network/