Category Archives:
Ecology Awareness
Experience of an Indian geologist during his service in Antartica with many facts and information related to climate change and its impact on antartica due to rising carbonlevels in the earths atmosphere
Some project holders made their presentations at Unity Pavilion in the presence of the new Governing Board proceeding the welcoming ceremony. From Waste Management (using waste material to produce different objects such as chairs, cushions, huts and other things, and also segregating the waste), to Sustainability and Education. The idea is to focus on educating future generations and share our research with the world.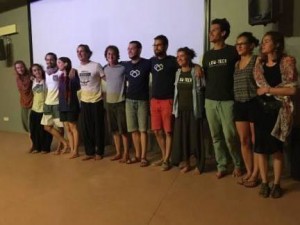 What is the Low-Tech Lab? Is it another business brand using trends such as "sustainable" and "environment friendly" to sell a product, or is this an innovative movement that wants to change the approach to global development?
Considering key words such as "do it yourself", "local manufacturing", "low environmental impact", "economic", "repairable", and "for all", how sustainable and environment friendly are some innovative inventions such as solar panels?
While working on technical solutions, how much do we ease our impact on the environment? Has Low-Tech Lab considered focusing on educating people to be more in tunes with nature?
A brief interview with Clement and Camille from Low-Tech Lab, and Mitia from Joy of Impermanence (Auroville).

http://lowtechlab.org/en
Controversial, yet very hot topic on use of hemp or cannabis (marihuana) ...was in the spotlight  of today's interview with Viki Vaurora and Deblina Chowdhury. Fighting with his own illness,  Vicki got across with medicinal properties of cannabis, and amazed by results he dive into the topic. In 2014 The Great Legalization Movement was established, and along with others Viki also initiated Indian Hemp Research Institute which is in process to be supported by Indian government. However both, Deblina and Viki do see sustainability of the country in the use of industrial hemp which versatility could replace many materials , from our homes, clothing, food, to bio plastic, and fuel. https://en.wikipedia.org/wiki/Hemp Hemp or industrial hemp (from Old English hænep) typically found in the northern hemisphere, is a variety of the Cannabis sativa plant species that is grown specifically for the industrial uses of its derived products. It is one of the fastest growing plants and was one of the first plants to be spun into usable fiber 10,000 years ago. It can be refined into a variety of commercial items including paper, textiles, clothing, biodegradable plastics, paint, insulation, biofuel, food, and animal feed. Although cannabis as a drug and industrial hemp both derive from the species Cannabis sativa and contain the psychoactive component tetrahydrocannabinol (THC), they are distinct strains with unique phytochemical compositions and uses.[6] Hemp has lower concentrations of THC and higher concentrations of cannabidiol (CBD), which decreases or eliminates its psychoactive effects. The legality of industrial hemp varies widely between countries. Some governments regulate the concentration of THC and permit only hemp that is bred with an especially low THC content
Sigrid is dedicated to raising funds to purchase land for green practices. The fund raising project is called Green Acres.
She briefly explains how the land prices within Auroville have increased over the past 10 years and developments within the area are on the increase. Already, various pieces of land within the Green Belt have been bought by outside parties. Further encroachment is very likely to happen where land has not yet been acquired by Auroville.
To help the fund-raising project we need to create public awareness of the importance and urgency of securing the land for Auroville; and we need to provide information of the good work done so far in the green belt area. The appeal is to all people of the world to help acquire land for this evolutionary project.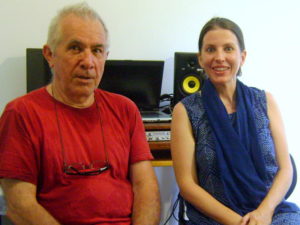 Few days back working groups announced the water crisis, and pleaded the community to be careful in usage of our water. This morning we hosted Tom and Ing-Marie from Water group with updates, and currents situation on water . Tom in details explains where do we get our water from, and what would be the steps in extreme situation or crisis, in which we are headed if there would be no rainfall in near future. Ing-Maries shares some tips on how to save water, with emphasis that those, and more, are available on the web page of Water Group. The group sees future of our water in rain harvesting. Still, situation is severe, and it will take an awareness, and committed acts of each of us to face water crisis.
Luca from Eco-Pro gives a presentation on the cycle of food and compost. Firstly he talks about urine, its properties and its various uses, and later in his talk he presents his new project about a new type of waterless toilets.

The Sustianable Livelihood Institute hosted a seed festival on the 26th of July, 2017. The Festival's aim was to connect farmers in Tamil Nadu to each other though the exchange, selling and purchasing of seeds. The festival focused on promoting local, organic and non-GMO varieties of seeds. In this recording I talk with Ram who works with the institute about the aim as well as the significance of the festival and threats facing small farmers in India.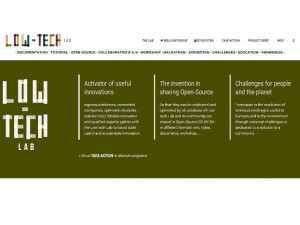 The Low-Tech Lab, an initiative of young ingenious inventors working together to meet basic needs of humanity in a creative sustainable and environmental friendly approach.
One of the main focuses of Low-Tech Lab is working on a global collaborative research program and open-source documentation.
Their next step is to locate a suitable common ground for these inventors and engineers to gather and work together. Could this common space be offered by Auroville?

http://lowtechlab.org/en