Posts Tagged 'Africa'
Marc Vella – Caravane Amoureuse en Ethiopie
Documentaire et Discussion avec Antoine, un participant de la Caravane.
En trente ans, le pianiste nomade Marc Vella a parcouru avec son piano à queue plus de 200 000 km sur les routes et chemins de plus de quarante pays pour célébrer l'humain.
Concepteur de la Caravane Amoureuse, il emmène avec lui des personnes pour dire "je t'aime" aux autres et "conquérir amoureusement" leur cœur et leur âme.
En 2013, grâce à l'enthousiasme de plusieurs Auroviliens, une Caravane quittait Auroville pour un périple en Inde du sud.
En novembre 2015, la Caravane partait en Ethiopie. Des hauts plateaux au sud profond dans la «Vallée de l'Omo», l'un des derniers endroits au monde où des peuples vivent encore selon leurs traditions ancestrales, un voyage musical et une rencontre stupéfiante entre cultures africaines et occidentales au cœur de l'Éthiopie.
Life in Senegal has a soundtrack, and the Senegalese sound unmistakably has a Latin vibe. By tracing the bloodlines of slavery, arching from Gorée Island off the coast of Senegal, to North America, South America and the Caribbean, it is possible to begin to understand the long history in the relationship between Senegalese and Cuban music. Where people go, culture follows and where there is culture, there is the song that carries the story of its people.
Music in Senegal, with its strong structure of Latin flavor, continues to evolve with new musicians joining the international circuit every year.
Despite the differences in cultures, the music should feel like home to you. It's the sadness, happiness, hopes and dreams that are a part of every human, a sense of longing and belonging that traveled throughout history and has become the sound of almost everything you hear on the radio and television. Orchestra Baobab is that sound directly from its source, a musical melting pot with the organic ingredients providing an undeniable flavor.
We are featuring in the beginning two songs from album to be released on 31st of March 2017 Tribute to Ndiouga Dieng….continuing with their early years…. Pirates Choice, Specialist in All Styles , Made in Dakar …

trackllist
Orchestra Baobab – Foulo
Orchestra Baobab – Fayinkounko
Orchestra Baobab – Utru Horas
Orchestra Baobab – Coumba
Orchestra Baobab – Aduna Jarul Naawo – N'Wolof
Orchestra Baobab – Ndeleng Ndeleng
Orchestre Baobab-Gouygui de Dakar – Sibam
Orchestra Baobab – On Verra Ca
Orchestra Baobab – Ngalam
Orchestra Baobab – Jiin Ma Jiin Ma
Orchestra Baobab – Ndiaga Niaw
Orchestra Baobab – Pape Ndiaye
Orchestra Baobab – Nijaay

Featuring three African musicians who have created significant careers in the face of daunting challenges in their countries. Paulo Flores, champion of semba and kizomba in Angola, came of age in the midst of that country's long post-independence civil war. He's probably done more for Angola's spiritual health during these difficult decades than anyone alive.
Emmanuel Jal faced still worse as a child soldier who escaped Sudan under horrific circumstances to become an internationally acclaimed singer and rapper. Today, he must watch as his homeland–now called South Sudan–descends into another brutal, senseless war.
The masked man of Nigerian pop, Lágbájá, has created diverse, socially conscious music through a series of military regimes in his homeland, and has new advice for his countrymen in a fragile democracy.
tracklist
Gepe – Pauolo Flores
Meu Semba – Puto Português feat. Paulo Flores
Mar Azul – Paulo Flores ft. Yola Semedo
Saudades – Paulo Flores
Boda – Paulo Flores
Emma – Emmnauel Jal
Warchild – Emmanuel Jal
Shadow of Death – Emmnauel Jal
Baaki Wara – Emmanuel Jal
Kuar (Henrik Schwarz Remix). – Emmnauel Jal
Paradise – Lagbaja
Prayer For The Youth – Lagbaja
Vernacular – Lagbaja & Fela Kuti
200 Million Mumu (Part 1) – Lagbaja
Konko below – Lagbaja


Italian-based producer and multi-instrumentalist Clap! Clap! comes through with a thundering mix, which follows the release of the stirring EP Simple, and juggles a number of vintage, disco-funk tracks alongside some of Clap! Clap!'s own unreleased material.
Highlights on the mixtape include Algerian artist Cheb Khalid's take on Michael Jackson's "Don't Stop 'Till You Get Enough," Ata Kak's 1990s Ghanaian highlife-disco tune, and the makossa sounds of Cameroon's Francis Bebey. As he says he has tried to give an eclectic flavor to the mix, including lots of personal favorites and old unreleased tracks he loves.
Playlist
Cheb Khalid – Cheb Rassi
Sidiku Buari & His Jam Busters – Sophisticated Jammer
Gyedu Blay Ambolley – Burkina
Francis Bebey – Bissau
Family Atlantica – Manicero
Pat Thomas – Mewo Akoma (Clap! Clap! remix)
Ata Kak – Obaa Sima
Clap! Clap! – Fever
Dele Ojo & His Star Brothers Band – Akumampe
Clap! Clap! – Mushrooms
Francis Bebey – Ngoma Likembe
Clap! Clap! – Ngoma Likembe RE EDIT (Francis Bebey)
Omar Dahouss – Ahwach Al wad
Clap! Clap! – RE: Re-Edit Circus
Clap! Clap! – The Crowd Interlood
Bogdan Raczynski – Kimi
Clap! Clap! – Ascension Psalm (feat. HDADD)
Clap! Clap! – Morpheus Lullaby
Clap! Clap! – Hyenas
Clap! Clap! – Alchemical Ceremony
Erika and Siam in short interview share with us their view on music, life. Both passionate about music where the worlds meet see that the planet is globally connected where borders and prejudices are melting down. Both aware of the rise of new consciousness, rise of humanity where balance between material and spiritual is the key; balance without neglecting one on the expense of another, remembering healthy traditions. With stars in their eyes, warmth on the faces and hearts on their palms they see hope for the humanity.
Further they are more hopeful since seeing the ongoing experiment called Auroville.
On Saturday 8th of August at Well Caffe in SveDame will share with the community their music with Erica on vocal, Siam on guitar and Suresh on drums.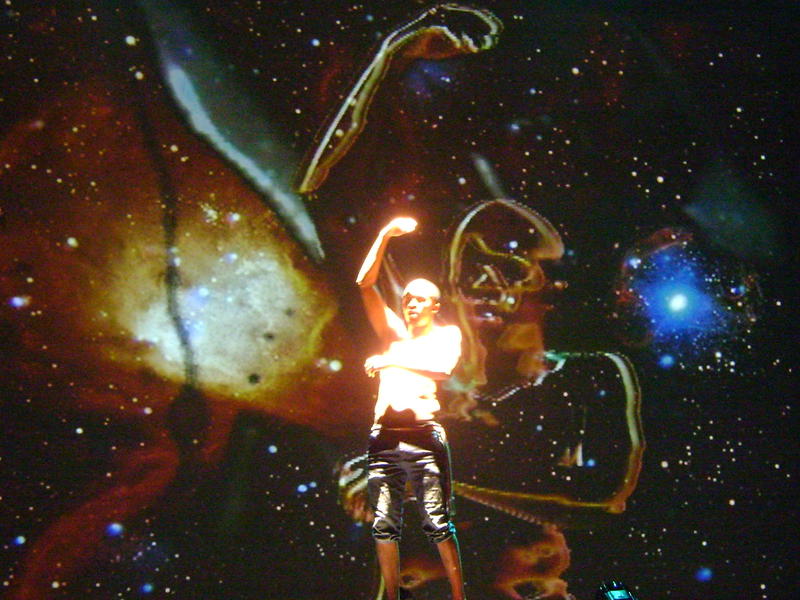 The new season of Sri Aurobindo Auditorium, Bharat Nivas, Pavilion of India, International Zone has started last night with amazing performance Embracing the Planet. We follow the story of misplaced San bushman who was denied for the birthright of using his mother tongue. Lost in his life journey gets across of a spirit, who becomes his guide on the path of reconnection to the thread of light. Performes supported by rich video imagery are along with the audience, totally immerse in the incredible sound which , either we want it or not, affects with its frequencies our bodies, minds, and completes the universal story … What have we done? …in the name of civilization and the progress? ….. what is one's mission on this planet? ….
Excellent performance is a fruition of collaboration and work of many
Philippe Pelen Baldini – author, artistic director, choreographer, director
Thierry Moucazambo – assistant director, performer, choreographer,
Irven Morapedi Teme – performer, choreographer,
Jemremy Roske – musician, performer
Vania – sound, music and sound tracks
Eric Angels – video creator
Jean – light
Joshua – sound
Kiran – costumes
Riju – organisation
The San bush people of the Africa desert believed we are each connected by a thread of light to the stars, nature and all life. Their wisdom says – when the thread is cute, we suffer, what they call "star sickness". We are left disoriented , isolated and alone – breeding anger, fear, greed and separation… Can we find this lost thread of light? Can we connect once again, to our cosmic roots?
Yesterday's meeting at Unity Pavilion of International Zone with presentations of pavilion groups was conducted with joy, high energies, optimism, and readiness to work. Meeting started with updates of International Zone Coordiation Team, and its subgroups reports on planning and development, security and protection, loop road, focal points of art installation. Out of over 200 countries on the planet today, less than a quarter are currently presented in Auroville. In order to follow The Mother's vision with the work on human unity, International Zone is of utmost importance. Here's the link to Suhasini landuse study.