Posts Tagged 'Blues'
Emergence The Band
Emergence has been working towards promoting good organic food, community living and celebrating it through their soulful music.This playlist is a collection of some of Emergence's top songs to lighten up your Monday morning.
Band Members-
Krishna Mckenzie – Vocals/Acoustic Guitar
Mishko M'ba – Bass
Karthik Iyer – Violin
Soundar Rajanl – Drums/ Percussion
Tracklist:
1. Alone in Joy
2. Kadalay
3. Passumai
4. Who You Are
5. Nambikai
6. Image Song
7. Colour Blind
8. Just For Joy
9. Bad Man
10. Can You Record Me
11. Kuthu Song
12. Love Of My Life
13. Red Apple

Blues, blues, blues … is the theme of today's musical podcast, featuring some "oldies", some new blues men, and women.
Featuring amongst others Samm Henshaw, Gary Clark Jr, Gary B.B. Coleman, …..
tracklist
Gary B.B. Coleman – The Sky is Crying
Samm Henshaw – Redemption
Brian Owens and Thomas Owens – A Change is Gonna Come
Big Mike & The Booty Papas – I'll Take Care Of You
Ed Sheeran – Make It Rain
Floyd Lee – Mean Blues
Muddy Waters Mannish Boy
Janis Joplin – Call on Me
Samm Henshaw – Only Wanna Be With You
Gary Clark Jr. – When My Train Pulls In
Tracy Chapman – give me one reason
Beth Hart – Caught Out In The Rain
Leon Bridges – River
Blucas – Setting Sun
Corey Harris – Special Rider Blues

In this musical edition we are featuring multiple award-winning DJ Spinall(Sodamola Oluseye Desmond ), one of the main forces pushing afrobeats forward from behind the decks .
Earlier this year, Spinall released the excellent album Ten, which has birthed many dance floor hits and which features top-tier collaborations with Mr Eazi, Ice Prince, Sarkodie, Patoranking and more. He's also recently dropped the massive "Olowo," alongside Davido and Wande Coal.
And as he says in the interview" I really, really want to take the music around the world, not just in Africa. I want to take the music to Asia; I want to take the music to places that we have Africans at. We have Africans almost in every part of the world.Also, beyond selling my music to Africa, or introducing Africans to the music, I want to introduce the world itself to the music. I'm looking forward to EDM sessions, and sessions in other genres.Basically, I want to push African music but not leave behind the culture. Because I feel like the culture is what lead to the music."
Dj Spinall is someone who really, really loves music, and he listens to everything. Is a big fan of hip-hop and he really loves R&B. he loves afrobeats, he loves afropop. He loves fuji music, he loves reggae, he loves dancehall. So basically, he is that DJ that spins all. That's how we came about the name DJ Spinall.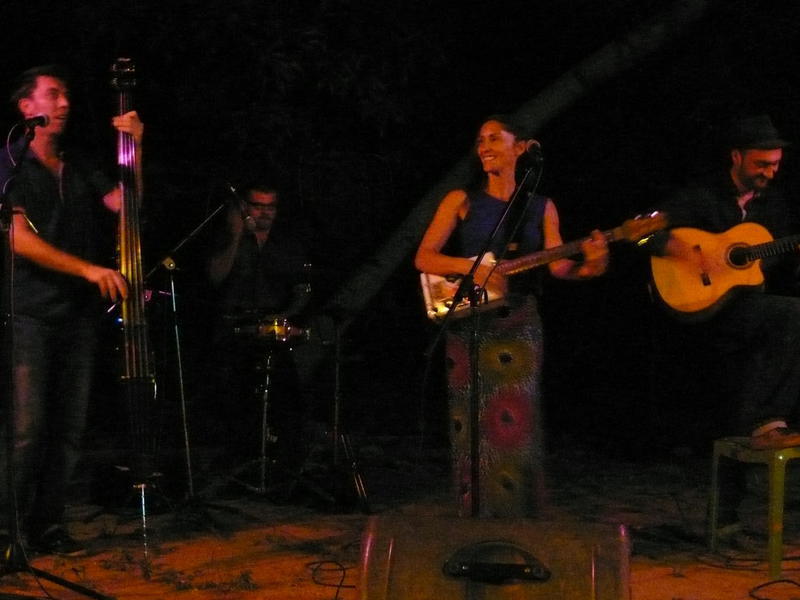 A lot of people danced and enjoined the Ziia and the Swing Mates exhibition in Solitude Farm last Friday 23rd Feb. A concert of modern swing and blues very well played.
We are cordially invited to attend Flag Hoisting Ceremony to celebrate the Indian Republic Day:
Thursday, 26th January at 8.15 am at the :Entrance campus space of Auditorium and Kalakendra Building.Bharat Nivas
Unity Pavilion, Friday Friday January 27th, 4 pm traditional African Medicines and its Role in Today's Health Challenges , A presentation by Dr Aunkh Chabalala
Sunday 29th January 4 pm at Unity Pavilion African Astronomy and Cosmology by Dr Aunkh Chabalala.
From 26th to 28th of January between 11:00 am and 6:00 pm at the Visitor's Centre, Auroville Auroville International Potters' Market
Visitors' Center, on Saturday 28th of Jan at 7:30 pm Jazz-Café ConcertPresents in collaboration with the Potter's Market"The funky side of life"
Saturday 28/1/17 at WELL CAFE. Love the dance floor 7.00 PM – DINNER8.30 PM TILL MIDNIGHT -Rock the show with D.J JESSE on the decks. Groovy beats to move your funky feet
Sunday January 29th or Monday January 30thAt 7 pm at The Matrimandir Garden of Unity we are invited to the "Man, sole awake …
On Saturday 28th and 29th January, 2017 (Saturday & Sunday)Time: Play starts at 7 pm at Adishakti TheatreMonkey and The Mobile
Sunday 29th of January at 4pm we can witness New Darkali Sports Track inauguration
Sunday 29th at 4pm at Skate Park near Dehashakti sports ground we are invited to inaguration of the new ramp brought from Aurovelo.
29th January at Solitude Farm at 8pm FUNKY DANCE MUSIC
Capoeira GINGA SAROBA FESTIVAL (27th to 29th of January)Open to regular practitioners only, 3 days of events….With the presence of Mestre Branco, Prof. Pezao, Pé de Bode, Inst. Cameleao, Pierre,… info 9488328435]
Consciousness is a fundamental thing, the fundamental thing in existence -it is the energy , the motion, the movement of consciousness that creates the universe and all that is in it -not only the macrocosm but the microcosm is nothing but consciousness arranging itself. …
SABCL 
Vol 22 236-37

…or Ladies in Jazz featuring some of the famous jazz singers
tracklist
Beyonce Etta James cover – At Last
Nina Simone – Felling Good
Lupe Fiasco FT Jill Scott – Daydream
Brenda Boykin – Hard Swing Travellin Man
Nina Simone – I put a spell on you
Erma Franklin – Piece of My Heart
Fontella Bass and Bobby McClure Don't Mess with a Good Thing 1965
Nina Simone – Work Song
The Puppini Sisters – Crazy In Love
Sarah Vaughan – Lover Man
Anita Wardell – Travels – The Road
Chaka Khan – Stormy Weather
Ella Fitzgerald – Mack The Knife
The Puppini Sisters – Spooky.
Dinah Washington – Is You Is Or Is You Ain't My Baby
Julie London – When I fall in love
Billie Holiday – All of me
Ella Fitzgerald- It Don't Mean A Thing If It Ain't Got That Swing

Sunday kinda thing … reflecting back
memories, love stories
kisses, joy
grace and thanks
……………………………………. music stays
tracklist
Buddy Guy – Stay Around A Little Longer ft. B.B. King
Keb' Mo' – Love Blues
Margie Hendrix – A Lover's Blues
Roy Buchanan – The Blues Lover
Mike Bloomfield, John Paul Hammond, Dr. John – Pretty Thing
Mojo Blues Band – Sleepless
Fleetwood Mac – I Loved Another Woman
Gary Clark Jr. – Our Love
Dave Peverett, Harvey Brooks, Mo Potts, Rod Pricel – Love that Burns.
B.B. King – Darling You Know I Love You
Muddy Waters – You Shook Me
John Lee Hooker – Bonnie Raitt. I'm In The Mood
Steve Gornall – Lovers Blues
Chris Rea & Vargas Blues Band – Do You Believe In Love