Category Archives:
Cinema
The second instalment of the live radio debates from the Auroville Film Festival action station took place Saturday evening. The topic 'I am, You are, We are Film makers' was chosen to encourage film makers from different backgrounds to get together and discuss the film making process and all things connected with film. There were seven participants and the debate was moderated by Chloe'. This is what the participants had to say: Indrani - "This is the first time I am trying film making, thanks to the AVFF - Education Outreach Program.
None of the women in the workshop had ever touched a video camera before. It was a new and exciting experience foe all of us. I learned a lot and was very happy to see my film when completed." "Yes, there is magic in films for example in Tamil films when a poor man can become a rich man during the course of one song than it is like magic..." Antonio & Bhavyo - "We enjoy making films, we have lots of ideas for films. Usually we get an idea and we want to try it out and we experiment. We have three films showing in this festival one is about a Ghost in Bhavyo's house, in the film he goes looking for it and finds it. In Time Stretch we slowed everything down to see how things looked in slow motion. We liked the effect the end result had. And Parkoueira was about mixing Parkour and Capoueira together to form a new movement based language..." Mario -" My film Timeless has no specific meaning, it is images set to music. I have made other film before. But this is first one I am showing in the festival. I do not concentrate on the aesthetics I put emphasis on the content, if there is beauty in my films it is more incidental..." Loretta - "I do a lot work with Mother's message in flowers and while doing this work a lot of people suggested that I should make a film. So I eventually relented and took a shot at it and the end result is Sri Aurobindo and the Mother, Finding the Psychic Being." Ireno - "I am Photographer and never made a film before . In my film World Wide Web Lullaby, I was attempting to show that one could make a film without using a camera. I used found images and appropriated images from the net and animated these images to music. There was a lot of work involved and it took many hours to complete the film. I am very happy with the end result and it was well received by the audience. In film making I try to make an effort to concentrate on aesthetics as well as content......." Kumar - " I make films with a social message, especially a for the Tamil community. My film Shanti is about education and work, where a young girl is taken out of school and sent to work by her mother but her fellow students come to her aid and work at getting her to back to school. I also had a film in the previous film festival called ......" The discussion was kept lively by Chloe' and by the end of it we got and insight into the film making practices of these seasoned and budding film makers. '
Auroville's second Film Festival, the brainchild of Marco of Cinema Paradiso, had its grand opening yesterday to a a packed audience of Aurovilians adult and children plus guests from abroad. There was a contagious spirit in the very air, spreading through one and all; smiles and laughter midst music created the sense of a real festival. Hear Marco as he shares his feelings; Paul and Wazo entertainingly explained what was to take place, and Kathy and Amy also had comments to share on this lively event.
To the Divine Vision all sincere human aspirations are acceptable, whatever diversity or even apparent contradictions there may be in their forms. When man becomes a little wiser, he will not complain about anything and will take the things the Divine sends him as a manifestation of His all-compassionate Grace. the Mother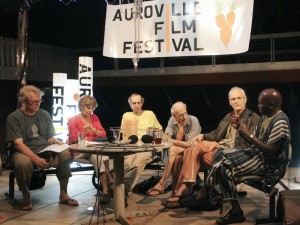 Olivier and Hilde moderated this debate. The participants were B, Basile, Hans and Doudou Diène. The first half of the debate was spent on defining Human Unity whereby every one got to put forth their idea of what they felt Human Unity encompassed. Human Unity they all agreed was a theme that was difficult to pin down. After the round of introductions each participant spoke about what Human Unity was to them.
Doudou Diène quoted two proverbs from his home country Senegal and they went like this: Man is the medicine of Man and In the forest the branches of the trees are fighting while their roots are kissing. He went on to elaborate on these proverbs that all the ills of man can only be cured by man and the tree branches were a metaphor for all the differences in humans while at their root all are equal or the same. This set the tone for the rest of the discussion. He also went on to emphasize that we have to practice human unity on an individual level everyday with absolute commitment to be tolerant and understanding. B shared a story about his interaction with Russian volunteers who came to work at Matrimandir. Due to India's relations with the erstwhile USSR, some volunteers came to Auroville and through his interactions with them; B discovered their humanity and that they were not enemies as he was lead to believe. In the second half of the debate Hans spoke about how while filming his documentary about the Auroville units realized that there was not enough locals involved and hence his footage did not feature enough of the locals. He then had to film the village action program so that there would be local representation in his film. This made him feel that involving local people in Auroville activities would be a way of practicing Human Unity. Olivier confirmed that since his arrival in Auroville he had enjoyed his interactions with the Tamils he learnt a lot from their culture. Later the audience were allowed to pose questions. Though there were not many questions for the panel members, Marco was asked whether Human Unity will be recurring theme in the festival from now onwards to which he replied that it can be a continuing feature. The debate concluded with Marco commenting 'If carrots can practice unity why cant we humans?'
Dans ce reportage, Vronique Jannot nous invite partir en voyage au Tibet o elle nous fait dcouvrir les Dakinis. Ces femmes rprsentent la sagesse fminine dans le bouddhisme tibtain, sont les dtentrices de l'ducation aussi bien que les compagnes des lamas. Lors de la prsentation de son film 'Dakinis, le fminin de la sagesse', Jannot tmoigne de la faon dont elle a t acceuilli au Tibet et de ses expriences avec les femmes qu'elle a rencontr. Au mme temps, elle fait un doux plaidoyer pour la fminit.
Yesterday Auroville Film Festival 2011 opened to an enthusiastic crowd, midst music and bubble blowing, excited people obviously happy to meet and greet as last minute preparations took place on stage and behind stage. This is the recording of the full event... Paul, Wazo and Marco entertained the audience, introducing the theme of this festival, showing a few clips on-screen. This years festival is panning out to be bigger and better with 121 films scheduled to be shown. Click here to download the program (pdf).
The themes explored in the films are wide and varied; everything from Spirituality, life in Auroville, Human Unity and some times just plain entertainment. The opening night was presented with an interesting mix of banter, interviews and comedy. The team of Wazo and Paul kept the audience engaged with sprightly chit chat and the necessary bits of profundity thrown in. Some of the film festival judges were interviewed as well as Graham Rutt; the representative from One People Productions, who travelled from England to be present at the festival. What was new at this years festival is the big tent, the festival 'action station' situated on the platform between town hall and Cinema Paradiso is where all of last night's action took place. The action station is also set to host live debates on the evenings of the 30th Sept and 1st & 2nd October on topics such as: 'Filming Human Unity', 'I am, you are, we are film makers' & 'Film making-an incredible playground for kids'. The events will be broadcast live on the AurovilleRadio streaming channel. Cafe Le Morgan played their part by serving the gathered throng an eclectic menu of drinks and savouries. They also served dinner from a fixed menu of Veg or Non-Veg for movie goers from 7.00 pm onwards. And this dinner ritual is set to continue for the entire duration of the festival. With screenings in three venues, 50 hours of films, three hours of live radio debates and good food this Auroville Film Festival opened with a bang and has something on offer for everyone.