Category Archives:
Literature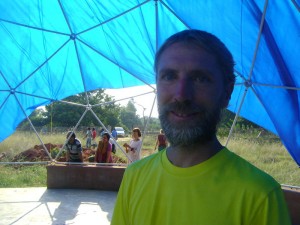 Sunny and hot Sunday afternoon at Sankalap in International Zone didn't stop many to come to the book launch of new children book - Yaroslava's Flowers written by Noel. He shares with us what has inspired him to write a book, and where the name came from. As is he saying he simply wanted to bring joy to children, to explore more, and for them to know also the spiritual significance of the flowers by the names given by The Mother. At the occasion of launching the book children of all ages were invited to plant some seeds, and they had fun to create "seed bombs" or "seed sculptures" which will be thrown on the prepared soil to sprout.

The book was written by Noel Parent, Illustrations by Pankhuri Singh, Layout/Design by Krupa Jhaveri - - With grant support from PCG and Stichting De Zaaier



Une série hebdomadaire de lectures par Gangalakshmi (en Français) de sélection d'œuvres de la Mère ou de Sri Aurobindo qui lui semble d'actualitee.   Cette semaine Sri Aurobindo parle de lui meme- une lettre a un diciple.
A weekly series of readings by Gangalakshmi (in French) from selected works by or on the Mother and Sri Aurobindo.
This week she shares a letter by Sri Aurobindo on himself.

Auroville Music Fragment, Carnatic flute, Artist Gordon Korstange 2010, Song Thillana-
Images Wikipedia

www.travelingmonk.com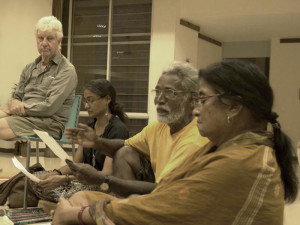 Tuesday 22 March, 2016 Unity Pavilion, Auroville As a part of the World Poetry Movement, Unity Pavilion presents A Poem for Refugees for all those who have been misplaced, having to leave their Motherland because of wars and human suffering. This is a multi-cultural and multi-lingual gathering where poets, musicians and friends share their heartfelt stories and sending peace and love to those in need.
Auroville's first Poetry Jam brought together 10 poets: B, Vierta, Usha, Cameron Sabron, Zurash, Simon, Monica, Julie and Jill; 10 poetic characteristics: Romantic, Dramatic, Speechless, Enlightened, Epic, Thrilling, Comic, Awesome, Tragic and Eye-opening; and 10 delicious jams courtesy of Naturellement. How they aligned was determined by either members of the audience or a panel of experts. Who would be voting was determined by each poet in the moment. Characteristics were represented in Auropaper bouquets--each one a flower. Before each poet could perform, MC Peter asked them a series of hilarious questions so the audience could know them better. Mara was responsible for vote tallying which as the final results came turned out to be a little lopsided. Nevertheless all jams were distributed and every poet left a winner.
As MC Gi explained, this is the difference between a Poetry Slam where poets compete and a Poetry Jam where poets come together for their own and the audience's enjoyment.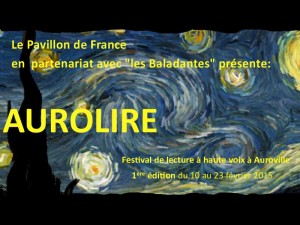 Après un cycle d'ateliers d'écriture, avec le soutien du Pavillon de France, je propose un festival de lecture pour permettre aux participants de découvrir ou redécouvrir certains textes, anciens ou récents, de laisser la littérature prendre corps et s'installer parmi eux pour les émouvoir, les faire réagir, les remplir de la beauté des mots. Une soirée est consacrée aux auteurs Aurovilliens qui liront un extrait de leur œuvre.
- Florence
Pour des informations supplémentaires, merci de me contacter au 9626648976 ou par mail lesbaladantes@gmail.com