Category Archives:
Literature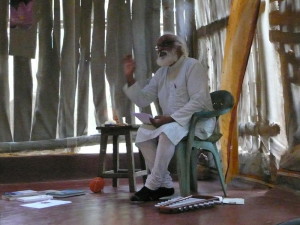 Prof. Schdev Kumar presents the songs of the great 15th century poet-sage in original and in English translations, with commentary on his Bhakti Yoga.
Aurolire, festival de lecture organise par Les Baladantesen partenariat avec le Pavillon de France a presente une Soiree Auteurs au Pavillon de l'Unite le lundi 22 Fevrier
Ces lectures en francais sont faites par Mirajyoti, Croquette,Yanne, Janaka, Francois G, Veronique, Monique et Ann
Janaka est un des premiers ''pionniers'' d'Auroville.
Les livres qu'il ecrit temoignent de cette aventure et il nous livre ici quelques cles de sa quete marquee par un enthousiasme qui reste aussi vivant qu'aux premiers jours.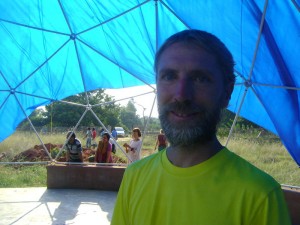 Sunny and hot Sunday afternoon at Sankalap in International Zone didn't stop many to come to the book launch of new children book - Yaroslava's Flowers written by Noel. He shares with us what has inspired him to write a book, and where the name came from. As is he saying he simply wanted to bring joy to children, to explore more, and for them to know also the spiritual significance of the flowers by the names given by The Mother. At the occasion of launching the book children of all ages were invited to plant some seeds, and they had fun to create "seed bombs" or "seed sculptures" which will be thrown on the prepared soil to sprout.

The book was written by Noel Parent, Illustrations by Pankhuri Singh, Layout/Design by Krupa Jhaveri - - With grant support from PCG and Stichting De Zaaier



Une série hebdomadaire de lectures par Gangalakshmi (en Français) de sélection d'œuvres de la Mère ou de Sri Aurobindo qui lui semble d'actualitee.   Cette semaine Sri Aurobindo parle de lui meme- une lettre a un diciple.
A weekly series of readings by Gangalakshmi (in French) from selected works by or on the Mother and Sri Aurobindo.
This week she shares a letter by Sri Aurobindo on himself.

Auroville Music Fragment, Carnatic flute, Artist Gordon Korstange 2010, Song Thillana-
Images Wikipedia

www.travelingmonk.com