Category Archives:
Housing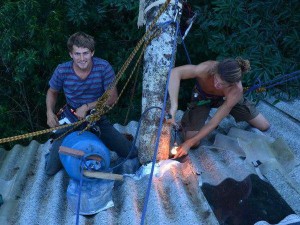 Filip and Narayan from Tree House Community, Youth Center presented last night at Unity Pavilion, International Zone their six month long trip to Brasil. Starting with serious workshop to traveling on different parts of Brasil building tree houses. Tree House Community shares their knowledge, passion and trying to connect with all who sees the alternatives, sustainability and eco friendliness in the life style of tree houses.
We learn about the hands on philosophy and experience of the Sacred Grove housing project through its volunteers and project holder Manu Gopalan.
The site is a lively mix of different functions, where the work site includes a small nursery and composting area that is fenced off, a dining platform, a carpentry shed, several containers serve as tool sheds, the living quarters and dormitories are a little set back.
The power is generated by solar panels and a wind generator (built by Jorge) and all these are being monitored by Akash's Wattman-
The entire site is a happy ensemble, a self contained and busy world where innovation thrives as methods are adapted and the work itself is constantly fine tuning and re-adjusting itself to fulfill and find its potential and purpose.
How can we the Auroville community address the housing bottleneck? Or is there an issue at all? In this followup to the community meeting about the Entry process, residents discuss these and other questions. This is not a new topic. Aurovilians quickly had a long list of suggested reforms and more radical ideas. One thing that is clear is that lack of affordable long-term housing has indeed strongly influenced some potential residents' decisions to leave Auroville. If we want the city to grow, we need to help new people feel at home here.