Category Archives:
Housing
On Saturday, September 30th we were invited for an open house in Sunship. Sunship started as a next step of the Citadines experiment which pioneered an urban collective housing project with a difference.
Originally the aspiration was to do the entire building with contributions from well-wishers . Due to practical reasons, out of the 39 apartments, 20 are to give on a pro bono basis and balance the rest with financial contribution. Sunship is an experiment in a new living, offering compact personal spaces and yet be part of a harmonious collective life. There are also common areas, such as double height terraces, the dining room, laundry and maintenance are taking care for. .. and of course Sunship integrates waste management, waste water treatment, rain water harvesting, solar energy and so on...
In the morning there was a short meditation while we listened to a talk from the mother while playing her organ, followed by a talk of Anu and Louis Cohen. Afterwards we could visit some of the apartments and have a cup of tea. In the afternoon there was an exctract from the show BHU/EARTH directed by Philippe and Thierry.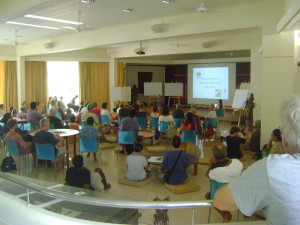 After months of research ARA core group invited the community to sharing yesterday at Unity Pavilion. After opening remarks we heard the report of the study group on the topic of housing, which has asked itself "Crisis, yes, but what crisis?
Close to hundred members of the community participated in the following part of work in groups to find either long or short term solution for housing crisis.
In the last part all ten groups shared their suggestions and proposals.
To that event continuation follows - maybe in next two weeks, and with a big hope of active participation, especially of those who are affected the most by the addressed topic.
The final drawings and models for the Kalpana Housing Project were shown to an interested group at SAIIER.
42 units are planned with 4 designed to be wheelchair accessible. The architect, Mr. Neel from Ovoid Atelier demonstrated how each unit will have outdoor access and privacy. The design was repurposed from the now cancelled Sports facility and is in the same location.
A sustainabilty consultant was engaged and he assured the audience that the latest techniques have been employed.
The Plan and model are on display at Housing Services.




On Friday the 19th of February the Housing service presented their work to Auroville International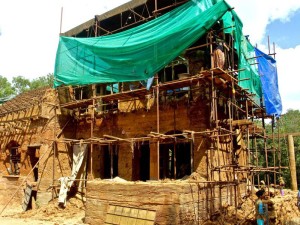 The Avi International were invited on Friday 26th of February to visit Sacred Groves project which aim is to provides low-cost, low-maintenance, and off-grid ecological housing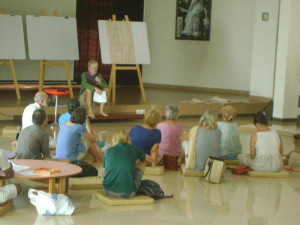 2nd ARA meeting on housing held yesterday at Unity Pavilion. .This follow-up meeting was building upon the ideas shared in the last ARA meeting. It was a working meeting, where participants were exploring ways to prioritise and practically implement these ideas. The ideas regarding housing, which primarily focussed upon affordable housing, fell into three main categories:
1.Finding new accommodation / places to build 2. The planning and construction of new accommodation 3. The financing of new accommodation.
The Organization Research Group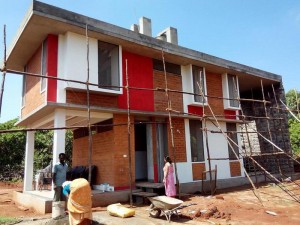 Sindhuja of Imago Auroville explains how they built a house for under 12 Lakhs, she shares the concept, materials and method employed, which gives us an indication for new possibilities and we think of the new steps needed for building homes and reducing costs in Auroville. More details can be found at: http://imagoauroville.com/projects/in-auroville/residence-for-mr-gupta/