Category Archives:
Integral Education
Kniga o cvetax i ix pomochi ludyam

spisok:
Avtor - Noel Parent
Illustrator - Pankhuri Singh
Design - Krupa Jhaveri
At Sunday's  talk at Sri Aurobindo Centre for Studies, Bharat Nivas we had an honor to listen to professor Makarand Paranjape, starting with reading of Savitri as opening remarks on the topic of 'Sri Aurobindo and the Challenge of Post-humanism'. After his discourse into the topic a lively debate has emerge, dwelling in various directions. yet all revolving around hu-man, evolution, consciousness and super being.... humanism, and post-humanism.
Makarand R. Paranjape, Professor of English at the Centre at Jawaharlal Nehru University, New Delhi, earned his Masters and Doctorate from the University of Illinois at Urbana-Champaign (USA). Among his recent book publications are: Cultural Politics in Modern India: Postcolonial Prospects, Colourful Cosmopolitanism, Global Proximities (Routledge, 2016), The Death and Afterlife of Mahatma Gandhi (Penguin Random House, 2015), and Making India: Colonialism, National Culture, and the Afterlife of Indian English Authority (Springer, 2013).
Apart from books in criticism, Makarand has published six poetry collections and works of fiction (two novels and a collection of short stories). Among his latest creative writing publications are: Transit Passenger/Passageiro em Transito (Humanitas, 2016), and the novel, Body Offering (New Delhi: Rupa, 2013). His edited books include Swami Vivekananada: A Contemporary Reader (Routledge, 2015), and Healing across Boundaries: Biomedicine and Alternative Therapeutics (Routledge, 2015).
Makarand was the Inaugural DAAD Global South Visiting Fellow and Erich Auerbach Visiting Professor in World Literature, University of Tuebingen (May-July 2015 and July-December 2014), Visiting Senior Research Fellow, Asia Research Institute, National University of Singapore (January-April 2015), Inaugural ICCR Chair in Indian Studies, South Asian Studies Programme, National University of Singapore (2010-2011), CAPES Visiting Professor, University of Sao Paulo, Brazil (August-December 2011), and Shivdasani Visiting Fellow, Oxford Centre for Hindu Studies, University of Oxford (October-December 2009).
Makarand is also a columnist for Swarajya, DNA, and Mail Today.
The students from The Institute of Integral Studies were having a discussion with Aster on various aspects of integral psychology. The common pool of knowledge within the group was incredible and great insights in store.
Friday 6th October there was a CAT (Creative Auroville Together) gathering on Restorative Circles (RC) in Unity Pavillion, Auroville.
Together with the Cat team we explored what RC can offer us as a community, how do they work and why do we have them.
RC is a community process designed to hold space for those in conflict.
There are 3 stages designed to identify the key factors in the conflict, reach agreements on next steps, and evaluate the results.
As circles form they invite shared power, mutual understanding, self - responsibility and effective action within the community.
The process is voluntary and open to all. Anyone can call a circle, anyone can be named to be invited to a circle and anyone can contact the facilitator and request to be included.
Most of the participants find RC a powerful tool to be used as one of Auroville`s conflict resolution options.
How to call a circle? Send a mail to restorative@auroville.org.in or speak in person to L`aura, Janet, Shanti, Helene or Kati.
Two day regular workshops will be offered (see News and Notes).
Also interesting to know that RC practices development began with the work of Dominic Barker in Rio de Janeiro in the mid 90`s in the favelas and continues with a growing community both in Brazil and internationally
Following is an interview or conversation between Surya and Kenden. They were talking about life in different places and how it is to be different.
Divyanshi Chaugh, as a part of her seminar "Integrality in all Spheres of Life", presents Integral Education, with guest speakers Shiva Kumar and Manoj.
Yesterday afternoon the events room at Pavilion of Tibetan Cuture was fully packed with all those who wished to listen to an inspiring lecture by Michel Danino on "Can Ancient India help today's India?". In a very compact, yet packed with facts, lecture Michel offered some aspects of ancient (or not so) India in governance, environment management, education, ethics... and their applicability to today's lifestyle and polity. India, despite colonization, still stands firm in their uniqueness of enveloping the unity in diversity up to today; where concepts of minority and majority take it's own stand (or not take stand at all). Since the audience was reluctant to leave, and thirsty for more, Michel Danino has answered some questions. The event was made in collaboration of the French Pavilion and Pavilion of Tibetan Culture. Michel Danino (born June 4, 1956) is an Indian author, originally from France. He participated in the translation and publication of the works of Sri Aurobindo and of The Mother. Danino also edited India's Rebirth (a selection from Sri Aurobindo's works about India, first published in 1993) and India the Mother (a selection from the Mother's works about India). He engaged himself also for the preservation of tropical rainforest in the Nilgiri Hills. In 2001, he convened the International Forum for India's Heritage (IFIH) with the mission of promoting the essential values of India's heritage in every field of life. At present, he's a guest professor at IIT Gandhinagar and a member of the Indian Council of Historical Research. On 25 January 2017, Government of India announced "Padma Shri" award for his contribution towards Literature & Education.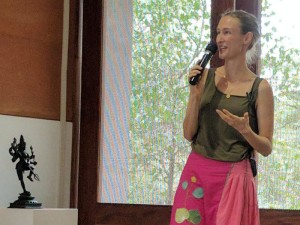 An in depth questionnaire was formulated by Deepti and circulated to others who had been raised and educated in Auroville. This survey captures the voices of 81 Auroville youth over a span of 40 years of educational experiences.
Suryamayi then studied all of the feedback to bring it together in a cohesive manner for this presentation at Bhavisyate on the 14th March 2017.
Heidi Watts taught in different settings in the United States for decades. Once she was the head teacher of a small alternative school in the US in which she intensively encouraged democractic decision making processes among her students. In democratic schools students make decisions with varying importance and varying methods, depending on the setting and their experience. Group discussions sometimes include the use of talking sticks and exceed the classic majority rule by far. Limits for students' decision were usually around topics of health and safety as well as academic issues.