Category Archives:
Social Development
By 50th Auroville Anniversary Core Team (Fabienne, Chali, David, Fred, along with Milan, Pala, Claudine) the community was invited to a workshop about preparations for Auroville's 50th anniversary...
The workshop (interactive session) was aiming to inform the community on where we are today and to explore the next steps ... or what we can do together.
Team leaded us through where we are at this moment with the preparations according to various possibilities - depending to either grant from Governemnt of India will be given or not.
50 years of existence of intentional community is a remarkable mark. Some members would prefer to celebrate it quietly, yet is pretty obvious that it will have quite an impact on life of the community, and surely cannot be ignored.
In second part of the event all were invited to explored possibilities how , and where one could actively participate.
Two years ago WC offered a theme for anniversary - Centering within , and during intensive participatory planning exercises theme evolved in vision:
to re-inspire our individual, collective aspiration in order to achieving of Auroville Charter and A Dream.

More details are available on Auronet ( https://www.auroville.org.in )


envisonage committee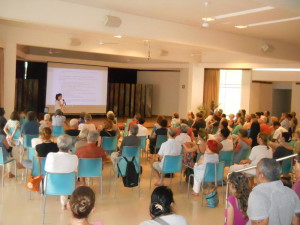 Should we open Auroville's doors and allow people to find out for themselves if the 'city of dawn' is their community; or should we assume the responsibility to select candidates carefully? How can we avoid the Entry Service to be closed for such a long time? Do New Comers feel under scrutiny during the one year process? What can we do to involve more Tamil New Comers and Aurovillians to these meetings? Auroville Radio asks participants of the meeting to express their view.
CIRHU started "Aurovillian Conversations", a series of weekly reflections between students, volunteers, newcomers and interested people with Aurovillians and friends of Auroville with experience in specific fields of knowledge.
This week Michael shared his passionate outlook and ideas on the building of sustainable communities based on the joy of impermanence. He spoke with a clarity of vision which all appreciated, it felt like a fresh breeze on a hot summer's day.
Sophia is on a mission to treat every dog that she comes across in and around Auroville that is suffering from scabies or maggot wounds. It is her love for animals that drives her everyday to raise awareness about how the diseases are quite treatable. Usually, these diseases go unnoticed and the dog eventually dies.

While Sophia goes around trying to help raise awareness and treat such dogs on her own, anyone who is interested in joining her endeavour is more than welcome to contact her : +91 9566173799
Brief interview with attendees of the General Meeting held at Unity Pavilion on Monday the 24th of April. The topic was to discuss a proposal to restructure the Town Development Council. Some of the comments made were that ""we need more collaboration in order to develop Auroville together"; "we need more involvement by residents in these meetings";" and "we could submit our questions prior to the meeting"". Generally everybody agrees that "overall, these meetings and the way they are prepared show a good attempt in moving towards the development of Auroville".
This morning we had Raju of Auroville Vehicle Service , and his year and half old daughter Yamuna visiting us in the studio. Raju is the man standing behind AV Vehicle Service, and he talks about all that they do, and initiatives he is involved in. Passionate about transport and Auroville community they have started AV Vehicle Service in 2001 providing different ways of help to the member of the community, long term guest and AV workers regarding vehicles, and driving incenses, insurances .... They are liason between the community and Pondicherry and Tamil Nadu Transport Department. Unfurtunately new law will impose on foreign members of the community with an option to obtain a driving licensee according to the validity of the visa. Raju talks about Accessible Bus which after a year of operating does run on a plus, providing transport to members and visitors  to Pondicherry  and SriMa Beach. Shortly we talked also about the new parking shed coming up at the Town Hall, which will give space to 30 official rental cycles ... Raju is looking ahead with the community and its needs in the vision along with care about our environment ...