Category Archives:
History
Mother's Reasons and Plans For Creating Auroville

Because this is the year of Auroville's fiftieth birthday, the children of Transition School have a one-year project on Auroville. The teacher of a class of fourteen-year-old students asked Loretta to speak to them about Mother and Sri Aurobindo's plans for creating Auroville. This talk is broadcast today, the first day of the year, to honor Auroville's fiftieth Birthday. Mother and Sri Aurobindo started to speak about creating a new city back in the 1920's. Over the years a total of four reasons and four plans came to Mother, which show the great universal work that Auroville is created to do. This talk gives the experiences that showed Mother these reasons and relates the things Mother said about why Auroville is so important for the world and the whole creation. It also has the story of an ancient Auroville which Mother was instrumental in making and an old Tamil legend which predicted the coming of Aurovilians and some of their work.
This morning we were graced by the visit of Michel Danino, who actually has started his life in India in 1977 in Auroville, where he was active with writing, and translating of Sri Aurobindo and The Mother. In short interview we talked about his very active life , and projects he is passionate about. And indeed the passion of history of ancient civilization might have lead him to come to India in the first place. Today he will share with the community at Pavilion of Tibetan Culture in International Zone a lecture -"Can Ancient India Help Today's India".
Une introduction sur la vie de notre chroniqueuse Gangalakshmi et son parcours à Auroville.
An introduction of our contributor Gangalakshmi's journey to Auroville.
Gangalakshmi presents over 80 recordings in French, of her reading titles from; Sri Aurobindo, The Mother and Satprem under the title 'Selections par Gangalakshmi' on Auroville Radio.
Another edition of healing frequencies, and we are going back to ancient solfeggio scale by featuring tracks from Gregorian chants, along with orgianl ut, re mi...and other sacred music.
The origin of the ancient Solfeggio scale can be traced back to a Medieval hymn to John the Baptist, and the original frequencies were capable of spiritually inspiring mankind to be more "god-kind".
The original Solfeggio scale was developed by a Benedictine monk, Guido d'Arezzo (c. 991 AD – c. 1050 AD). It was used by singers to learn chants and songs more easily. Today we know the Solfeggio scale as seven ascending notes assigned to the syllables Do-Re-Mi-Fa-So-La-Ti. The original scale was six ascending notes assigned to Ut-Re-Mi-Fa-Sol-La. The syllables for the scale were taken from a hymn to St. John the Baptist, Ut Queant Laxis, written by Paulus Diaconus.
Guido d'Arezzo
The secret meanings of the ancient syllables
Each tone has its own unique potential
As you already know, the syllables used to denote the tones are: Ut, Re, Mi Fa, Sol, La. They were taken from the first stanza of the hymn to St. John the Baptist:
Ut queant laxis Resonare fibris
Mira gestorum Famuli tuorum
Solve polluti Labii reatum
Sancte Iohannes
Literal translation from Latin: "In order that the slaves might resonate (resound) the miracles (wonders) of your creations with loosened (expanded) vocal chords. Wash the guilt from (our) polluted lip. Saint John."
In other words, so people could live together in peace and communicate in harmony about the miracle in their lives, and how God blessed them to produce this "magic", people's true unpolluted spiritual natures required revelation. The above text seems to suggest that Solfeggio notes open up a channel of communication with the Divine.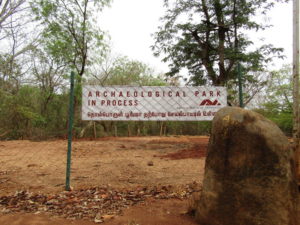 Poppo Pingel is a celebrated architect, who came to Auroville in 1968 for the inauguration as the German delegate. In this interview, Pingel talks about his passion for archeology that stayed with him throughout his life, but found an outlet in Auroville. He describes his various findings from his very first excavation attempt to his recent discoveries as well as the challenges that accompanied them. Additionally, he discusses the archeological park he established (which is situated on Crown Road between Solar Kitchen and Visitors Centre) and explains why he chose to create a 'park' instead of a conventional historical site.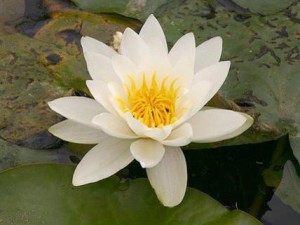 Une introduction sur la vie de notre chroniqueuse Gangalakshmi et son parcours à Auroville.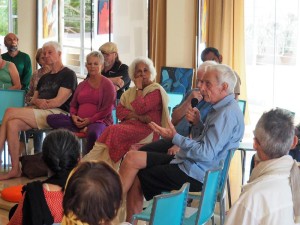 In September 1988, the Government of India protected Auroville by passing a unique Act of Parliament, the Auroville Foundation Act,1988. Alain Bernard, Frederick, Pashi and Paulette shared the background facts, anecdotes and personal experiences of the circumstances of the times in which Auroville was at stake. Listen to first-hand memories of meeting president Indira Gandhi without prior appointment or to the process of drafting the Act within two days and the actual adaptation of the Act which passed unanimously in both Houses of Parliament.
The CAT session took place in Unity Pavilion on January 31st, 2017.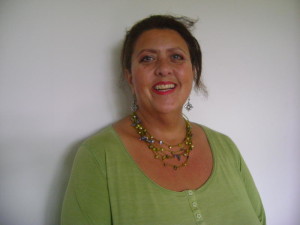 Despite the rain , this Sunday morning Jenny Mallin has visited us in our studio and shared with us some insights on her beginnings of the book - Grandmother's Legacy, which was recently published in England. Jenny herself will present the book in the afternoon at the Pavilion of Tibetan Culture in International Zone from 4pm onward. . The story of the book brought Jenny once more to India where she has planned to travel through five cities where her five grandmothers have been living - Dehli, Mumbai, Bangalore, Chennai and Pondicherry. Whilst traveling she is presenting the book, and today's presentation will be the only one in the area.
book is an amazing, multifold document of certain era , place with its intimacy of family cooking and eating habits. A legacy which should not be forgotten.


http://www.indianmemoryproject.com/150/

http://www.bangaloremirror.com/columns/sunday-read/A-delectable-legacy/articleshow/48127080.cms