Category Archives:
History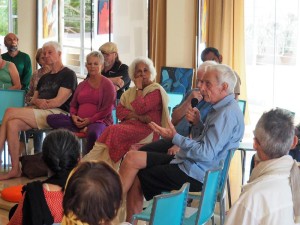 In September 1988, the Government of India protected Auroville by passing a unique Act of Parliament, the Auroville Foundation Act,1988. Alain Bernard, Frederick, Pashi and Paulette shared the background facts, anecdotes and personal experiences of the circumstances of the times in which Auroville was at stake. Listen to first-hand memories of meeting president Indira Gandhi without prior appointment or to the process of drafting the Act within two days and the actual adaptation of the Act which passed unanimously in both Houses of Parliament.
The CAT session took place in Unity Pavilion on January 31st, 2017.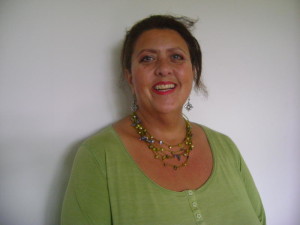 Despite the rain , this Sunday morning Jenny Mallin has visited us in our studio and shared with us some insights on her beginnings of the book - Grandmother's Legacy, which was recently published in England. Jenny herself will present the book in the afternoon at the Pavilion of Tibetan Culture in International Zone from 4pm onward. . The story of the book brought Jenny once more to India where she has planned to travel through five cities where her five grandmothers have been living - Dehli, Mumbai, Bangalore, Chennai and Pondicherry. Whilst traveling she is presenting the book, and today's presentation will be the only one in the area.
book is an amazing, multifold document of certain era , place with its intimacy of family cooking and eating habits. A legacy which should not be forgotten.


http://www.indianmemoryproject.com/150/

http://www.bangaloremirror.com/columns/sunday-read/A-delectable-legacy/articleshow/48127080.cms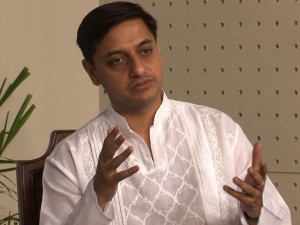 Saturday afternoon saw the MMC packed full. Mr. Bala Baskhar and many others were present to hear Mr. Sanjeev Sanyal talk about his most recent book "The land of the seven rivers". Mr. Sanyal is a leading Indian economist, environmentalist and urban theorist. He has worked in the field of financial markets since the mid-nineties and is widely regarded as one of Asia's leading economists. In addition he is a well-known environmentalist and an expert on the economics of cities, founder of the Sustainable Planet Institute,
, a member of the Steering Committee of "Urban Age" at the London School of Economics (LSE), and a Senior Fellow of the World Wildlife Fund. In addition, Sanjay is the co-founder and Director of GIST - a think-tank that is a pioneer in the field of environmental accounting, and, not least, a famous writer with the best seller "The Indian Renaissance: India's Rise after a Thousand Years of Decline", and other books, under his belt. Do listen to his take on the near and long-term future, based on his understanding of our genetic and historical past. '
Une introduction sur la vie de notre chroniqueuse Gangalakshmi et son parcours à Auroville.
An introduction of our contributor Gangalakshmi's journey to Auroville.
Gangalakshmi presents over 80 recordings in French, of her reading titles from; Sri Aurobindo, The Mother and Satprem under the title 'Selections par Gangalakshmi' on Auroville Radio.
Surya Tahora nous a presente une conférence captivante sur le védânta et les chemins de la liberté, ou comment apprehender la vision du UN absolu et universel. Surya n'est n Madagascar... Il rencontre en 1995 Swami Dayananda Saraswati, un enseignant contemporain de la non Dualit (Advaita Vedanta) dans la tradition du philosophe Indien Shankaracarya. Surya Tudie depuis cette date avec Swami Dayananda les principaux textes de la tradition philosophique Indienne dans leur langue dorigine, le sanskrit . Il est également titulaire d'un doctorat en Sciences pharmaceutiques et d'un MBA. Il a travaillé pour des grandes socits multinationales dans le domaine du marketing international et stratégique la fois Paris et Bangkok. .Il à participe de nombreux cours résidentiels de courte et longue dure conduits par Swamiji Coimbatore et Rishikesh, qui sont deux de ses centres dtudes et de retraite en Inde. Depuis 2007, Surya et Neema animent des séminaires et des retraites intensives, et donne des conférences publiques sur la non Dualit en Inde et en Europe, la fois en Anglais et en Français.