Category Archives:
Free Economy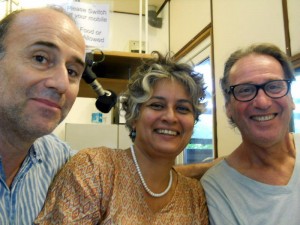 Roland discusses with Andrea and Renu the fundraising drive achievements so far over half the amount sought has been raised- Its a wonderful feeling to be supported by people globally as well as in Auroville - We have ten more days left to go to achieve our target - The funds raised in this drive will help us achieve the basic expenses to sustain the radio for the year as well as to work towards our future project of creating an Art and Science of Communication school. www.aurovilleradio/donate Thanks to Auroville youth and musician Vania for the radio jingle. www.nepsound.com
In the Unity Pavillion, the new multi purpose hall, the members of Auroville International have come together to discuss the Aurocard plan. Akash and Marco sketch a detailed picture of the Aurocard to the AVI members. The plan is as you know already in use, but not optimally. In this meeting, the unresolved difficulties around the card are discussed in detail. Every aspect regarding the Aurocard from technical details to the reactions of the guest houses are part of the discussion.
Roland et Renu font le point sur la collecte de fonds - à ce jour plus de la moitié du montant a été versé- C'est un sentiment merveilleux que celui de nous voir soutenu de tous les coins de la planète ainsi que par notre communauté ici à Auroville- Nous avons dix jours de plus à pour atteindre notre objectif. Les fonds ainsi recueillis couvriront l'ensemble des charges annuelles de la radio tout en nous permettant de travailler sur notre projet de création du Media Lab d'Auroville. www.aurovilleradio/donations Merci a Vania pour le jingle de la radio. www.nepsound.com
21st of february, important day in Auroville's life, FoodLink takes a gift economy's aspect to celebrate this day. Based on the joy of giving, food shopping is an exchange. Farmers bring their productions, vegetable, fruits, milk ........ and people pay the price that they can afford. A different way to estimate value of goods, in a typically Aurovilian way of living. This happened in "Pour Tous " next to solar kitchen, finishing at 3 pm.
'
Otto in a rambling conversation on finance based on his experience of working in Auroville's Financial Service for over 20 years, shares insights of its history, the functions of its groups and the resistances faced in attempting new approaches that encourage fraternity when dealing with money, as it triggers deep rooted psychological fears and insecurities, that challenges our faith due to the habits and traditions attached to this force which are continually reinforced by its links as a primary tool of exchange with the outside world.
The interview explains the functions of the Financial Service, Unity Fund, HRT (Human Resource Team), BCC (Budget Coordination Committee), FAMC (Funds and Assets Management Committee of Auroville
UnLtd Tamil Nadu is a local social entrepreneurship initiative started by Gijs Spoor. It helps 10 to 20 high impact start-ups a year with coaching and seed funding. This is acrross all sectors incl. health, waste, food, education, energy, crafts, livelihoods,etc. They offer training, coauching, Access to mentors, peerlearning platforms and follow-up investors. They will join a rapidly growing community of changemakers incubated in the UnLtd style of founder focused personal and professional development. http://aurovillehub.wordpress.com