Posts Tagged 'Art'
For Serena to be in Auroville it is a privilege. She "stumble" upon it on her journey all over the planet looking for intentional communities, searching for alternative, more truer lifestyle. And every community she has stopped, she would made a video which was donated to the members of it.
And how she ended here, in Auroville? As Serena laugh it off – the decision was made for her, she just went with the flow…. and The Mother Dream was also hers.
And now she make herself rather busy capturing "Glimpses of Auroville", where she is documenting, creating a bridge, creating highlights as we are quite fast approaching 50th anniversary. (and by the way, the OutreachMedia is in need of video makers, photographers, writers for the occasion).
Amongst so many other things, Serena recently initiate RAK – Random Act of Kindness, whereby group of people visit services and units and spread hugs, joy, smiles…..
Youtube: https://www.youtube.com/user/AurorasEyeFilms/videos
website: https://auroraseye.wordpress.com/
Facebook: https://www.facebook.com/AurorasEye

Saturday evening we witnessed a powerful tabla recital, supported by the sitar, by Pt. Sanjay Mukherjee showcasing various styles of tabla playing.
He is one of the most well versed musicologist and great teacher on the subject belonging to the Farukhabad Gharana of Hindustani Classical Music.
He went through different complex tabla rhythms which only connoisseurs can name. Even poetry could be recited by playing the tabla… as he commented, the fingers need to sprout vigour and emotions with supreme artistry.
Tabla and sitar blended together very well. They concluded with a jugalbandi on tabla and sitar much to the taste of the public.
The evening was organised by ARPANAA.
Thank you so much Geeta, Creativity & Mona, Yantra for this wonderful evening.
Like most modern music in French-speaking West African countries, the music of Benin and Togo was influenced by a few main musical currents: Cuban, Congolese and local traditional music, as well as Chanson Francaise. Additionally, the geographical location of Benin and Togo – sandwiched between Ghana and Nigeria – exposed Beninese and Togolese musicians to Highlife music.
The cultural and spiritual riches of traditional Beninese music had an immense impact on the sound of Benin's modern music. Benin is the birth place of Vodun (or, as it is known in the West, Voodoo), and some of the rhythms used during traditional rituals – Sakpata, Sato, Agbadja, Tchenkoumé and many others – were fused to Soul and Latin music as early as the mid-1960s and later to Funk.
In the late 60s and early 70s rock and soul music started creeping into the region. In particular, the music of James Brown and Johnny Hallyday became immensely popular with university students. It was then that the music scene in Benin really started to take off.
Compiled by Samy Ben Redjeb ( vinyl) of Various Artists – African Scream Contest: Raw & Psychedelic Afro Sounds From Benin & Togo 70s (2008)
tracklist
Lokonon Andre & Les Volcans – Mi Kple Dogbekpo
Picoby Band d'Aborney – Mi Ma Kpe Dji
Gabo Brown & Orchestre Poly-Rythmo – It's a Vanity
El Rego et Ses Commandos – Se Na Min
Napo De Mi Amor et Ses Black Devils – Leki Santchi
T.P. Orchestre Poly-Rythmo de Cotonou – Gbeti Madjro
Roger Damawuzan – Wait for Me
Ouinsou Corneille & Black Santiago – Vinon So Minsou
Orchestre Super Jheevs des Paillotes – Ye Nan Lon An
Tidiani Kone & Orchestre Poly-Rythmo – Djanfa Magni
Disafric Band – Houiou Djin Nan Zon Aklumon
Le Super Borgou de Parakou – Congolaise Benin Ye
Vincent Ahehehinnou – Ou c'est lui ou c'est moi
Les Volcans de la Capitale – Oya Ka Jojo

Today we continue with the story of classical jazz, featuring again some of the jazz legends, such as Charlie Parker, Miles Davis, Ella Fitzgerlad, ….
tracklist
Something's Gotta Give — Ella Fitzgerald
Cloudburst — Lambert, Hendricks and Ross
Killer Joe — Art Farmer and the Benny Golson Jazztet
Cast Your Fate to the Wind — Vince Guaraldi Trio
Since I Fell for You — Dinah Washington
Seven Steps to Heaven — Miles Davis
Lush Life — John Coltrane and Johnny Hartman
The Cat — Jimmy Smith
Watermelon Man — Mongo Santamaría
Fly Me to the Moon — Anita O'Day
Night Train — Oscar Peterson Trio
Chicago — Count Basie and Tony Bennett
I'm in the Mood for Love — Charlie Parker
Cry Me a River — Julie London
Mercy, Mercy, Mercy — Cannonball Adderley

Abolute classics in today musical edition where we feature just few of the legend of jazz.
Enjoy the music from these gone but not forgotten legends.
tracklist
Duke Ellington Orchestra – Take the "A" Train
Ella Fitzgerald – It Don't Mean a Thing (If It Ain't Got That Swing)
Louis Armstrong and His All-Stars – Mack the Knife
Mel Torme – Lullaby of Birdland
Erroll Garner Trio – Misty
Billie Holiday – God Bless the Child
Ramsey Lewis Trio – The "In" Crowd
Dave Brubeck Quartet – Take Five
Stan Getz and Astrud Gilberto – The Girl from Ipanema
Chet Baker – My Funny Valentine
Eddie Harris – Exodus
Nat King Cole Trio – (Get Your Kicks On) Route 66
Illinois Jacquet – Flying Home
Sarah Vaughan – Smoke Gets in Your Eyes
Count Basie and His Orchestra – April in Paris

Since Prof. Makarand Paranjabi was very inspired by Anu's book he has received by Anu last month, he decided to return to Auroville and talk about it, and about the future.
Yesterday it was lively discussion regarding Anu Majuda's Book – Auroville: A City for the Future at Bhumika Hall in Sri Aurobindo Centre for Studies – India and the World in Bharat Nivas.
In conversation with Makarand were Suryamayi, Deepti, Bill, Aster, and others in the presence of Anu, herself.

This is to inform the community that, around 7pm last nigh, our Aurovilian brother Andrey Grigorachtchenko from Russia, passed away in the family's house in Djaima at the age of 58. Our love and strength go to Svetlana and sons Terentij and Ivan.
Today, 9th of Ocotober at 6.30pm at Kala Kendra, Bharat Nivas an invitation to an informal musical evening offered by a visiting guest / friend of Auroville, Sanghamitra Das Banerjee, a Baul singer from Santiniketan, Kolkata. Bharat Nivas Cultural Group 
Today 9th of Ocotober from 11am to 1pm at Bhumika Hall Sri Aurobindo Centre for Studies – India and the World Bharat Nivas – Professor Makarand Paranjape, of Jawaharlal Nehru University, Delhi, Who was with us last month, has since read Anu's book "Auroville: A City for the Future" … and is deeply moved by it! He comes again to explore it with us….In conversation will be Suryamayi, Deepti, Bill…. Anu will be present.
Today, 9th of October Hers will be celebrating the opening of its Home wares space: from 11am onwards. 3 to 5pm, refreshments will be served. All are Welcome! With love for the HERS TEAM (Gillian, Thulsi, Kumar, Roy, Palani)
On Tuesday 10th of October at 5:30pm at Unity Pavilion within Desh Videsh Sanskriti Series – GUJARAT GATHA.
On Sturday 14th of Ocotober at 3pmat Dustudio, Swayam – Ecological sanitation – a presentation by Lucas, EcoPro .
The hopes of today are the realisations of tomorrow.
The Mother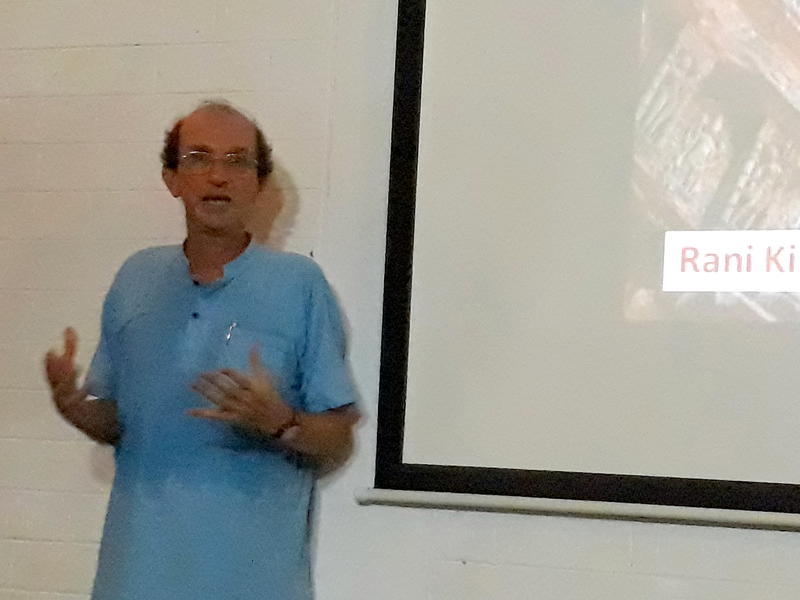 Yesterday afternoon the events room at Pavilion of Tibetan Cuture was fully packed with all those who wished to listen to an inspiring lecture by Michel Danino on "Can Ancient India help today's India?". In a very compact, yet packed with facts, lecture Michel offered some aspects of ancient (or not so) India in governance, environment management, education, ethics… and their applicability to today's lifestyle and polity. India, despite colonization, still stands firm in their uniqueness of enveloping the unity in diversity up to today; where concepts of minority and majority take it's own stand (or not take stand at all).
Since the audience was reluctant to leave, and thirsty for more, Michel Danino has answered some questions.
The event was made in collaboration of the French Pavilion and Pavilion of Tibetan Culture.
Michel Danino (born June 4, 1956) is an Indian author, originally from France.
He participated in the translation and publication of the works of Sri Aurobindo and of The Mother. Danino also edited India's Rebirth (a selection from Sri Aurobindo's works about India, first published in 1993) and India the Mother (a selection from the Mother's works about India). He engaged himself also for the preservation of tropical rainforest in the Nilgiri Hills. In 2001, he convened the International Forum for India's Heritage (IFIH) with the mission of promoting the essential values of India's heritage in every field of life.
At present, he's a guest professor at IIT Gandhinagar and a member of the Indian Council of Historical Research. On 25 January 2017, Government of India announced "Padma Shri" award for his contribution towards Literature & Education.
Relaxing classical pieces of rich Africnan Culture of different corners, featuring few of excellent musicians , such as Hugh Masakela, Fela Kuti, Toumani Diabate, Oliver Mtukudzi, and others
tracklist
Ladysmith Black Mambazo – Abantwana Basethempeleni
Oumou Sangare – Djorolen
Diabate Ft. Toumani Diabate Vieux Farka Toure
Miriam Makeba – Unhome
Hugh Masekela – Chileshe
Baaba Maal -Yodelle Mann
Abdoulaye Diabate – Massassi
Oliver Mtukudzi -Raki
The Sweet Talks – Kye Kye Pe Aware
Papa Fall – African Salsa
Fela Kuti – Lady
Gigi – Jerusalem