Posts Tagged 'Colombia'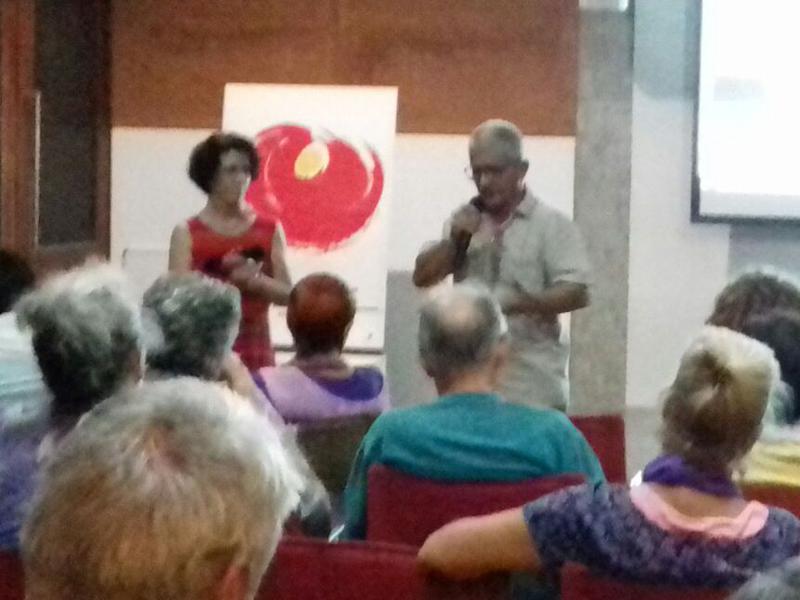 Last night at Bhumika Hall, Bharat Nivas was a special screening of short films: : "A Sacred Message from Colbian Indigenous Tribe"", presented by German Zuluaga from Colombia in Spanish with translation by Stella Rodriguez . Mr.German Zuluaga, visiting guest, has started a Multicultural Community in Sierra Nevada 5 years ago in an abandoned settlement. He started exchanging products and services with the Koggies from a village 5 km away. He wanted to help them to keep their Sacred way of living ,and unexpectedly he has found his own spiritual path.
After the presentation, and screening was a session of questions and answers.
Numerous audience was united in the thought, that that special tribe, which live exclusively spritual life, should be preserved, and kept in peace for the benefit of the future of whole planet.

In today's news we are featuring short excerpt of interview with Marco and Tlaloc on upcoming AVFF17, which starts next Saturday 16th of December, as first in the series of event to celebrate 50th Anniversary of Auroville.
#Auroville50
On Moday 11th of Decmeber at 4pm at Unity Pavilion a General Meeting of International Zone.

Today at 6 pm – Presentation on Global Permaculture and Ecovillage Projects in Pitchandikulam.
The Aruoville Theatre Group presents Shakepseare's King Lear on 7th, 8th and 9th of Decmeber at 7pm at Adishakti Theatre on Edayanchavady Road
On Saturday 9th of December at 5pm at Cinema Paradiso MMC in Town Hall The French Pavilion presents Geo political view of Mediterranien by Nadir Benmatti .
On Saturday 9th of Decmeber at 5pm at Bhumika Hall, Bharat Nivas, Pavilion of India presentation on Sacred Community in Colombia by German Zuluaga.
The publication of the first issue of the relaunched Vaasal magazine.,and you can download the magazine here: https://www.auroville.org/contents/4355
.. asking Him to pour His Grace upon you and to make you conscious of the Divine Light and Soul in you, to give you the supreme realisation of His Presence.
The Mother
In the name of progress, civilization … lots of damage has been done on this planet.
German Zuluaga, a visitor from Colombia is on the quest to preserve millennium old civilization of indigenous people of Koguis Indians in Colobmia, in the area of La Sierra Nevada.
This morning we had an interesting bilingual conversation (Spanish and English) with German, Stella and Anandi on the topic of preservation of Koguis Indians, and what is actually important in one's life. German outlined spiritual outlook of Koguis Indians system of philosophy, beliefs… He conveys his personal story on happenstance in life that had leaded him to that sacred tribe of indigenous people , and their exclusively spiritual life.