Category Archives:
Governance
Meeting recording of the first General Meeting by the New Auroville Council.
From 1st of May to the 3rd the study group implemented the proposal for the selection of the members that volunteered for the Auroville Council and Working Committee. The study group centered its three day session on the 12 qualities of the Mother. Members of the study group share their impressions.
Rod candidly shares his views on the trials of Auroville's impersonal objectives and the difficulties of the rationalistic goals it has adopted, which concern urban planning, finance and entry. He further touches on paranoia, the importance of image, and the varying interpretations of the Mothers words, leadership with a higher resonance and the occult importance of the world's collaboration in Auroville as a means to hasten the new consciousness. Rod has been working and contributing in the field of education for many years.
Rod is also one of the members of the University of Human Unity www.universityofhumanunity.org. Music by Aurovilian youth Vania
June 4th 2014 Follow up on the Study Group on Selection Process proposal on Working Committee and Auroville Council members - signatures, resource persons, silent listeners...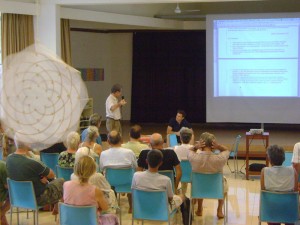 Yesterday's General Meeting at Unity Pavilion in International Zone has draw the attention of many, inspired after creative work of Study Group on Organization. Yet the GM tried to provide information for a decision making process. Entry Task Force presented proposal on changes of entry process, we heard revised FAMC mandate proposal, and compilation of feedback on proposed Matrimandir mandate. The question was if each of particular proposal is ready to be presented to the community for residents decision making process.