Category Archives:
Arts & Culture

Keith Jarrett , an American jazz and classical music pianist, who started his career with Art Blakey, moving on to play with Charles Lloyd and Miles Davis. Since the early 1970s he has enjoyed a great deal of success as a group leader and a solo performer in jazz, jazz fusion, and classical music. His improvisations draw from the traditions of jazz and other genres, especially Western classical music, gospel, blues, and ethnic folk music.

We are featuring just a glimpse of huge Keith Jarret opus

tracklist
Keith Jarrett - Prayer (1974)
Keith Jarret - Expectations
Keith Jarrett & Jan Garbarek - Questar
Keith Jarrett & Jan Garbarek - Tabarka
Keith Jarrett & Jan Garbarek - Country
Keith Jarrett The rich and the poor
Keith Jarrett - Le Mistral
Keith Jarrett - De Drums
Keith Jarrett - Common Mama
Keith Jarret -The Magician In You
Keith Jarrett - Radiance Part VIII
Keith Jarrett trio- Blame it on my youth
Keith Jarrett & Charlie Haden - One Day I'll Fly Away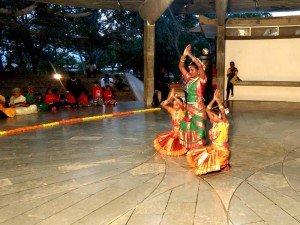 Auroville women celebrate International Women's Day by hosting traditional music, dance and 'kolam' (chalk art) competitions at Swachu Building at Bharat Nivas on 18 March 2017. The United Nations theme for International Women's Day 2017, focuses on "Women in the Changing World of Work: Planet 50-50 by 2030". While the women in cities were occupied in either organizing or participating in various conferences and meetings, Women at Auroville have celebrated the day by promoting the local culture in three forms viz., music, dance, art by spreading the theme of gender equality and women civic participation in the society. Grace, Usha and Mathi from Auroville have taken a lead role in organizing various cultural activities which includes music and dance competitions and also performances. Bregette (from Hollande) has been at Auroville and serving at Matrimandir for five years now and in talking to the Auroville Radio she expressed her excitement of being part of this community in rendering various services mainly to the 'art and culture'. Mayawati, from La Farm has been the instructor for the 'kolam' art competition. Many young girls, students and women participated and filled the floor of the building with amusing and colorful art.
Soulful Afrohouse ? tribal house music in appreciation of Black Coffee, Boddhi Satva, Prince Kaybee, Liquideep, Pex Africah, Teargas, Heavy K...

tracklist

Dj Ace SA - Cape to Cairo
DJ Kent ft Liquideep - Top of the World
Liquideep - BBM
Prince Kaybee ft Lady Zama - Charlotte
Boddhi Satva feat.Bilal - Love Will (Ancestral Soul Mix)
Pex Africah, Mobi Dixon, Songz - Bayeza
EmoBoys - A Song About Nothing
MoBlack - Yen Nana Nom Busom (Cee ElAssaad Voodoo Mix)
BlackCoffee feat S'Tone - Set me Free
Teargas - Single
Kent ft Ziyon - Your Love
Mr Style - Sdudla sami
Heavy K - M'bizeni (Feat. Nokwazi)
Mr Style Ft Muungu Africa - Uyangisilinga Wena
Aidin Caye - Reflections (Feat. Ziyon)

It was a three days workshop organised by Bharat Nivas, and  conducted by artists from SEWA (Self Employed Women Association), Gujarat. They taught people the almost lost art of block printing and tie and dye which was used earlier for cloth printing and now it is getting replaced by screen printing and other techniques. This workshop was to make people know more closely about Indian culture. A lot of people from all age groups took interest in the workshop. We had an interview with Seema Majumdar from Darpana Academy, Gujarat and she talked about the work they do and how they are taking efforts to educate people about the art and culture of India.
"…the archive… transport[s] our hearts and minds to Mogadishu of the 1970s and 1980s, when the coastal capital glistened as the 'Pearl of the Indian Ocean,' when wine and cosmopolitanism flowed freely…" "This music was never made available for mass release. As a result, most of it has never been heard outside Somalia and the immediate region." Something remarkable has taken place in the last few years: Somalia has reasserted itself. Indeed, challenges still remain—and they are grave. But we should not discount how far Somalia and Somali people have come from two decades of civil war, and current ongoing hardships. The Somali diaspora in North America, Europe, the Middle East, and elsewhere in East Africa have used the digital tools their disposal—namely YouTube and blogs—to upload their collections. This cultural assertion is a cornerstone of the Somali revival. In 2015, Berlin-based researched and collector Nicolas Sheikholeslami nimbly scoured the Somali niches of the internet to compile Au Revoir Mogadishu Vol.1, a viral mixtape of Somali music from before the war. http://www.aurovilleradio.org/au-revoir-mogadishu/ Made speechless by the mixtape's other-worldly sounds, Ostinato Records and Sheikholeslami traveled to the Horn of Africa after catching word of an archive of over 10,000 cassettes and reels, painstakingly preserved through the war by intrepid radio operators and dedicated vanguards of Somali culture. What we discovered is difficult to articulate. But what the music revealed was an untold history of the Somali music belt, which stretches from Djibouti to Hargeisa, all the way down to Mogadishu. Somali culture transcends artificial borders and groupings. For the last year, from Minnesota to Dubai, we have tracked down the musicians, songwriters, composers, former government bureaucrats, and quirky personalities that colored Somali music life. A full-fledged compilation album of the best cuts we discovered in this archive is slated for release this year exclusively on Ostinato Records. But because we could not wait to share what we have been reveling in, we have put together a little taste of one of the most hidden music cultures in the world. The sound quality of this recorded material also bear the scars of war, and you are hearing it in the same shape as we found it.
Chloe performed an interesting piece of music out of old tapes and systems. Her performance was intriguing as she created music through waste. The performance was a potpourri of jazz music, conversations and other genres of music.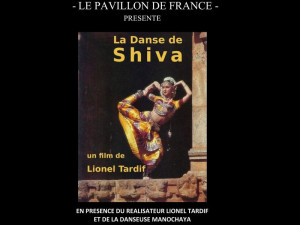 An American dancer goes to the high lands of South Indian Dance looking for the origins of the danced theater of India: BarathaNatyam.
She meets and follows in the sacred temple the greatest Tamil Nadu dancer, Swarnamukhi and her student Manochhaya, who are dancing for the Gods.
A documentary film introduced by the movie maker Lionel Tardif and the dance student actress Manochaya.
Presented by the French Pavilion. Recorded Saturday 4th February 2017.
Lionel Tardif, ex and long-time Director-Curator of the Tours Cultural Centre (France) will present
a montage of several films (extracts of about 10 'each) which retraces the main stages of the first period of the cinema from the primitives (1895-1920) to the End of the mute (1930) through the successive schools: the burlesque, the Swedish school, German expressionism, the Russian school and the French avant-garde. These periods show how the grammar of the cinema was constituted, and the first great cinematographic ideas which came to the attention of the preoccupations which were also born in theater, painting, music, architecture. This telescoping will give its letters of nobility to the art of the image which is enriched by drawing from the other arts. Little by little the cinema becomes a total art.
The event was organized by The French Pavilion.
Life in Senegal has a soundtrack, and the Senegalese sound unmistakably has a Latin vibe. By tracing the bloodlines of slavery, arching from Gorée Island off the coast of Senegal, to North America, South America and the Caribbean, it is possible to begin to understand the long history in the relationship between Senegalese and Cuban music. Where people go, culture follows and where there is culture, there is the song that carries the story of its people.
Music in Senegal, with its strong structure of Latin flavor, continues to evolve with new musicians joining the international circuit every year.
Despite the differences in cultures, the music should feel like home to you. It's the sadness, happiness, hopes and dreams that are a part of every human, a sense of longing and belonging that traveled throughout history and has become the sound of almost everything you hear on the radio and television. Orchestra Baobab is that sound directly from its source, a musical melting pot with the organic ingredients providing an undeniable flavor.
We are featuring in the beginning two songs from album to be released on 31st of March 2017 Tribute to Ndiouga Dieng....continuing with their early years.... Pirates Choice, Specialist in All Styles , Made in Dakar ...

trackllist
Orchestra Baobab - Foulo
Orchestra Baobab - Fayinkounko
Orchestra Baobab - Utru Horas
Orchestra Baobab - Coumba
Orchestra Baobab - Aduna Jarul Naawo - N'Wolof
Orchestra Baobab - Ndeleng Ndeleng
Orchestre Baobab-Gouygui de Dakar - Sibam
Orchestra Baobab - On Verra Ca
Orchestra Baobab - Ngalam
Orchestra Baobab - Jiin Ma Jiin Ma
Orchestra Baobab - Ndiaga Niaw
Orchestra Baobab - Pape Ndiaye
Orchestra Baobab - Nijaay