Category Archives:
Arts & Culture
In today's musical edition we are featuring a mixture some of the Afrikan classical music, and some other,  among others Ba Cissoko, Basekou Kouyate, Chiwomiso, Konono No.1, tracklist Ba Cissoko - Bambo King Ayisoba ft. Kontihene, Kwabena Kwabena & Kwaku T - Modern Ghanaians Bassekou Kouyate & Ngoni Ba - Abe Sumaya Babadi - les espoirs de coronthie Fela Kuti - Shakara Lansine Kouyate - David Neerman - Djanfa Magni Chiwoniso Maraire - Gomo - Rebel woman Konono no. 1 - Konono Wa Wa Wa Emmanuel Jal feat. Abdel Gadir Salim - Baai Ayub Ogada - Obiero (African Angels) Sona Jobarteh - Gambia Toumani Diabates - Single Ali Boulo Santo - Kaladioula Ablaye Cissoko & Volker Goetze - Domain Domain Daoui - Maalem Benaissa Ali Farka Toure & Toumani Diabate - Sabu Yerkoy Ba Cissoko with Tiken Jah Fakoly
In the Auroville bioregion are many temples associated with the local deities which the villagers propitiate for sound living and greater harmony. One such deity is the Ayyanaar, who is the Guardian of the space, known for keeping negative influences at bay. One can identify this deity by the large red warrior sitting with his two consorts, prominently displayed on the roadside.
The custom of the villagers is to conduct festivals at regular intervals to keep the energy of the deity vibrant and alive. One such festival is the celebration of the 'Marriage day' of Ayyanaar with his consorts. This festival has been celebrated recently on April 24th. It is surprising to see that this day coincides with that of the Mother's Final Arrival day in Pondicherry, April the 24th. Coincidence or synchronicity!?! Just a play of the Divine, maybe!
So on this occasion, the village held an all-night play depicting the story of Ayyanaar in the local folk tradition. Here is the audio of some interesting parts from the 5 hour play.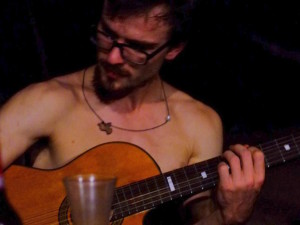 Tristan, volunteering in Aquadyn as a software programmer who follows his passion of playing music by night.
He has an intense form of musical expression. Accompanied by his guitar he goes into improvised musical tangents reminiscent of the doo-op period. He very likely has the secret ability to scat.

Gino, with the ability to turn just about any object into an instrument of percussion plays along adding a necessary element of oomph.
Feauring the best artists from and around the 70s, this mix will surely make you shake a leg. Crank up the volume, get loose and let the boogie do the rest. Tracklist (a-z) Blue Swede - Hooked on a Feeling CHIC - Dance Dance Dance Chubby Checker - Let's Twist Again Chuck Berry - Johnny B Good Earth, Wind and Fire - Boogie Wonderland Elton John - Crocodile Rock Elton John - Pliladelphia Freedom Elvis Presley - Jailhouse Rock George Benson - Give Me the Night Jerry Lee Lewis - Great Balls of Fire KC and The Sunshine Band - Get Down Tonight The Jacksons - Blame it on the Boogie The Jackson 5 - ABC Ritchie Valens - La Bamba The Trammps - Disco Inferno The Whispers - And the Beat Goes On Wham! - Wake Me Up Before You Go
Story of fresh cuts is going on - today dancehall
tracklist
Street Soul Riddim Mix Feat. Chris Martin, Romain Virgo, Alaine, Cecile
Konshens - Gal Dem Sugar
Eddy Kenzo ft. Alaine - Addicted
R. City - Crazy Love Ft. Tarrus Riley
Pitbull - Options ft. Stephen Marley
Vershon - Wul It Out
Keznamdi - Victory ft Chronixx
Popcaan - Naa Stoop
Popcaan x Drake - My Chargie
Vybz Kartel - Remember Me
Ishawna - Shape of You (Equal Rights - Remix)
Spice Sweet ft Busy Signal
Romain Virgo & Bugle - No Problem
KickRaux & Ras Kwame feat. Ayo Jay, Demarco, Doctor & Tyga - Feelin U
DJ Khaled - I'm the One ft. Justin Bieber, Quavo, Chance the Rapper, Lil Wayne
Busy Signal, Patrice Roberts - O'Baby
Capital D - Dancehall Nice Again
Demarco - Something To Think About
Charly Black - You're Perfect
UFO Miles - Chi Ching Ching
Shawn Ice - Levels To This
Gyptian & Konshens - Bingo _Yardstyle Ent
Jahmiel - Nuh Loyal
Musical edition today travels back in time, and to South American continent. At the time when funk was spreading like a fire from states, Brasil was catching it fast , embracing it, and transfixing it ....
tracklist
Manu Gavassi - Vício
Darker Than Blue - Ghetto Funk
Gerson King Combo - Funk Brother Soul
Banda Black Rio - Mr Funky Samba
Seu Jorge - Samba Rock
Banda Black Rio - Maria Fumaca
Gilberto Gil Toda menina Bahiana
Tim Maia - O Caminho Do Bem
Trio Mocoto - Swinga Sambaby
Miguel de Deus - Black Soul Brothers 70's Brazilian Psych Funk
Emilio Santaiago - Vem Menina
Toni Tornado - Sou negro
Bebeto- Segura a Nega
Banda Black Rio - Vidigal
Lafayette Afro Rock Band - Hihache
Tiago Abravanel - De Brim
Cristina Camargo Moral Tem Hora
Cassiano - Eu amo voce
Patricia Marx cedo ou tarde
Marcos Valle - Estrelar
Gerson King Combo - Mandamentos Black
Trio Trenura - A Gira
Banda Black Rio - Expresso Madureira
Elizio De Buzios - Tamanqueiro
Sergio Mendes, will.i.am, Siedah Garrett - Funky Bahia

Some fresh cuts of roots and culture , reggae ...
tracklist
Serve And Protect Riddim Mix Feat. Queen Ifrica, Peetah Morgan, Romain Virgo
Samory I - Rasta Nuh Gangsta
Tarrus Riley - Simple
Ronnie Davis - I Won't Cry
Anthony John - Power of Love
Claire Angel - Love Is All I Bring
Black Omolo - More Positivity
Brothertz feat. Junior V & Sis Jane Warriah - Mash It Up [
Chezidek - Journey
Jah Mason - No Sad Story
Jahfe feat. Mykal Rose - Angel
Queen Ifrica - Truversation ft. Damian Jr. Gong Marley
Gentleman & Ky-Mani Marley - Tomorrow
Tuff Like Iron - Orange Peel
Williams Brutus - I Tried
Anthony B - King In My Castle
Raging Fyah - Fight
Torch & Chiney Kiki - Your Love