Category Archives:
Arts & Culture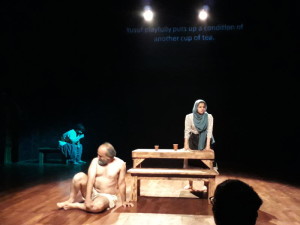 Mein Huun Yusuf Aur Yeh Hai Mera Bhai, a play by Aasaktha, Pune. Playwright Amir Nizar Zuabi, directed by Mahit Takalkar. One of the last performances within remembering Veenapani month long festival at Adishkati last night touched one of painful moments of human history, and as one Palestinian poet points out: These tears that we shed, should be for those still breathing. Story of three – Yusuf, Ali and Nada remembering 1948 when the British mandate ended in Palestine, and the Un was voting on who will control what part of the land... Love story between Ali and Nada, and friendship between mentally challenged Yusuf and Ali, who , as we find out in the end, is responsible for Yusuf's condition. Powerfull story, amazing acting Cast: Ipshita Chakrabory, Ashish Mehta, Iftenda Joshi, Ajeet Singh Palawart, Ninad Mahajani, Mrinmayee Godbole, Sandeep Shikhar, Jayesh Newi, Arpeetta Chogardare, Sagar Deshmuukh, Tejaswini Barve, Alap Vaidya, Hirhsikeeh Pujari, Vinayak Lele. http://adishaktitheatrearts.com
Another exhibition by Alean and Alex in Auroville, this time during the Hibiscus Festival 2017, supported by the busuki of Francois for a couple of songs.
On Sunday 19th February Hibiscus festival 2017 was opened by a couple of great musicians: Rotem Sivan and Eleonora Bianchini. Rotem Sivan is an exceptionally gifted and talented guitarist of the 21st century, Eleonora is an amazing contemporary vocalist and voice teacher from Italy. In this recording you can listen to some jazz and brazilian songs which were played very well.

http://www.rotemsivan.com/
http://www.eleonorabianchini.com/
Impressionistic jazz piano concert by Hartum von Lieres played in Cripa on Thursday 24 February
Probably the name to call this band is not really appropriate, as Francois says at the end of the first song. During Hibiscus festival 2017 they played Klezmer, Gipsy and Balcanian music very well. Francois on clarinet, violin, flute, busuki and voice, Shalini on accordion and voice and an unknown guy on acoustic guitar.
ILHAAM is a fruit of an improbable encounter of an Israeli & Franco Lebanese. This meeting happened on a travelling circus for peace between Israel & Palestine. They combine world/pop/soul from their own kind with quantum electronics. The distinctive voice of Nina & the musicality of her partner Omri (multi-instrumentalist, beatbox, voice) create a sound that inspire us to dream & revolutionize our listening habits. Sound produced and recorded by Joel www.ilhaamproject.com