Category Archives:
Culture
Dr.Sehdev Kumar gives a rich introduction about Kabir's poetry and brief history. The presentation included translation and comments in English, and delicate musical intervals by Chandreshi on flute.
Dr. Sehdev Kumar takes us through the journey of a style of poetry, which was born in India during the 15th century, and stayed alive to this day with its deep philosophical messages.
The cultural and informative event was brought to Auroville by a collaboration of the Pavillon of Tibetian Culture and the Canadian Pavillon.
It was a three days workshop organised by Bharat Niwas, it was conducted by artists from SEWA (Self Employed Women Association), Gujarat. They taught people the almost lost art of block printing and tie and dye which was used earlier for cloth printing and now it is getting replaced by screen printing and other techniques. This workshop was to make people know more closely about Indian culture.
A lot of people from all age groups took interest in the workshop.
We had an interview with Seema Majumdar from Darpana Acedmy, Gujarat and she talked about the work they do and how they are taking efforts to educate people about the art and culture of India.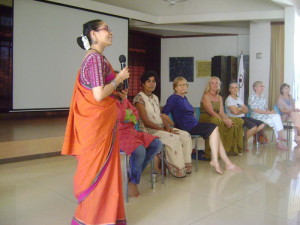 On March 8th Unity Pavillion invited 12 women from different nationalities and different cultures to share their stories as a part of International Women's Day celebration. They talked about love, fights, fears, insecurities, inspirations, and a lot more, shared their journeys, the struggles they had been through all of their lives, problems they faced being a woman and how they kept moving on in their lives with or without support. They expressed their views on feminism, gender equality, etc. In the two hours a million stories were told, all different but still one thing common in all of them and that is the high spirits women possess. After the talk there were beautiful cultural dance performances (including, Odissi , Kathakali, Bharatnatyam, and contemporary), all were prayers to the 'Devi', not any physical being but the feminine side embedded in nature. And this session of sharing ended with a fun pot luck dinner.
An introduction of Kabir's philosophical poetry by Dr. Sehdev Kumar. Through the tale of the illiterate poet Kabir, we revisit the history and politics of India from the 15th century to the India of today.
The poetry and songs of the people, that has no particular religious attachment nor a cast. Still very popular to this days, Kabir's poetry remains rich with insight and philosophy.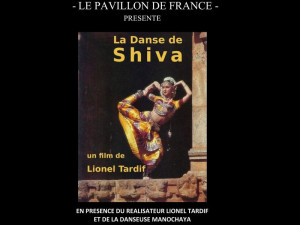 An American dancer goes to the high lands of South Indian Dance looking for the origins of the danced theater of India: BarathaNatyam.
She meets and follows in the sacred temple the greatest Tamil Nadu dancer, Swarnamukhi and her student Manochhaya, who are dancing for the Gods.
A documentary film introduced by the movie maker Lionel Tardif and the dance student actress Manochaya.
Presented by the French Pavilion. Recorded Saturday 4th February 2017.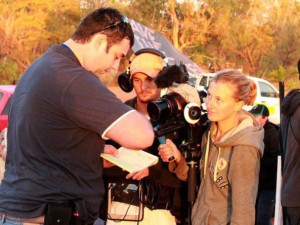 The French movie director speaks about the making of her documentary Heritage Fight. It tells the story of the Australian Aboriginal tribe Goolarabooloo who fought against a company that intended to build the world's largest gas plant on the land they have been living on and protecting over millenia. Through a tight knit community culture and the practice of dreaming as a collective the Goolarabooloo managed to defend their holy land against corporate interest and destruction. Heritage Fight will be screened on Saturday, January 28 at 5 pm at Cinema Paradiso. Eugenie Dumont, the French director of the movie, will be at the screening for a discussion afterwards. The event was organized by the French Pavilion.