Category Archives:
Culture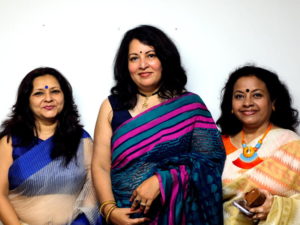 Alpona: Images and Sounds of Bengal

Between August 12 - 22, Bharat Nivas is presenting a panorama of events focusing on the different aspects of Bengali culture - music, textile, painting, cuisine, cinema...

During the Inauguration of the event, Auroville Radio had the opportunity to interview some of the artists and the organizers, and get an insight on the work put behind the realization of this outstanding festival.
In the Auroville bioregion are many temples associated with the local deities which the villagers propitiate for sound living and greater harmony. One such deity is the Ayyanaar, who is the Guardian of the space, known for keeping negative influences at bay. One can identify this deity by the large red warrior sitting with his two consorts, prominently displayed on the roadside.
The custom of the villagers is to conduct festivals at regular intervals to keep the energy of the deity vibrant and alive. One such festival is the celebration of the 'Marriage day' of Ayyanaar with his consorts. This festival has been celebrated recently on April 24th. It is surprising to see that this day coincides with that of the Mother's Final Arrival day in Pondicherry, April the 24th. Coincidence or synchronicity!?! Just a play of the Divine, maybe!
So on this occasion, the village held an all-night play depicting the story of Ayyanaar in the local folk tradition. Here is the audio of some interesting parts from the 5 hour play.
Dr.Sehdev Kumar gives a rich introduction about Kabir's poetry and brief history. The presentation included translation and comments in English, and delicate musical intervals by Chandreshi on flute.
Dr. Sehdev Kumar takes us through the journey of a style of poetry, which was born in India during the 15th century, and stayed alive to this day with its deep philosophical messages.
The cultural and informative event was brought to Auroville by a collaboration of the Pavillon of Tibetian Culture and the Canadian Pavillon.
An introduction of Kabir's philosophical poetry by Dr. Sehdev Kumar. Through the tale of the illiterate poet Kabir, we revisit the history and politics of India from the 15th century to the India of today.
The poetry and songs of the people, that has no particular religious attachment nor a cast. Still very popular to this days, Kabir's poetry remains rich with insight and philosophy.