Category Archives:
City Life
The co-ordinator of SAVI, concerned Aurovilians, and volunteers discuss the implications of the financial contribution required of volunteers coming to Auroville, the role volunteers play in the life and functioning of Auroville, as well as broader issues concerning the interconnectedness of Auroville's working groups and methods of decision-making.
A key issue raised was the contrast between financial contribution and contribution in the form of work, and whether or not the one contradicts the other.


Lalit Verma usually the one hosting exhibitions not exhibiting.
The current exhibition at the Citadine Art Gallery are stunning photographs of the diplomatic enclaves in New Delhi. Lalit shares his early memories that lead him to create the Aurodhan galleries, the cultural scene in Pondicherry and he explains the background and work into the current project exhibited at the Citadines that will be running from 27 December to Jan 16th.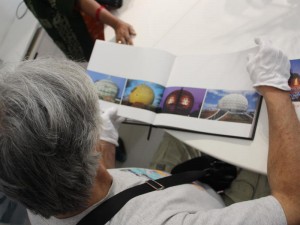 On Saturday, the 20th of December, a varied set of people gathered at Citadines to celebrate the launch of the book on Matrimandir, featuring photographs by Dominique Darr who has seen the Matrimandir evolve right from its days of foundation to the final glory of completion.
The interviews feature Parthiv Shah, a photographer from Delhi involved with the design process of the book; Max, a new member of the AVI visiting the gallery; Ravindra, who's been welcoming people at the Matrimandir since a while; Francine, a photographer and close friend of Dominique; Fredrick, who has been in Auroville since before its foundation and was a close associate of Roger Anger and Devasmita Patnayak, a part of AVI France, who laid the building stones of Matrimandir as a child, and a friend of the author of the book.
These are just a few amongst the countless people who's lives have been touched by the soul of the city, the Matrimandir and share their personal set of experiences and interactions with some of the prominent people such as the architect Roger Anger as well. Set amidst the beautiful ambience of the gallery; respecting the austerity and delicate nature of the book, many people were seen sporting white gloves as they turned the pages of the book that unraveled the mystical creation called Matrimandir.
It was an occasion of triumph, of merriment, as the people of Auroville paid a tribute to Mother's beautiful symbol, her aspiration, her last gift to Auroville.

http://www.auroville.org/categories/6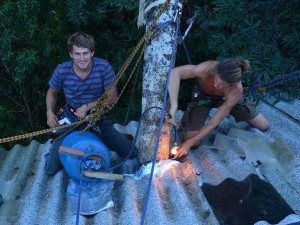 Filip and Narayan from Tree House Community, Youth Center presented last night at Unity Pavilion, International Zone their six month long trip to Brasil. Starting with serious workshop to traveling on different parts of Brasil building tree houses. Tree House Community shares their knowledge, passion and trying to connect with all who sees the alternatives, sustainability and eco friendliness in the life style of tree houses.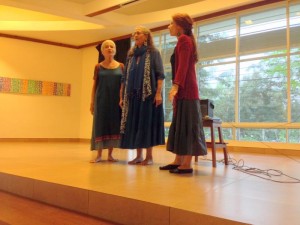 On Sunday 21st of December at Unity Pavilion, Accessible Auroville made a presentation of the booklet titled 'Just...Follow me.' 
Susmita presented the book and the aim of the Accessible Auroville team. The publication is a journey to accessibility via cartoons and comics with illustration done by Lele.
To make the event more joyful Carla, Marlenka and Swaha sung Italian, English and French songs.
For any information you can contact: accessibleauroville@auroville.org.in