Category Archives:
City Life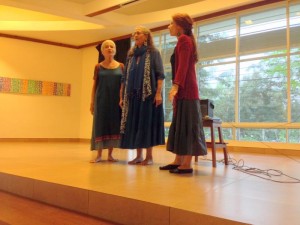 On Sunday 21st of December at Unity Pavilion, Accessible Auroville made a presentation of the booklet titled 'Just...Follow me.' 
Susmita presented the book and the aim of the Accessible Auroville team. The publication is a journey to accessibility via cartoons and comics with illustration done by Lele.
To make the event more joyful Carla, Marlenka and Swaha sung Italian, English and French songs.
For any information you can contact: accessibleauroville@auroville.org.in


Lionel (a social anthropologist) visiting from Belgium shares his impressions from a month and half in Auroville. During his stay here he volunteered to help create the base information for making surveys by collecting and organizing data to create a sampling of our population.
He talks about the positive aspects of Auroville as well as the dangers we face and the possible political structures that could emerge based on a actual democracy.


Spicy Youth Centre Christmas Fair. Like every year the Auroville YC organized his Christmas Fair end of December for which concert, games, workshop, activities were organized.
The weather was nice giving the chance to enjoy the event. A lot of guests were present along with many Aurovilans and volunteers. A very pleasant gathering for the kids and adults as well.  More and merrier activities than ever before, to name a few: Flying fox, Climbing wall, Danke Schon, Bowling, Slides, Spice competition, Live Music & Performances, Tombola, Kids Parcour, Local Products, Tasty lunch & dinner, Pizza, Sandwiches, Dosai, Biriyani, BaJis and Pakoras, Cakes, Cookies, Juices and more.


Kireet Joshi had Auroville's collective destiny in his heart, mind and work. Frederick recalls these principals and shares them as a renewal in our collective direction and his experience of the possibilities open to us to explore and find.
Dr. Kireet Joshi was head of the Ashram Center of Education and was instrumental in creating the legal structure for Auroville.
On Dec15th the outcome of the three day selection process was celebrated at the unity pavilion. The recording starts at the second part of the meeting when each new member presents themselves. Residents were greeted by children serving cookies, next there was a puppet show that summarized with humor the three day process and songs by the TLC children, (unfortunately this section was not recorded). A rainbow interrupted the meeting briefly. The event concluded with the song "Imagine" by Future school students and a dinner was served for all.
My name is Chandana and I am 12 years old. I was born in Auroville (2002).
My father Nadaka is a musician and so music was always present in our house. I love music very much. When Vania first had shown me the website http://www.incredibox.com on which I could create my own music I was amazed. I was very enthusiastic and tried many different things on it!! I was literally hitting buttons and changing musical parts, when finally I composed a song "Sun Rise".
This song made my family very happy and when Vania first heard it he suggested that with the help of Auroville Radio I could share it with friends and the rest of the world.
I hope this song makes you and others smile :)