Category Archives:
City Life
Mr. Lakshminarayanan shares his views about various aspects of the upcoming local body, panchayat elections for neighboring villages of Auroville. He emphasis on the power a voter has, as member of the graham sabha and educates of the new amendments in seat reservation. He informs about 50% seats being reserved for women in the upcoming elections and points out as a good sign. He believes Women as administrators can do a much better job and is feeling rather optimistic about the upcoming elections. The panchayat elections play a major role in Auroville life as well, as Auroville is surrounded by at least 7-8 local Panchayat bodies and hence, elected officials will play a crucial role in maintaining and even strengthening the relations with the local villagers. Sustainable Livlihood institute SLI , is doing a commendable job in bridging the information gap between the villagers and Auroville and is playing an important role in guiding the locals to a better lifestyle and providing better means of livelihood.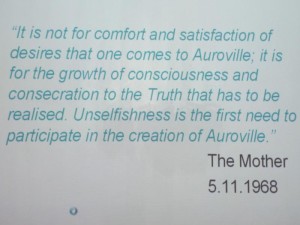 Noel Parent presents a very welcoming talk for potential new comers and Aurovillians.
The meeting held at the Unity Pavilion was to celebrate the success of the Governing Board as their term comes to an end. The meeting was attended by Mr. Karan Singh, all the board members, Aurovilians and long term volunteers. The meeting ended with the beautiful poem rendered by Dr. Karan Singh.
Mr. Laksminarayanan, former AD panchayat, Govt. of Tamil Nadu, & Currently liaison officer, SLI ( Sustainable Livelihood Institute ).
He has over 40 years of experience in working with the grassroot governance institutions. He delivers a powerful presentation, educating the locals upon the up coming panchayat elections. Mr. Laksminarayanan emphasis on the fact that every voting member is a part of 'graham sabha ' and in turn has judiciary powers of the elected panchayat official, if required so. He educates, that Tamil Nadu has had a history of local panchayat governance right from 700 A.D. , and points out to various policies for qualification and disqualification of elected members which have been made clear, even in that era. He emphasis on the role of the Graham Sabha and highlights to the fact, every voting member is automatically a member of the graham sabha and has judiciary powers over the elected members and can bring them to accountability if required. Mr. Laksminarayanan dwells upon these serious issues with a rather jolly mood and reminds the people that, gone are the days when elected members of panchayat can favoritism of any kind and the elected members must work diligently to make sure all the basic needs of villagers are met. He is responsible in his professional life, to have lead and caused up to 31 panchayat elected official, to be disqualified and resign.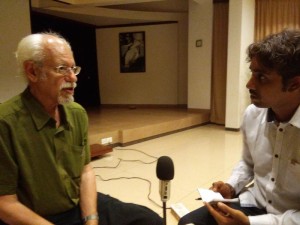 David Stein presented his plan for the land use of the green belt area. He also speaks about the ways we can build relations with local villagers to increase on our good will. Currently AVF owns only 25% of the land marked out originally for green belt zone. David prepares us for hard work ahead of us, in areas of resolving local governance issues, preservation of ground level water reserves, infrastructure development by local villagers which can hamper the idea behind green belt use. David gave very specific and enlightening methods which can spearhead growth and development and urged for the people of Auroville to adopt to the proposed plan, so that the real work of implementing the plan can begin. He suggested we are losing on time as the development and in some case depletion of certain resources can strangle the growth of the city entirely, for example the rise in salinity in our ground level water reserves. He points out, Auroville is in India and not in isolation and accordingly we must adhere and manage solution under pretext of existing set of defined rules and not be just stuck by comfortable ideals. He in accord with L'avenier are calling for action by means of adopting to a plan.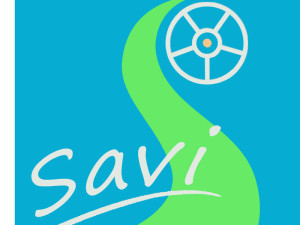 Savi organised a very beautiful program for volunteers for an Introduction of Auroville, called VIP: Volunteer Introduction Program... This Program was lead by Maggie, Boomi and Dominique. They were very dedicated and have put together great effort in this program. Very well picked topics and destinations, awesome food places of Auroville and enlightening and welcoming insights by leading Aurovillians; made this trip a memorable journey of 4 days for all volunteers who participated in it... The program included some movies and video on Auroville's history, group sessions, visits to various communities and an orientation about their activities and also few games and self expression. The activities done during those 4 days included farming, visit to Matrimandir and also visits to some creative and service units of Auroville like Budha Garden, Shradhanjali, Swaram, Solitude farm, Bamboo center, Earth Institute, Food link and Pourtous, Eco service and African Pavillion. And finally, Tibetian Pavillion, where all they did all activities and video were screened. This program was very interactive as well as informative. Movies on Wasteless, Making of Matrimandir; a talk by Manoj on Sri Aurobindo and Mother, question answer rounds made the experience even richer and full of information. In this audio we have archived what each participant experienced in their transformational 4 days experience..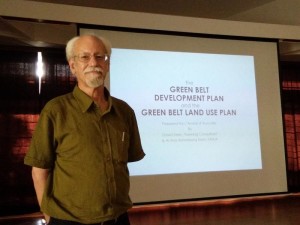 David Stein made a presentation to people of Auroville on his green belt land use plan. This plan is available on auronet and is waiting for an approval from Aurovillians. In near future a general meeting is being organized to understand and take a decision about action to be taken. The key note David Stein emphasised on was, by adopting the land use plan, we can start the process of getting legal status for Auroville buildings. David Stein along with the priority of adopting the plan, highlighted on the situation of increasing salinity in the ground water in Auroville and urged the people of the city to take urgent action to avoid dire situations in future. David said he is available for further comments and feedback , regarding the green belt land use plan.
On Tuesday the 13th at 4.30pm at Unity Pavilion the General Meeting to hear and discuss a:Proposed New Decision-making System for Auroville. The meeting was presided by the Active Residents' Assembly and the Residents' Assembly Service (RAS) to encourage the community to hear and discuss their proposal for a new, consensus-driven decision-making system for Auroville. The proposal builds on and develops our existing, naturally-derived consensus systems and takes them one step further. The meeting was attended by around 25 community members and after the presentation, a forum to clarify and to discuss the topic in detail was provided.