Category Archives:
City Life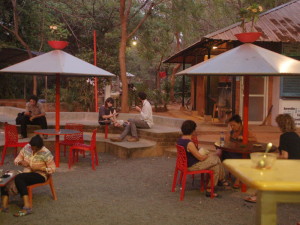 Actually, 125 people are passing their newcomer process to become future Aurovillans. Newcomer Potlucks are a smart way to get in touch with this next generation of the international township, and also for them to know other residents. To the latest Potluck, there also went lots of aspirants planning their newcomer period, so we found a wide range of guests. We spoke with some of them about their life situation, about their start in Auroville and about their visions, as well as with the Entry Service staff who invited to the gathering.
Second part - afternoon session of Manifestation on the Way Forward
Recording of Friday 5th February at Unity Pavilion Manifestation on the Way Forward.
How can the administration of an ideal society be structured to enable living human unity in action? What is already in place needs to be added or strengthened? We will look at it from the different viewpoints of education/economy/governance) Imagine the administrative structure of an ideal society as already established, with all bodily needs of each person equally provided for.
· What duties and responsibilities are my contribution to Auroville - the City the Earth needs? For what action am I willing to sign up for?
Today's meeting at SAIIER's conference room organized by TDC/L'Avenir d' Auroville, and presented by Jan was trying to point out that city does need move from ad hoc situation of building (as it was done in past) to an urban region with proper planning, starting with infrastructure. In regards to it also the sewage system has its own place, and for many reasons should be put in place quite soon. Jan presented one of the possibilities for the common waste water treatment of Residential Zone 1 and 2, which is clearly not in favor of the community. Since GOI grants were allocated to deal with those problems , and since the population of the Zone is rapidly growing , a solution needs to be found. After all, water is life, and water contaminated with too many of e.coli can be devastating for the population, apart from many other unwanted ingredients. TDC announcement
During recent years considerable funds from GOI and other sources have been invested to develop the Sector 1 and 2 of the Residential Zone. As new residences have been built, roads and the technical infrastructure for drinking water supply and electricity network have been expanded. Similarly we would like to build up a waste water management system which is able to deal with the increasing demand. The system should be ecologically sound and provide recycled waste water for irrigation in parks and gardens. A detailed study was carried out to compare different options and determine the best suitable technique. The proposed design consists of a sewer system which connects to a single treatment plant. The treated water undergoes further purification and is then pumped back into the communities to be used for gardening. The sludge, separated during the treatment is post- processed at the treatment plant and can be used as compost in parks and gardens. In the first phase communities along the Vikas Radial are connected to a main sewer that runs along this Radial. A second sewer will be built along the Samasti-Solar Kitchen Radial and the remaining communities are connected in the following phases. The project is expandable to serve the entire planned population of these two sectors of the Residential Zone.

Following is a recording of informational meeting on proposed (by Working Committee) restructuring of TDC / L'Avenir d'Auroville . It was an opportunity for clarification and questions.

RAS and Action Governance Group had an Active Residents Assembly meeting at Unity Pavilion on Saturday 23rd.