Category Archives:
City Life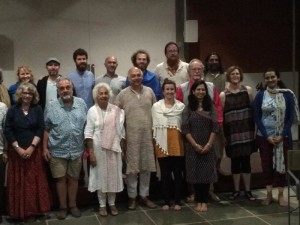 Alvida Doston! It means good-bye friends. Its time to say good bye to our guest to Auroville, students from California Institute of Integral Studies. An institute started by Sri Haridas Chaudhary in California. The students and faculty members from this elite institute were here for two weeks. The stay and introduction sessions were all organized under supervision of Aster di and Bharat Nivas. The sharing at the end of the journey by this special group of individuals is rich and heartfelt. It will be great to hear how their experience was, as in a way, they are distant cousins to Auroville, learning and practicing integral studies.
Through the art of the Architectural Instrument - A presentation of Paolo Soleri's theory of compact city design by David and Nadia (long term Acrosanti residents & friends of Auroville). Sometimes the recording has a noise coming from the electromagnetic fields of the room, we apologize for it.
Auroville architecture has been a source of inspiration for thousands of people, everyone visiting Auroville can only stare in astonishment and wonderment, how did they manage it? Well today as a special orientation for the students visiting from California Institute of Integral Studies, Suhasini and Piero put together a marvelous presentation. It was an entire spectrum of architecture, Piero with his special insights on the early Auroville days and construction of Matrimandir and Suhasni with her sharing of the ideology and practice of her unit in creating architecture of Auroville that we see around us. Projects like, Matrimandir, Solar Kitchen, Visitor Center, Future School, Unity Pavilion were some of striking projects discussed in details by the two master architects. This is a rare presentation, created by Piero with his collection of photographs which gives the real sense of the time when humanity as a whole embarked onto creating Matrimandir and eventually Auroville.