Category Archives:
City Life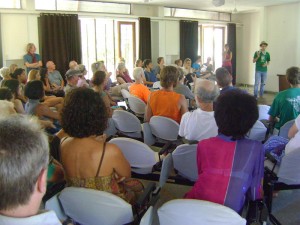 Yesterday afternoon the conference room at SAIER building in Town Hall complex was packed with all well wishers and some youth who responded to the invitation of the current Youth Representative team to a special event. In past few months before the Auroville Retreat they have formed team which was looking at the concerns of youth through various activities in the community. Yesterday they presented what they have gathered and discovered so far, and their aims in coming months which will involve youth more actively in the development of the community. They hope that more concerned youth will join them, and they remain open for all those who wish to participate, support or mentor their efforts.

On the following link we can see the outcomes of Auroville Retreat
http://ras.auroville.org.in/retreat2015/auroville-youth/




Derek Hook, a brilliant story teller, offered a performance accompanied with music and mysterious sounds on Sunday night at Solitude Farm for children and adults.
Humility, love, identity quest, dreams and death were the central themes of the tales. We had an opportunity to interview Derek where he explains the meaning of his tales and gives information for those who wish to follow him.
He also recites "Stand Still", a poem that he finds particularly inspiring.



The final drawings and models for the Kalpana Housing Project were shown to an interested group at SAIIER.
42 units are planned with 4 designed to be wheelchair accessible. The architect, Mr. Neel from Ovoid Atelier demonstrated how each unit will have outdoor access and privacy. The design was repurposed from the now cancelled Sports facility and is in the same location.
A sustainabilty consultant was engaged and he assured the audience that the latest techniques have been employed.
The Plan and model are on display at Housing Services.




Presentations by working groups organized by the Working Committee for public review prior to GB and IAC meetings on 15 March. Presentations included: Auroville Theatre Festival, Volunteers and Interns, SVARAM Campus, New Era Secondary School, Koodam, Sustainable Livlihood Institute, Land Matters and Town Development. The audience offered many useful suggestions. Only the first part of Koodam is presented here; while the presentations for Sustainable Livlihood Institute, Land Matters and Town Development were not recorded.
Christian F is here in Auroville completing some of the tasks with regard to the International Zone- These Including fencing and connecting water to the site around the Inuksuk  for plants and protection.
Seemingly simple steps are not always so easy to achieve since visions have to align themselves and the need for both planning and flexibility have to be found. AVI Canada's has also taken the initiative to help the Youth with small grants for housing.



Susmita spiega in un questa intervista il progetto Accessible Auroville.
L'obbietivo principale e' di abbattere le barriere architettoniche ad Auroville per rendere ogni luogo accessibile a tutti.

The objectives of our Accessible Auroville project are, firstly, to raise and develop awareness of the concept and issues of accessibility in Auroville and, secondly, to be instrumental in bringing about the necessary changes in the layout, construction and facilities of our built environments that will make them accessible to all.
More:  http://www.auroville.org/contents/131