Category Archives:
City Life
Auroville architecture has been a source of inspiration for thousands of people, everyone visiting Auroville can only stare in astonishment and wonderment, how did they manage it? Well today as a special orientation for the students visiting from California Institute of Integral Studies, Suhasini and Piero put together a marvelous presentation. It was an entire spectrum of architecture, Piero with his special insights on the early Auroville days and construction of Matrimandir and Suhasni with her sharing of the ideology and practice of her unit in creating architecture of Auroville that we see around us. Projects like, Matrimandir, Solar Kitchen, Visitor Center, Future School, Unity Pavilion were some of striking projects discussed in details by the two master architects. This is a rare presentation, created by Piero with his collection of photographs which gives the real sense of the time when humanity as a whole embarked onto creating Matrimandir and eventually Auroville.
Auroville congratulate's and acknowledges Satprem Maïni and his brilliant team as they have done the community proud by completing yet another project and this one in the most adverse condition, known to human civilization. Not only did they complete this marvelous project, they have yet again proved to the community and world at large the possibility and advantages of constructing with Rammed Earth . On completion of the project , the ' World Climate Change Summit ' gave a prize to 'Earth Institute' represented by Satprem and his team, "Green Building Award" for being a role model project, in meter of ' low carbon footprint' and 'eco-friendly' aspects of the project. For photos and more details about the project are available with the institute to explore.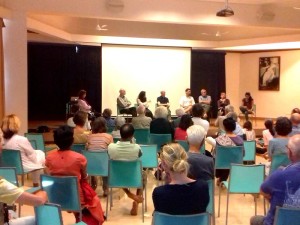 Tuesday 17th January at Unity Pavilion CAT 07 – it was about Auroville city plan with Anupama, Piero, Helmut, Toine, Judith Mandakini, Giacomo. The event was moderated by Anu and followed Q & A session. Anupama was showing his city plan to the community as it was done by Roger Anger. After it was the time for questions about new plan and what Auroville need for many peoples who will come to visit the city.
Sigrid, gave a very thought provoking presentation on situation of lands within the Auroville masterplan. As part of the presentation were 3 films, which give details about current and past circumstances regarding land. In one of the films, pioneers of Aurovillians are seen sharing their views and actual circumstance of lands when Auroville was getting ready to begin. The Crust of the presentation was to install a sense of urgency as mentioned, around 100 new private developments have emerged in past few years. These private developments not only plan to cash in on the popularity and good will of the community but also pose as an imminent threat to the lifestyle and basic functioning of Auroville at large. This presentation is an attempt to reach out to the world and stress upon all existing relations of goodwill with Auroville. The time to step up and act is now, what is slowly turning into a crisis can be avoided only if the entire community can come together and put forth an ingenious plan of action. Land will play a decisive role in manifesting the ideal Auroville we all dream of. With Sri Aurobindho and mother looking upon us, we must act diligently.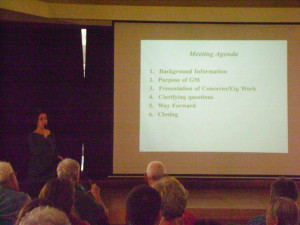 A General Meeting was called by the Entry Serice Group in Collabration with ETG, for residents of Auroville. The agenda of the meeting was to revisit the new Entry Service Process to invite new comers to Auroville. A concern was raised recently when 60+ Aurovillians signed and submitted a petition to halt the new Entry Service Process, as they realise, its going too fast and were concerned about the future repercussions of encouraging a process without a thorough set of guidelines, which everyone in the meeting agreed, were not complete. The Entry Service Group & ETG, on their part made presentations of all the facts and figures and were encouraging a dialogue which could lead to a mutual, practical solutions. The tension in the room was abnormally high, doubts were raised regarding the data provided by both the committees and several outburst were staged regarding the implementation of the process being approved by the RAS, earlier this year. The ETG has openly invited the residents of Auroville to come forward and participate in ratification of process, if so is required. The meeting ended on an abrupt note and general consensus that all the groups along with the residents need to do solid ground work, before moving forward in any direction.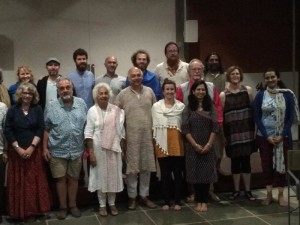 Alvida Doston! It means good-bye friends. Its time to say good bye to our guest to Auroville, students from California Institute of Integral Studies. An institute started by Sri Haridas Chaudhary in California. The students and faculty members from this elite institute were here for two weeks. The stay and introduction sessions were all organized under supervision of Aster di and Bharat Nivas. The sharing at the end of the journey by this special group of individuals is rich and heartfelt. It will be great to hear how their experience was, as in a way, they are distant cousins to Auroville, learning and practicing integral studies.
Fabian did a fabulous job in presenting, the circumstances of 16 new projects , all under development and waiting for various approvals. There was a lot of content to cover and a lot of pending inquiries by the Aurovilians, who attended the presentation. The ultimate intention of the GM presentation was to get a clear consensus on opinions of the residents on the projects. But, many Aurovilians it seemed, had no background information about some of the projects, which led to detailed narratives, which was apart from the intended flow of the presentation. Nonetheless, the residents were quite unified on issues of allocation of lands, in non-complimentary zones. The residents, requested for more data onto the projects, which could only then create a premise of decisions and opinions. ITDC acknowledged these concerns of insufficient data available, and were open for suggestions and volunteers to fill the gaps in administration. Data on lands is formulative of many agencies and thus can always only be a summary of things. At the on-set it is observed, couple of projects have strong objections, by Aurovillians and ITDC seemed to have no way of reaching a clear verdict.