Category Archives:
City Life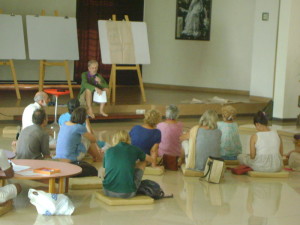 2nd ARA meeting on housing held yesterday at Unity Pavilion. .This follow-up meeting was building upon the ideas shared in the last ARA meeting. It was a working meeting, where participants were exploring ways to prioritise and practically implement these ideas. The ideas regarding housing, which primarily focussed upon affordable housing, fell into three main categories:
1.Finding new accommodation / places to build 2. The planning and construction of new accommodation 3. The financing of new accommodation.
The Organization Research Group
Yesterday afternoon at UP in International Zone new secretary of Auroville Foundation Mr. Mohan Verghese Chunkath has presented himself to the members of the community. After short address and a quote from The Mother Mr. Chunkath was open for the questions from the community; followed by free conversation with refreshments.
Within the series of True Stories of Volunteers organized by SAVI at Pavilion of Tibetan Culture, International Zone past Thrusday we heard Avigal, long time volunteer with her story on the work with Auroculture.

AV Council invited the community to a follow-up General Meeting on the re-visioning and re-structuring of the Town Planning and Development of Auroville.Following the last workshop held in beginning of May 2016, a group of Resource Persons have been working to put together a framework to present to the community.
Although they have not managed to prepare all the data, was still clear that we might go another round (or another loop) if the members of the community will not actively participate in the process of re-structuring of the planning body.

After months of research ARA core group invited the community to sharing yesterday at Unity Pavilion. After opening remarks we heard the report of the study group on the topic of housing, which has asked itself "Crisis, yes, but what crisis?
Close to hundred members of the community participated in the following part of work in groups to find either long or short term solution for housing crisis.
In the last part all ten groups shared their suggestions and proposals.
To that event continuation follows - maybe in next two weeks, and with a big hope of active participation, especially of those who are affected the most by the addressed topic.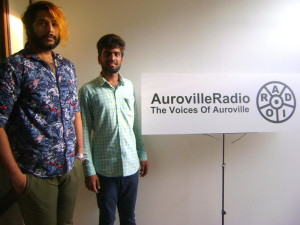 Sachin, an Indian based Korean film actor is currently a volunteer at the Youth Centre, Auroville. His journey to Korean film industry all the way from the Indian Ocean has been discussed in the interview. Mr. Sachin is very much passionate about 'human peace and unity', and that idea has brought him to Auroville to relax and refresh himself from a regular life. He even adds that, if any person wants to spend some time away from the busy city atmosphere without chaos then Auroville is the best choice. He also talks about Korean films, and also spoke few Korean words like 'hello'. He suggests the youth to think beyond borders and put efforts in reaching their goals by streamlining their interests and not deviating from their way.
Auroville value-based Town Planning and Development Workshop took place on 30th of April and 1st of May, from, 8:30 am to 5 pm
The workshop marks the 1st phase and is meant to build up energy, align our vision and values and prepare the ground for a further participatory process which includes the whole community. "Auroville is conceived as an urban experiment that would address the work of the 'evolution of consciousness': a spiritual way of life while dealing with challenges posed by the economic, sociological and cultural factors of the region." (The Mother, 1970)
Workshop Objectives:

1. To generate a shared vision for planning as a true base for collaboration and initiating a participatory process for emerging from values into action

2. To find agreement around key issues with regard to Town Planning and Development in Auroville and how we can work together with integral vision and inclusiveness towards their realization.

3. To identify levels and stages of participation to put in place a process of a larger community participation in order to encourage and gather community input to Auroville planning.

4. By November, create a strong, vibrant and collaborative l'Avenir d'Auroville with an integral approach which takes into account all the facets of Auroville's ideals and development, working together, transcending opinions and positions.