Category Archives:
City Life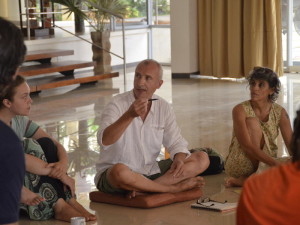 There was a European House meeting as a part of regular meetings of International Zone on Monday (17 April) in Unity Pavillion. Main agenda of the meeting was to discuss building of European Pavilion. Meeting was of 30 minutes and it was joined by a few people from european house. A new improved design was proposed in the meeting for the building, various ideas were shared. Not many people participated in the meeting despite it being open for all was disappointing for a few present there. And the main concern was to build a managing team for the project including with making a plan and acting on it, and also the management of construction and the cost related details. The members of the meeting reached upto a conclusion of planning out the details and then immediately bringing it into action.
We invited Dominique to speak to the radio about her project SAVI and the circumstances for volunteers in Auroville. The zeal and passion for making a difference stands out while speaking with Dominique as she narrate's the challenges and opportunities volunteers possess while contributing to Auroville. She points out volunteers are an integral part of the Auroville story, "We have Auroville because of the volunteers efforts over the years". In this high energy exchange of ideas, she laid out various plans and ideas the community could adopt to safe guard their greatest asset, the volunteer workforce. In the recent past the change in visa policy of the Indian government has made things already tough for volunteers to freely come and participate in the Auroville experiment. She emphasis, the community too has developed some policies which make it difficult for the volunteers to imagine contributing to growth of the community. How have we reached a place where the volunteers are not only, not encouraged, but strangely are sometimes not even acknowledged for their unconditional giving. Recently she made a presentation in the CAT's program, underlining the exact amount of contribution the volunteers make towards Auroville's overall wealth. She has made some ground breaking discoveries and has also developed a detailed plan, to help the community reverse this situation of not being an ideal choice for volunteers coming from all over the world. Auroville belongs as much to them as to the people living here. With this strong determination to cause a break through, she will soon be initiating her LEAD project, to know more, support and contribute towards this endeavor you can contact her on her email- dom@auroville.org.in "when the going gets tough, the tough get going"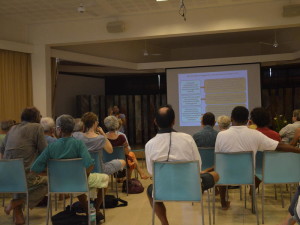 Therre was a general meeting held on Monday April 24 in Unity Pavilion which was a continuation of last months general meeting where the core group came up with fulfilling the task of restructuring Town Planning & Development Council (TDC)/L'Avenir d'Auroville. Last year, the Auroville council was asked to facilitate a process to restructure the TDC, the core group working on this comprised of Martin, Jesse, Sauro, Pashi, Shama, Suhasini, Mamta, Elvira, Lionel and Christiane. This meeting was a preparation for a Resident Assembly Decision-making Event (RAD) May 13 - June 10. The team proposed a revised structure of TDC and asked for the opinions of people present in the meeting on the same. A lot of healthy debate and constructive insights were offered by the members of the community attending the presentation. The feedbacks and comments for last month's meeting were also shared. Involvement of youths was an important point in the discussion. Meeting ended up on a positive note. Follow the links for earlier meetings: http://www.aurovilleradio.org/restructuring-tdc/ http://www.aurovilleradio.org/how-can-we-restructure-the-tdc/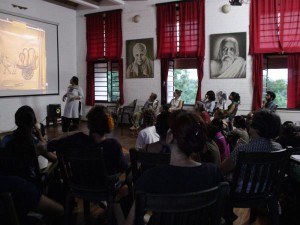 How it feels when you finally 'realise' that this is what you've been looking for... On Tuesday, 18th April 2017, SAVI hosted a volunteer presentation in Tibetan Pavillion, two volunteers Jyothirmayee and Mayank, working in "Kenji's Japanese Carpentry workshop" shared their life experience and how Auroville managed to give them what they have been looking for their whole life. They shared how they managed to deal with all the problems , how they managed to keep their basket full of questions aside and have an empty basket for answers on them. Jyothirmayee told a story how she felt magic happening when her 40 year plan started in like a snap. Mayank shared his love for wood, how they speak to him. After years of struggle inside out, they found something they have been looking for. All you need to do for yourself is keep cleaning the stream of your flow and to put mind, body and heart in harmony and the magic will happen. This is how one can find that one "thing" they are looking for. The applaud at the end of each talk spoke how everyone was so deeply touched by their stories.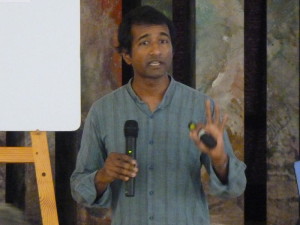 On the 29th May 2017 a general meeting was held at Unity Pavillion to discuss the guidelines for learning activities in Auroville. The main points were the implementation of tax and visa types and restrictions to those with a tourist status.
Que sienten los huespedes de Auroville cuando visitan el parque de la Unidad del Matrimandir? Que experiencia vivencian cuando ingresan a la camara de concentracion?
Mientras cenamos entre amigos en un restaurante local, entrevistamos a Jimena, una Argentina. Aqui les compartimos esta entrevista informal, que surgio espontaneamente.