Category Archives:
City Life
Samira Bose, our volunteer for past month shares some thoughts on volunteering, AVRadio, Avillians, projects, love and life... Although she appears very confident , calm yet energetic, she admits that at her arrival after graduating from University, was at a confusing threshold of her life. During her first visit to Auroville, she volunteered at Buddha Garden and perceived  the city through rose colored glasses. This time round at the radio, she has managed to peel some layers, and peek closer to what this city with its ideals is about. Although still a bit romantic with a big portion of idealism, she sees the reality of it. With that what she is, and to what she will become, with all her enthusiasm and will to learn, work, and actively participate, she has won the hearts of our team, and radio public, .... a genuine "radio girl", who fell in love with many people, fell in love with one, and fell in love with Auroville.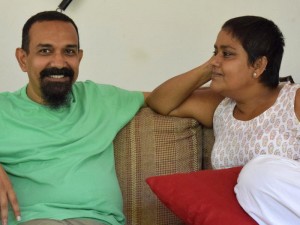 It was the term that Manas Chakrabarti used that caught my attention immediately when I was talking to him about their seemingly radical shift to Auroville. He described themselves as having a 'nobody position', having just shifted out of the urban flux of Gurgaon and being somewhat at the threshold of their integration into Auroville. It was this juncture that I wanted to document, that unique twilight zone between here and there.

Mimi and Manas Chakrabarti hail from Delhi and Kolkatta respectively but lived most recently in Gurgaon. They have traveled extensively and explored the theme of sustainability. Here they talk to us about alternative life choices and what prompted their decision to make Auroville their home.
Active Residents Assembly (ARA) - an introductory meeting took place on Thursday, 5th November. This effort comes from The Governance Action Group inviting interested people.
-The ambience was good and had many long silences filled with aspiration and questioning (these have been edited out of the recording). Finally areas needing attention were listed but its not clear how these will develop into action, however if anything was achieved it was the possibility to meet together once again in relative harmony and a wish for progress, if only this aspect begins to effect our meeting culture than some practical action will have come forth.-

Agenda for this meeting:

We will clarify once again the aims and proposed functioning of the ARA.
We will also decide together upon the topics we would like to focus upon in our monthly meetings
We will decide which topic we will take up first.
Let us try together to evolve a new way of meeting.

Vision Statement:

As committed members of the ARA, Aurovilians offer their participation towards renewing and enhancing the capacity and effectiveness, as well as the Spirit, of the Residents Assembly, with an aim for building Human Unity and Peace in the community. Members agree to be actively engaged in seeking solutions that integrate and reconcile all sides of an issue or problem, while seeking an increased role for Intuition as the true guide for the discovery of integral solutions. Members should participate with openness to learning and growing in a spirit of Sincere Service, Collaboration and Goodwill, where the evolution of a Learning Society becomes central to the collective development.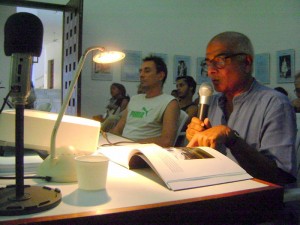 Yesterday's talk on 'Buddhist Building Traditions for sustainable living in the ancient city of Anuradhapura, Sri Lanka', at Savitri Bhavan by Dr. Satyajit Ghosh witnessed the usual enthusiastic response from the Auroville Community of Architects, students, volunteers and people related to water resource management and energy mobilization in built-up spaces. The talk was dedicated to the memory of Nirodbaran, who had Buddhist origins and mentored Dr. Ghosh's sadhana up to the end of his life. Dr. Ghosh introduced the ancient city of Anuradhapura with one of his favorite quotes 'Architecture is inhabited sculpture.' Anuradhapura was established as the first capital of Sri Lanka in the 4th century BC and continued to remain so, for nearly ten centuries. The study showed the comparison between the schemes of natural ventilation in the dormitories of the Jetavana Vihara and the Great Brazen Monastery, which were monuments of high historical significance. Other than being UNESCO acclaimed world heritage sites, The Great Brazen Monastery is arguably the world's first sky-scraper, built in 100 BC and which could be also considered the first example of 'Proportionate architecture' (61 x 61 x 61). The study included detailed research on how the Buddhist architects of one thousand years ago assured the comfort of the monks of Anuradhapura through the control of air and water flow through the buildings. The fact that the city won fame for being the pioneer of hydraulic air-conditioning in the ancient world was proved through his in-depth technical research. The connection between micro physics and architecture was then elaborated by Dr. Ghosh. The study also threw light on the Envimet simulation software developed, where the latitude and longitude details of a location could generate the required solar transmission and other wind details of the place. Further explanation was on another system used for determining thermal comfort - PMV (Predict Mean Vote), which concluded that the Jetavana Vihar was a building of a relatively low thermal mass compared to the Great Brazen Monastery. The tremendous efforts and the intelligence of the Buddhist architects was highlighted through the study of water reservoirs and their linkages across Anuradhapura, as well. The 75 minute talk culminated with a Q & A session and the research published in the form a book - 'Idioms of Sustainability in ancient Anuradhapura' was kept open for purchase, with the leads contributed to Savitri Bhavan.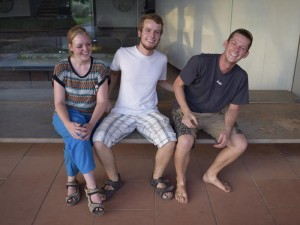 I kept on running into a group of volunteers from Germany at various events. An enthusiastic group, and also very interactive, it was interesting to see how involved they were in all aspects of Auroville. They seemed to be at cultural events as well as ones that delved into policies and economic functioning, I even caught them dancing under the stars.

On further enquiry I found out that they are here as a part of the Weltwärts programme for one year. Here you can hear some of their voices, namely of Darius Meissner, Laura Haslett and Max Broeker. They give us some perspective about the time they are going to be spending in Auroville and all the energy they are going to infuse into this space.