Category Archives:
City Life
Yesterday afternoon at UP in International Zone new secretary of Auroville Foundation Mr. Mohan Verghese Chunkath has presented himself to the members of the community. After short address and a quote from The Mother Mr. Chunkath was open for the questions from the community; followed by free conversation with refreshments.
Within the series of True Stories of Volunteers organized by SAVI at Pavilion of Tibetan Culture, International Zone past Thrusday we heard Avigal, long time volunteer with her story on the work with Auroculture.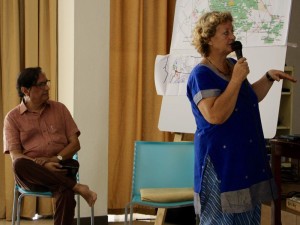 On Friday the 19th of February the Housing service presented their work to Auroville International
General Meeting to Discuss the Kalpana Project and our development priorities and methods. The Residents' Assembly Service (RAS) invited the community for a General Meeting to discuss the Kalpana Project on Friday, April 15 at Unity Pavilion
The meeting has given residents an opportunity to: a) Discuss concerns; and b) Seek clarifications regarding the project.
Representatives of the following groups attended this meeting
• The Town Development Council (TDC),
• The Funds and Asset Management Committee (FAMC)
• The Project Holders
Approximate speaker timings:
Intro Jesse and throughout, Alok 8.20 min, Ange 16.32, 2.14, Satyakam 18.28, 40.49, 1.10.14, Devasmita 36.18, Susan P 46.20, JFP 49.50, Vani 50.04, PCS 55.44, Renu 1.02, 2.02, Aneeta 1.06, Sauro 1.13, Ambu 1.26, PVC 1.29, Alain B 1.31, Elvira 1.34, Manolo 1.36, Ramnarayan 1.37, Anita 1.42, Angela 1.46, Helgard 1.48, Olivier B 1.53, Noel 1.55, Sindhuja (AVC) 1.59.30, Aneeta 2.08, Paulien plus several - end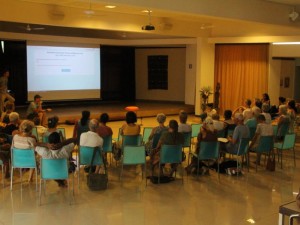 The Auroville Council was inviting us to come at Unity Pavilion on Thursday 24th. This meeting is the preparation for the Residents Assembly Decision Making Process on the newly proposed FAMC Mandate.
Auroville value-based Town Planning and Development Workshop took place on 30th of April and 1st of May, from, 8:30 am to 5 pm
The workshop marks the 1st phase and is meant to build up energy, align our vision and values and prepare the ground for a further participatory process which includes the whole community. "Auroville is conceived as an urban experiment that would address the work of the 'evolution of consciousness': a spiritual way of life while dealing with challenges posed by the economic, sociological and cultural factors of the region." (The Mother, 1970)
Workshop Objectives:

1. To generate a shared vision for planning as a true base for collaboration and initiating a participatory process for emerging from values into action

2. To find agreement around key issues with regard to Town Planning and Development in Auroville and how we can work together with integral vision and inclusiveness towards their realization.

3. To identify levels and stages of participation to put in place a process of a larger community participation in order to encourage and gather community input to Auroville planning.

4. By November, create a strong, vibrant and collaborative l'Avenir d'Auroville with an integral approach which takes into account all the facets of Auroville's ideals and development, working together, transcending opinions and positions.