Category Archives:
City Life
General Meeting to Discuss the Kalpana Project and our development priorities and methods. The Residents' Assembly Service (RAS) invited the community for a General Meeting to discuss the Kalpana Project on Friday, April 15 at Unity Pavilion
The meeting has given residents an opportunity to: a) Discuss concerns; and b) Seek clarifications regarding the project.
Representatives of the following groups attended this meeting
• The Town Development Council (TDC),
• The Funds and Asset Management Committee (FAMC)
• The Project Holders
Approximate speaker timings:
Intro Jesse and throughout, Alok 8.20 min, Ange 16.32, 2.14, Satyakam 18.28, 40.49, 1.10.14, Devasmita 36.18, Susan P 46.20, JFP 49.50, Vani 50.04, PCS 55.44, Renu 1.02, 2.02, Aneeta 1.06, Sauro 1.13, Ambu 1.26, PVC 1.29, Alain B 1.31, Elvira 1.34, Manolo 1.36, Ramnarayan 1.37, Anita 1.42, Angela 1.46, Helgard 1.48, Olivier B 1.53, Noel 1.55, Sindhuja (AVC) 1.59.30, Aneeta 2.08, Paulien plus several - end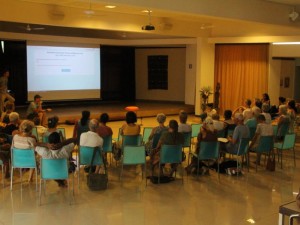 The Auroville Council was inviting us to come at Unity Pavilion on Thursday 24th. This meeting is the preparation for the Residents Assembly Decision Making Process on the newly proposed FAMC Mandate.
'Getting Around ... Mobility in Auroville'

Joy of Learning session

A seminar organized by the Joy of Learning group with presentations of projects, research, ideas, questions and answers, suggestions and thoughts of Aurovilians about the development of more effective and eco ways of getting around Auroville as well as public transport implementation and future planning of mobility systems for expanding Auroville.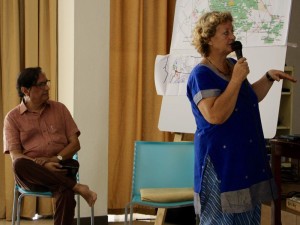 On Friday the 19th of February the Housing service presented their work to Auroville International