Posts Tagged 'Amphitheatre'
A guitar, two voices, a handful of songs, a warmly lit theater, good acoustics, and a welcoming audience are all it takes for an intimate successful evening show. As I enter the candle lit area, I feel as though I am coming home to a warm and wordly nest settled in a flourishing garden. Adishakti is a beautiful  place.
Lail Arad (London) and JF Robitaille (Montreal) brought their "We Got It Coming" Tour presented by the Hindu Nov 2017 Fest to Adishakti tonight. These artists and so much more theater is hidden between Pondicherry and Auroville. They set in with a Simon & Garfunkel song, "Hello Darkness, My Old Friend", which sounds quite funny and right to the point at 7 pm. Short songs followed – as individuals and as a duo – such as "We Got It Coming", some of the old masterpieces from Joni Mitchel, Bob Dylan's "Don't Think Twice It's All Right", Smokey Robinson's "You Got A Hold On Me", and Leonard Cohen's "Bird On A Wire" – all performed with artistry, beauty and wit.
Thank you so much.
I can't wait to see the weekly Adishakti Happenings next February 2018.
So long, Adishakti!
On August 19th One Africa Music Fest was going on at the Ford Amphitheater in Coney Island, Brooklyn. Afrobeats lovers came out in full force this year (though in fewer numbers than last year), dressed to a T-shirts and ready to dance for five hours.This year's mostly Nigerian lineup had a sizable overlap with the three other One Africa Music Fests in the past year for instance, Davido, Tiwa Savage, Flavour, Wale, Timaya, Efya and P-Square are all returnees, and the singer and actor Banky W once again hosted the event. One Africa Music Fest was a welcome celebration of Afrobeats for New Yorkers from Africa and the diaspora. To give you a taste of if, we are featuring some of the performers, with mostly newest pieces, although the audience that weekend was going freenzy on hits.
tracklist
Banky W – Heaven (Susu's song)
Flavour – Sake of Love (feat. Sarkodie)
Efya – Best In Me
Victoria Kimani – Show
Cassper Nyovest – Tito Mboweni
2Baba – Gaaga Shuffle
Wale – My PYT
Tekno – BE
Timaya Feat. Machel Montano – Shake up youh bum
Tiwa Savage Key to the City
Flavour – Ada Ada
Psquare – Ejeajo
Falz – Something Light ft. Ycee
Aramide – Bose
Barakah The Prince, Alikiba – Nisamehe
EmmaNyra – Elele ft. Davido
Davido – If
Mr Leo – Je T'aime ft. Hiro

This reading completes Chapter 2 The Status of Knowledge, Part II The Yoga of Integral Knowledge, pages 303 – 307. Sri Aurobindo continues to teach us that God is in us, in everything, and that our whole being ought to demand God. The whole life and body can be satisfied of God.
Knowledge and experience, which we must attain, are primary means of arriving and possessing identity ; it is ourself that we see and experience but are incomplete unless they culminate in identity, living in all our being the supreme Vedntic knowledge: He am I. A supernal unity with the Ineffable. Actually that is the culmination of all divine knowing; that is also the source of all divine delight and divine living.
The status of knowledge then is the aim of this path and when pursued to its end is only a first approach to the ascent which we have to use until the divine doors swing open into the infinite Light.

On the 14th August 2017 the kids of Deepanam school performed three short presentations as an offering to Sri Aurobindo for his 145th birthday.
The Light group children offered a history of Sri Aurobindo's life.
The Faith group performed the story of Savitri.
And the Peace group enacted the scene between Krishna and Arjuna along with the recitation of sacred sanskrit mantras.
All performances were well thought out and especially amazing 🙂

Monday,14th of August at 6pm onward at The Learning Community Base Camp next to Baraka – the Fun Dimension! , a fundraising event!
Monday 14th SvARAM at 4pm inauguration of their new Sound Garden at the Svaram grounds.
On Tuesday 15th August at 10am at Town Hall A4A and Green Acres invite us to the InaugurationAcres for Auroville – Starting off Year 4!
Tuesday 15th of August inside the compound of international House in international Zone inauguration of European Plaza.
On 15 August 2017 evening from 6:30 pm to 7:30 pm in Town Hall Cultural program whereby Auroville children and adults are going to perform combinations of folk, Bharat Natyam, rap and fusion .
BHU/Eart dance performance is postponed to 1st, 2nd and 3rd of Septmeber due to illness of team member.
Supreme Lord.
Eternal Truth Let us obey
Thee alone and
live according to Truth.
The Words of The Mother, Vol.14

On the occasion of International Yoga Day, I went to the Ilaignarkal Education Centre to witness the all day yoga celebration. In this segment, I interview Meenakshi and Anand, the principal organizers of the event as well as two participants. Tune in for the inspiring account of the Centre's efforts to disseminate Indian history and culture to the youth as well as Anand's haunting and beautiful Vedic hymns.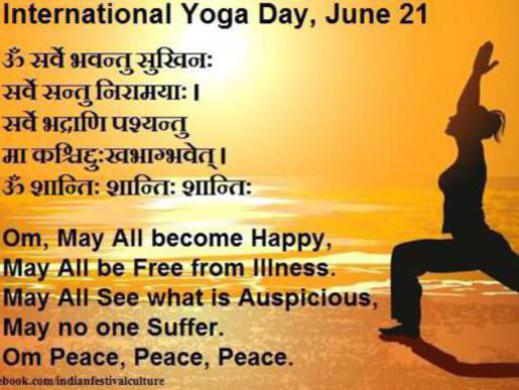 On Monday,19th June 4-5 pm we are invited to a Presentation at SLI. On re-design training process For Rural Development Institutes of Tamil Nadu Government..
International Yoga Day, Auroville, organized by Youth link includes whole Wedensday events, starting at 5.15am with Meditation & Surya Namaskar at Matrimandir Amphitheatre…
On June 24th – June 25th at : Unity Pavilion and Upasana Design Studio – DESI COTTON WORKSHOP AT UPASANA or Importance of growing local cotton seed varieties.
Acres for Auroville is happy to inform all its friends and donors that campaign donations have helped the Land Board in meeting the cost of the recent land purchase and exchange that brought 10.37 new acres in the immediate Greenbelt of Auroville at the end of May. 
Angeli's fabulous fundraiser! Sunday the 18th of June at 4:00 -6-30 pm at Mukta, Auroson, Amara and Milla's House in Certitude to raise funds fro Angeli's further education. You may contribute on FS# (10) 3432 .
Consciousness is not only power of awareness of self and things, it is or has also adynamic and creative energy .It can determine its own reactions or abstain from reactions; it can not only answer to forces, but create or put out from itself forces. Consciousness is Chit but also Chit Shakti.
SABCL Vol 22 page 234 , Sri Aurobindo