Category Archives:
Integral Education
Interviews with Ms Anusuya Kumar Ph.D. (School of Culture & Society, Aarhus University, Denmark) recently presented the fascinating and meticulous research work on Johannes Hohlenberg (1881-1960) encounter with Sri Aurobindo and the Mother. (the actual presentation can be heard here http://www.aurovilleradio.org/close-encounters/).
..." It was as if he belonged to all worlds and cultures at once.... But this was only one side of his personality. Another seemed to live in infinity. I seemed to sometimes notice a slight hint of a smile on his face when he saw my amazement at his penetrating words. It was like I had been shot through the heart and mind." J Hohlenberg

Johannes Hohlenberg was a Danish artist and philosopher's journey during 1907-1915 from Paris to Pondicherry where he interviewed and painted Sri Aurobindo; and the resulting origins of Integral Yoga in early twentieth-century Scandinavia.
Featuring short interview with Kaeridwyn, a newcomer to be, about the theater classes at TLC (the learning community) which is based opposite Dana. Since January, she has been giving theater classes to children interested in theater and acting, working towards a performance of Shakespeare's A Midsummer Night's Dream. Kaeridwyn has kept the lines as much is possible in original Iambic pentameter. A Midsummer Night's Dream comedy play by William Shakespeare,  which is believed to have been written between 1590 and 1597. It portrays the events surrounding the marriage of the Duke of Athens, Theseus, and Hippolyta. It follows the adventures of four young Athenian lovers and a group of six amateur actors (the mechanicals), who are controlled and manipulated by the fairies who inhabit the forest in which most of the play is set. The play is one of Shakespeare's most popular works for the stage and is widely performed across the world.
Children of all ages, open your ears and enjoy! The book "Yaroslava´s flowers" by Noel Parent now audible and on its way into your hearts! Enjoy to hear how Yaroslava changes the world with flowers as she becomes conscious of their true meaning (The Mother´s names for them). The book is available in Auroville´s bookshops and on the net. The recording (Marlenka in Auroville radio studio) is a start in a series of translated versions of the story. Welcoming you to make Yaroslava speak your mother tongue! Kindly contact: essence.touch@yahoo.de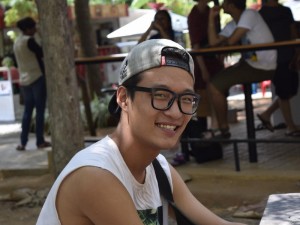 A recent graduate from Kalikasan High School in Philippines, Kim Sun Myung visits Auroville for a spot survey for South Korean students. He attended an alternative system of education and aims to set up something similar in an otherwise stringent structure back in South Korea. He provides a micro view of the different options that students and recent graduates can choose outside of a particular system and the inspiration that can be derived from an experimental space like Auroville. We met at a dinner with a friend, and what he said about students needing ''happiness'' and feeling more connected to vocational options resounded with other such conversations with students in Auroville from across the globe. He talks about the importance of traveling as a learning experience and why he does not want to go to college. While a lot of socio-cultural factors come into the picture when considering these options, it is nevertheless refreshing to find voices expressing an interest in community life as well as aiming to get involved in the education systems in their countries.