Category Archives:
Integral Education
Following is an interview or conversation between Surya and Kenden. They were talking about life in different places and how it is to be different.
Divyanshi Chaugh, as a part of her seminar "Integrality in all Spheres of Life", presents Integral Education, with guest speakers Shiva Kumar and Manoj.
Proskills Launch Evnet last night at Visitor's Centre with showcase of many skills and opportunities that members, services, units can offer to one seeking for specialize knowledge.
Youth Link with Jesse has created a platform , network where booth sides - those who are offering as well as those who are seeking, can find different possibilities.

p.s. unfortunately due to technical problems you can hear only half of the event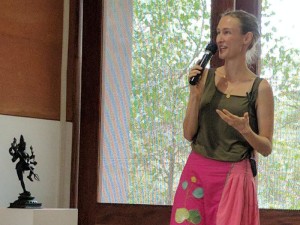 An in depth questionnaire was formulated by Deepti and circulated to others who had been raised and educated in Auroville. This survey captures the voices of 81 Auroville youth over a span of 40 years of educational experiences.
Suryamayi then studied all of the feedback to bring it together in a cohesive manner for this presentation at Bhavisyate on the 14th March 2017.
Heidi Watts taught in different settings in the United States for decades. Once she was the head teacher of a small alternative school in the US in which she intensively encouraged democractic decision making processes among her students. In democratic schools students make decisions with varying importance and varying methods, depending on the setting and their experience. Group discussions sometimes include the use of talking sticks and exceed the classic majority rule by far. Limits for students' decision were usually around topics of health and safety as well as academic issues.
Students from California Institute of Integral Studies, are visiting Auroville to learn and share more about Sri Aurobindo, Integral yoga and overall development of Auroville as a center of Integral studies. Aster hosted the students to a knowledge sharing session at Bhavishyate Hall, Bharat Nivas. The group of students were presented with lot of vital writings by Sri Aurobindo and the mother, to enable them to get an insight into deep philosophical and fundamental theories. The group had quite a good sharing of ideas and showed keen interest to resolve pondering questions of their own. Auroville welcomes the group and looks forward to more cultural sharing opportunities.
The students from The Institute of Integral Studies were having a discussion with Aster on various aspects of integral psychology. The common pool of knowledge within the group was incredible and great insights in store.
A presentation on Integral Psychology by Divyanshi Chugh. Divyanshi a Psycholigist by degree has conducted a presentation, to create dialogue in the direction of Psychology prevailing all other science. She suggests, the psychic of a person is potent enough, has enough data and more than sufficient computing capability to fundamentally solve each and every issue of life. She presents integral psychology as presented by Sri Aurobindo, and how by performing our intrinsic yoga we can accomplish all our extrinsic circumstances as well. To end the presentation she chose to a visually marvelous video, created by Manoj Pavitran to drive in her point and to fill any gaps in theory, if so. Next week she is planning for a workshop on 'Daily habits'.